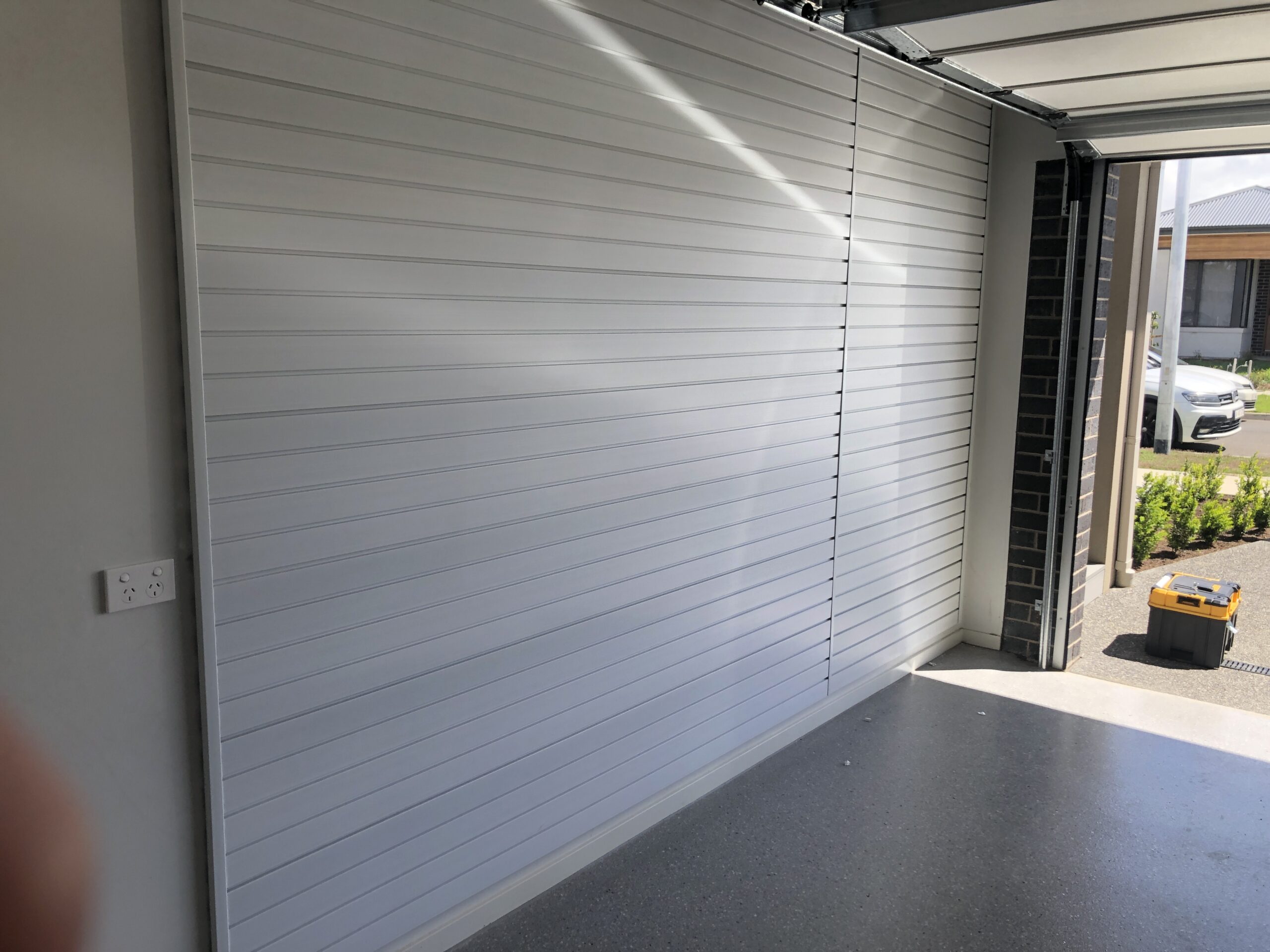 StoreWALL's garage wall panels are designed to be installed with Installstrips. Installstrips are what we use to effectively secure your slatwall panels.
I was told earlier this week, that another local supplier of PVC slatwall panels (no affiliation with StorewALL) recommends that they be secured to the wall using Liquid Nails or a similar professional adhesive. Maybe I had misunderstood. I hope so.
Securing Your Slatwalls with Adhesive
Let's assume it is correct, what is wrong with this approach?
If all I was hanging on my slatwall panels were lightweight screwdrivers, paper rolls, and maybe some clothing, it would probably be OK. However, you must consider what you are securing your Slatwall panels to. If your wall is plastered which most are, then the adhesive is secured to the paper face of the plaster, nothing more. You might add a few screws here and there but all you still have is the paper holding onto the PVC slatwall panel. Not good.
What about securing your slatwall panels using adhesive to a brick wall? This is better, but still not great. At least the brick wall surface is the actual brick wall, not an outer layer that can peel away.
What about the holding capacity of the slatwall panel? The adhesive might hold the panel to the wall but does it do anything to help hold the weight, 12 months from now, 3 years from now?
I would also add that any specifications listed by the supplier for wall panel strength and storage capacity needs to be retested for this novel installation method.
What makes installstrips better?
Installstrips are made from steel. Each one holds a minimum of 12 screw holes. You screw through the installstrip and onto the stud behind the plasterboard. Or you screw into the actual brickwork. Therefore not only do you have the strength of the installstrip supporting the slatwall panel, you also have the fastener and its grip on the wooden stud or brick.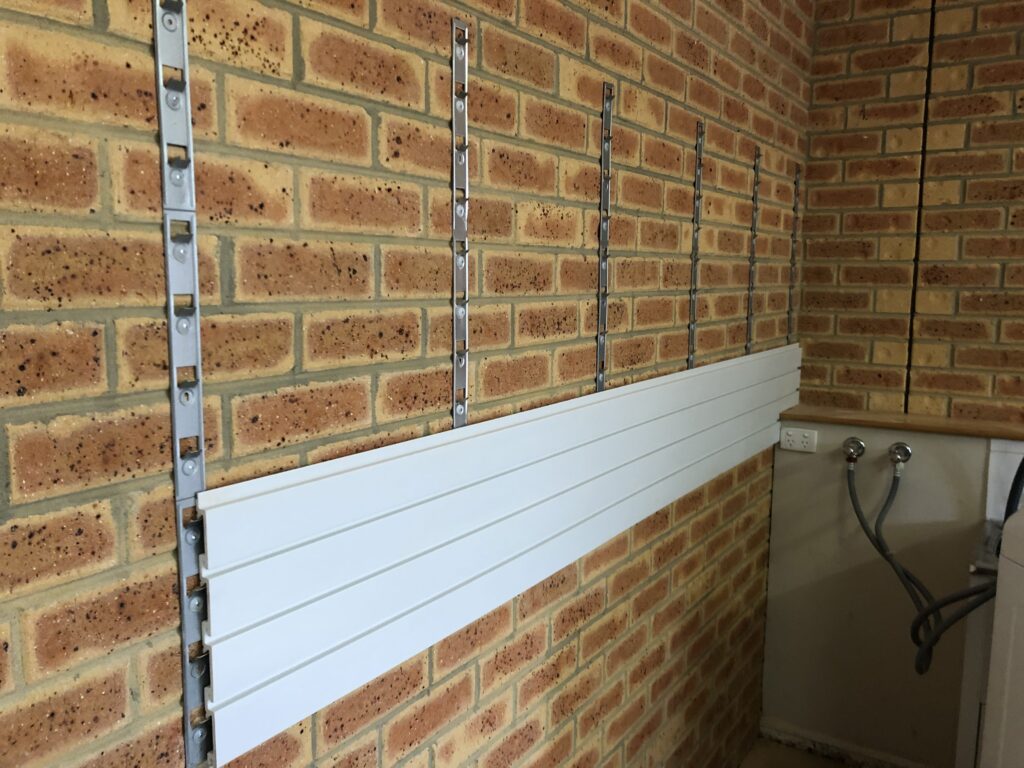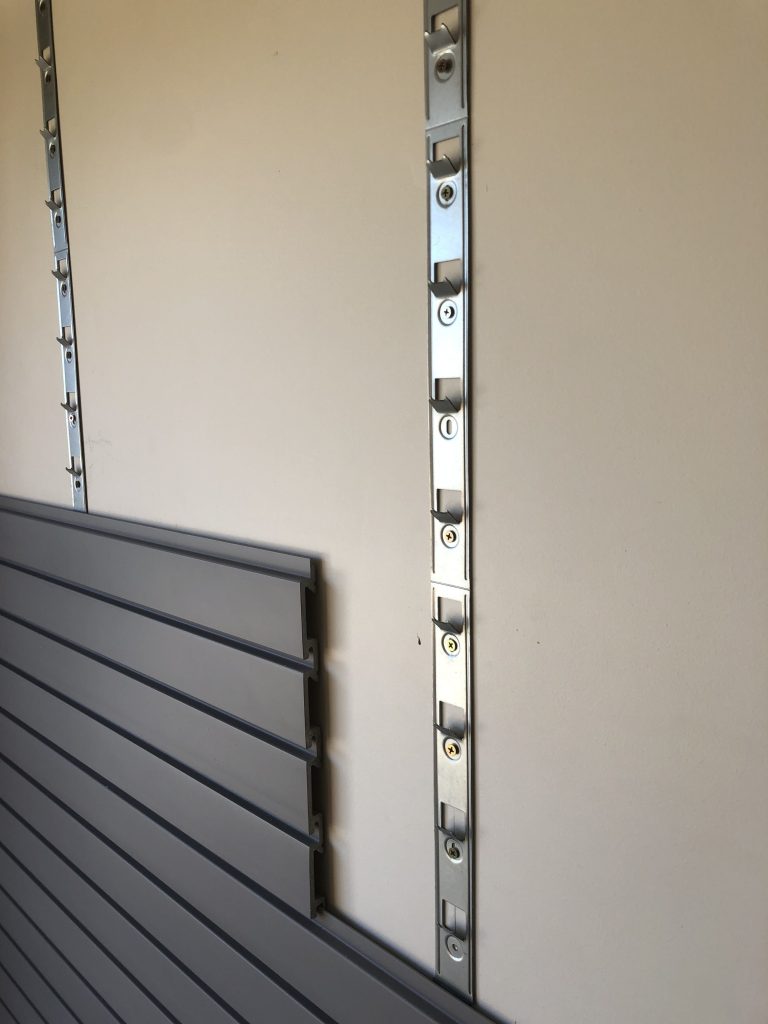 Removing Your Slatwalls
Should you ever need to remove your slatwall panels, installstrips allow you to do this with very little effort. You don't even need a screwdriver. When installed with Installstrips, the panels hang on the installstrips, so they can be lifted and removed. You won't damage the panels and they can be returned when your work is done.
Let's assume you used adhesive to secure your slatwall panels, and at some stage you needed to remove one panel? If that panel was at the bottom, the whole wall would need to be ripped off the plasterboard or brickwork. A disaster!
Check Before You Buy
A garage renovation just like any enhancement to your home requires an investment. Before you order your slatwall panels or agree to have a company install them for you, check how they will be installing them.
If the supplier doesn't use Installstrips, then ensure that they will still fasten the slatwalls to your wall using screws or brick fasteners.