Lawrence – Melbourne
Hi Arthur,
My house was equipped with a store wall By the previous owner that covered half of my garage wall. I decided to extend the wall across the entire wall to provide more area to hang our bikes and tools.
I spent a while on your website using the estimation tool to determine which parts I needed to purchase. I ended up changing the recommended parts list, ordering a mixture of 8 and 4 foot panels that exactly covered the area in question. I also adjusted the recommended number of mounting strips after some manual calculations. The quantity I ordered was perfect, the only waste being about 1 foot of extra trim. I would not have got as good a result using the online estimation tool, so there is room for improvement there. I have a couple of degrees in engineering and can't help optimising.

The product design is good. It is flexible and packaged in well coordinated sizes for installation. The estimation tool could be improved by including potential configurations that mix 4 and 8 foot panels during installation which works fine with careful alignment of the strips with the seam boundaries and alternating 4 and 8 foot panels to avoid aligning seam boundaries across panel rows for strength.

The product was delivered very promptly, perhaps by you personally? It was well packaged in manageable sizes and weights. The delivery was much quicker than expected. Coordinating delivery of the parts while being at work was one factor that had caused me to postpone ordering parts last year. However, when I started to work at home during the recent lockdown I had an opportunity to deal with delivery without concern. I give you full marks for the ordering and delivery process.

It took me about a day to install the wall by myself using information from YouTube videos watched before ordering. I mounted it on a plaster/brick wall which was time consuming. It required 120 hole plugs and screws. The installation went well with everything completed including the glued trim by the end of the day. The tools used were a cordless drill, a couple of stone drill bits, a screw driver bit, a level, a step ladder, a hand mitre saw for the trim, a circular saw to make a few strategic cuts in one panel and a caulking gun to apply the trim adhesive. I had all these tools so needed to order nothing extra. The result is very strong and closely matches the previously installed wall section. There is a small colour variation with the newer panels being a slightly darker grey than the original, but this may just be due to age and weathering. Many would probably need to hire an installer, but I enjoyed the challenge.

The hooks I ordered worked well for my tools. There is a pretty wide selection on offer. My only suggestion here is regarding bike hanger options. The previous owner of my house had acquired 2 bike hangers with integrated hooks and helmet baskets that position the bike along the wall. These are not manufactured by store wall, but fit the slots with a bit of careful positioning. These hangers are far superior to the options offered by store wall. They would be even better if they were equipped with the proper store wall attachment hardware, which is easy to install and very secure. I have tried unsuccessfully to order an additional bike hanger of the same type. It is a shame that you don't offer a similar option on your site. My wife and I both commute to work by bike and we use these hooks everyday. I can testify that they work really well for a garage where space beside the cars can be tight.

My overall review for your product is expensive, but flexible, high-quality and worth the price.

Thanks, Lawrence
Jason – Sydney
Hi Arthur
StoreWALL is awesome. My little storeroom is now organised with a lot more storage than before. The accessories has made it possible because it has allowed me to customise the space.
Regards Jason
Peter – Qld
Very well – may need more later – quick delivery
ta Peter
Tony – Sydney
Thanks Arthur it's a great system – very happy with it.
Regards Tony
Keith & Karen – Sydney
The team were very helpful and friendly to arrange the best solution and then to organise the prompt delivery. Also followed up after to ensure everything went to plan. Excellent product and service.
Michelle – Coburg
Hi Arthur. We've built a studio in our back yard, the bottom level is a garage/workshop/shed/storage space. Top level is an office. So this is the StoreWALL that was delivered yesterday and we are contemplating what to do with this other wall. We still have two panels of the 1.2 left and will install them somewhere. But might also purchase 4 more to fill this space. Thanks. We are really happy with this product. Michelle
Monica – Lake Cargelligo
Very pleased with my organised garage.

Regards

Monica
Gus – Melbourne
Very practical and good quality product. Many different options to choose from.

Good service, prompt response and delivery. I recommend this product.
Steve P – Brisbane
Very easy to install although be prepared to adjust the steel prongs if your wall is uneven otherwise panels can rattle (not tight). Great customer service and prompt delivery. Some minor damage during shipping.
Paul – Sydney
All good thanks Arthur. Easily installed and cleaned up the garage beautifully. Spot on!
Wade & Robyn – Perth
Happy New Year, Arthur. Here are couple pics of one of the configurations of StoreWall in the back of our campervan. This one enables everything we need for short trips to be lifted in and out without moving anything else. Very satisfying and always tidy. The great benefit we've seen is that we can easily adapt and reconfigure to suit different loads. This really is a useful and flexible system. Feel free to use this as a recommendation if you would like to. Cheers Wade and Robyn.
Hans – Peninsula (Vic)
Hi Arthur
The installation went really well. The installation was straight forward and the product is first class.
Paraburdoo Lifestyle Centre – WA
Hi Arthur,
We are stoked with our new StoreWall and have already had many fantastic comments.
Maurice – Peninsula (Vic)
Hi Arthur. I finally finished getting the wall up. Here are the photos that I promised to send you. We're very pleased with the result.
Dale – Sherbrooke
With the professional and patient service of Arthur from Storewall Australia, planned a simple garage layout for garden tools using the 1.2m standard duty panels and hooks to suit.

Installed panels (Brite White) easily onto an uneven brick wall with mounting strips and anchors, packing out where required, and arranged assorted hooks to suit. Managed to get 21 garden tools mounted including shovels, rakes, brooms, hedger, blower, brushcutter, powercord and even the heavy items like sledgehammer and mattock.

Ecstatic with results (see pic) as finally got these tools organised, very easily accessible, off the ground and now not leaning around on walls taking up space for getting the car, etc in garage. Highly recommend this product for getting garage storage sorted.

You can read the review on Product Review as well.
Serena – Melbourne
My Grandson did the installation for me and found it straight forward, the panels were installed on brick work and normal Gyprock wall. One of the reasons that I went with StoreWALL was that the position of hooks etc were able to be changed easily. In the last two months since the panels have been installed I have changed hooks, brackets etc at least once, and have everything sorted to my satisfaction (until the next change). As an older retired lady this was important as I could change "things" around without waiting for someone to help me out, and making sure that items were attached at the correct height etc. for me to use easily. I am very pleased with the whole result. Regards Serena.
Tony – Wagga
Hello Arthur, I just thought I would say thanks for the excellent service I have received from StoreWall. The orders were shipped promptly, and were hassle free for me. I have installed one section of the Standard Storewall, and all went perfectly, and looks and functions superbly. Thanks again, Tony P Wagga. NSW.
Jarred – Sydney
Thanks for checking in! You beat me to it. I'm so happy with the sStorewall and it looks amazing. I still have a couple of things to hang and move the hooks around but here are a couple snaps. I may be in touch soon to discuss another wall to store a couple of bikes.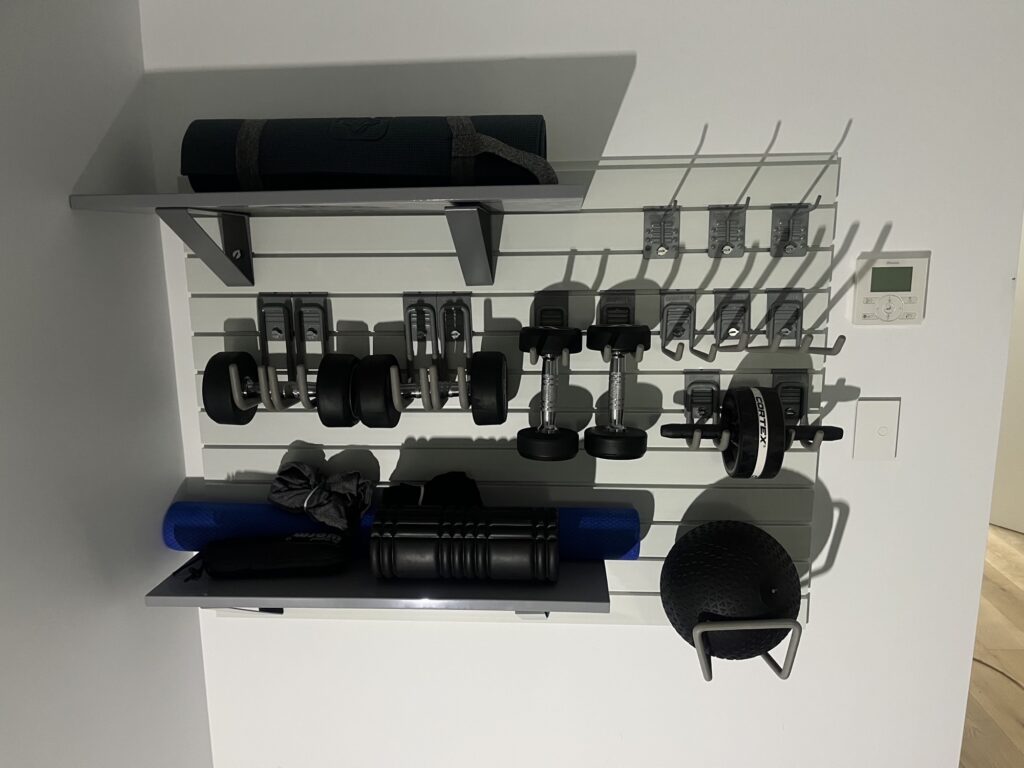 Andrew – NSW
Product is as advertised and high quality. Covered an entire wall from floor to ceiling with panels to store multiple bikes, power tools and garden tools. So given the weight of everything, sturdiness and reliability are very important. Whilst the accessories aren't cheap, their performance lives up to their price. Very happy.

Furthermore, Arthur was super helpful and responsive and went out of his way to make sure the delivery got to my place, which wasn't straight forward given it was a new build and so not listed on Google maps.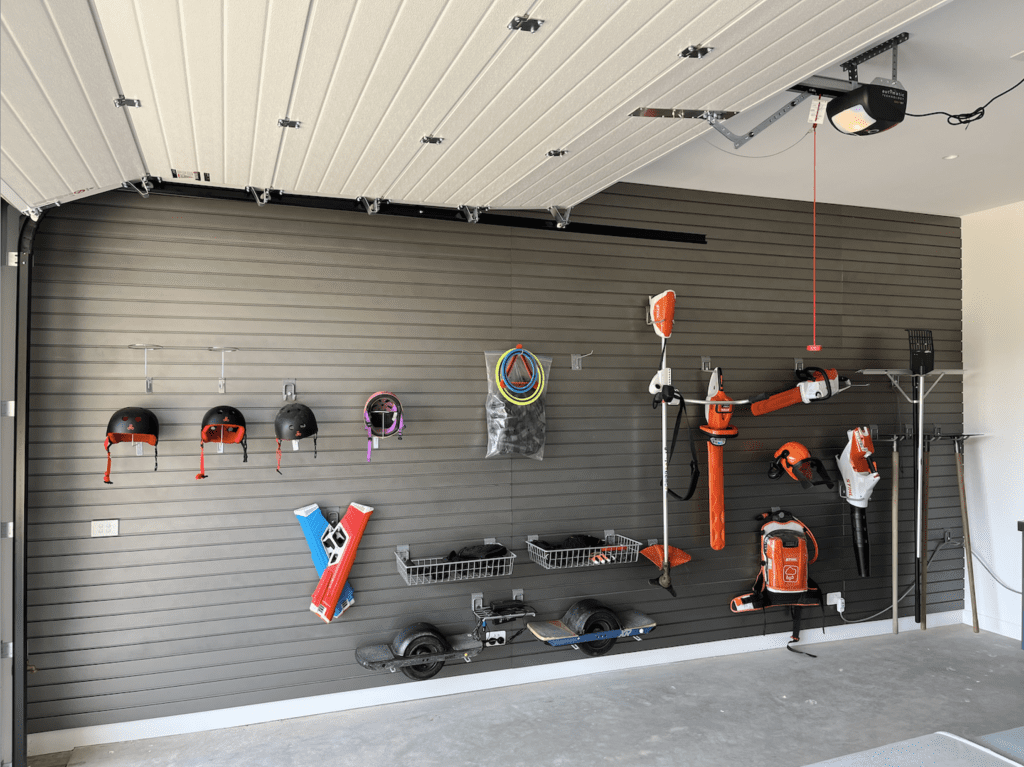 Paul – Brisbane
Thought I might share a couple pics of my install so far. Still a work in progress.

I never intended to cover the walls floor to ceiling due to cost but man! What a difference in organising so far.
Mark – Banksia Beach
Hi Arthur

The panels arrived yesterday afternoon and that completes what I had planned for the garage.

It looks awesome and is much tidier.

Thanks for your assistance along the way. Great customer service, prompt deliver and very good communication.

Regards

Mark
Shane – Perth
Hello Arthur

Thanks for professionally cutting those panels, I've installed the StoreWall panels and they work and look great, my bench is clear and orderly now. The timber frame behind the gyprock had 450 mm centres, so I could use four lots of timber to secure the StoreWall InstallStrips, I used toggle bolts on the joiner strip where there was no timber frame. Your product is definitely strong and functional, I'm glad I Googled StoreWall. Cheers

Kind Regards
Shad – Kensington
I delivered these panels to Shad on Saturday morning, by Sunday morning it was completed. 1.2m wide and 2.4m high.