Let's get started with Installing StoreWALL. To help you better understand how StoreWALL works and how it can fit into your home or business, we have designed a detailed step-by-step guide.
Step 1 – Your Room
The first thing you need to do is review the room with the problem and clean it up. This can involve taking everything out, grouping it, moving the unnecessary things on, and then reviewing where you want things placed. After the cleanup is done, take a step back and review your room to decide which wall you will use to install your StoreWALL garage slat walls. Hopefully, the cleanup will have given you extra space (including wall space) for your important items.
Step 2 – Wall Size
Once you have decided which wall you will install the StoreWALL slatwall system on, you will need to measure it up. You will need to calculate the total area covered in square meters. Using a measuring tape, measure the length and height of the wall you want to be covered.
It is important to consider the type of items you want to be stored on your wall and where is the best place for them. ie Bikes are a popular item to be stored on your wall. Bikes are typically stored upright (perpendicular to the wall). Consider the height of your bike when stored upright and where the hook will likely be on your wall. This will give you an idea of the height that your garage wall panels will need to reach.
Some customers prefer to panel the entire wall. This will obviously give you a lot more options. Others panel the top half or three-quarters of the wall. Below are some examples of how it looks if you panel all or part of your wall.
If you are thinking about how you can use the bottom half of your wall, consider using it for baskets, shelving, tote bags, or bins.
Step 3 – StoreWALL Panels
Step 3 is about determining how many StoreWALL slatwall panels you will need to cover your wall. StoreWALL wall panels come in two sizes, the 1.2m length and the 2.4m length panel. More specifically the dimensions of each panel are as follows:
2.4m – 2438.4mm (length) x 304.8mm (height) x 16.7mm (thickness). The total coverage for each panel is .74m squared
1.2m – 1219mm (length) x 304.8mm (height) x 16.7mm (thickness). The total coverage for each panel is .37m squared
Let's say your wall space is 4m in length and 2.4m in height. Total Square Metres is 9.6m (4 x 2.4). With 9.6m squared of space to cover, the number of wall panels you will require is:
9.6/0.74 = 13 or 14 (2.4m) panels. StoreWALL 2.4m panels come in packets of 4. In this case, you would require 4 cartons (total of 16 panels). If the cost of the 4 boxes is too much, you might decide to only panel the top half of the wall (ie not all of it). The process of determining how many panels you will need is the same. Note that depending on your order size and your location, we can split cartons in order to save you from over-ordering.
Wall Panel Estimator
To make this even easier for you we have introduced our StoreWALL Wall Panel Estimator. This is a simple calculator that uses your wall dimensions to calculate how many panels you need for your installation. It is quick and easy to use. Try it now.
Step 4 – Installation Extras
The most effective way to install StoreWALL slatwall panels is with our InstallStrips. Our Slatwall performance article explains it in more detail. InstallStrips will give your installation greater strength so that your walls can carry more weight. Installstrips make installation quicker and easier. Installing StoreWALL with InstallStrips ensures you aren't making holes in your panels (unlike some other solutions out there). No messy holes look nicer and you can also take your panels with you should you leave the house you are in.
Whilst we recommend that you install using our InstallStrips, you can screw the slatwall panels directly with coloured screws (or any screws of your choice).
Clean Finish
If you are keen to keep your StoreWALL panels clean from screws and holes, you will need to use the following number of InstallStrips:
One InstallStrip-SD for EACH 1.2m panel. Each InstallStrip-SD is 914mm in length but can be split into 3 parts.
Two InstallStrip-SD for EACH 2.4m panel. Each InstallStrip-SD is 914mm in length but can be split into 3 parts.
In the above example, if we are using StoreWALL panels for the entire 9.6m area, the total number of StoreWALL 2.4m panels is 13. The required number of InstallStrips is 2 x 13 = 26 x InstallStrip-SD.
Most Australian homes will have studs spaced at approx 450mm – 600mm apart. Working with this spacing, you will need to install your InstallStrips at 450mm distances (on the studs). As an example, start as close to the edge of your wall as you can, basically the first stud (or part of your internal door frame). Once your first InstallStrip is installed, it is every 450mm or every stud thereafter until you reach the end of the wall or the size of the wall you want to install.
In total, you will have between 5 and 6 supporting contact points per 2.4m panel or 3 supporting contact points per 1.2m panel. See the image above as an example. You can apply similar spacing even for a brick wall.
If you need help with this step, please email us as we can create a custom design for you for the dimensions of your wall. There is no cost for this service. We will also estimate the total cost of materials for you.
Step 5 (a) – Leveling, Leveling, Leveling
Leveling is the key to successfully installing StoreWALL whether you are doing it yourself or paying someone to do it. Your InstallStrips need to be level (both horizontally and vertically). You can use a Laser Level or your traditional spirit level tool (I prefer the latter). A tool such as a Bosch Line and Dot Laser can make this task really easy by helping you to find the horizontal level across your wall. Once you have located the studs on your wall (you will need a reasonable stud finder for this), you should mark the wall vertically with lines going as high as you want the installation to reach. These lines will guide the placement of your Installstrips.
You may also need to drill into your wall to find your studs. Stud finders are useful but not perfect. A few drill holes will ensure you find the stud and its edges.
Don't assume your floor or an adjacent pier or wall are level. Always check and double-check your levels.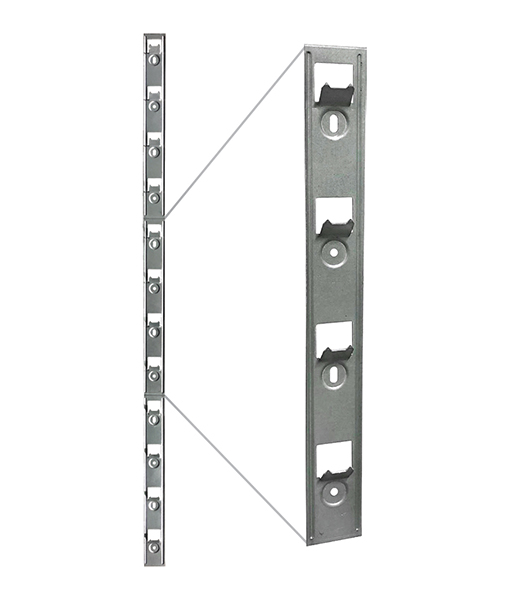 Once you have marked your wall with where the InstallStrips should be placed, you can start installing them, starting with the outermost installstrip and working in. We have another very useful article here. As you add InstallStrips, I recommend that you keep checking how level they are vertically and horizontally. I also suggest checking with a panel to ensure the InstallStrips grip the panel correctly whilst staying level. It's the grip that matters.
Pre-drilled holes
When installing StoreWALL with InstallStrips, you will notice that the Installstrips come pre-drilled. You will notice that several of the holes are longer allowing you to adjust the installstrip up/down. These holes should be used first when adding your installstrip because they help you adjust to get your levels.
You can continue this process along the wall, adding the outer InstallStrips first, checking levels, and then the inner ones. Keep checking with a panel so that the grip and levels are correct. As the panels are placed side by side on your wall they need to butt up nicely against each other. This is where the leveling is key.
If you need to join two pieces of the cut panel, I suggest you keep the factory-cut edges for this and use the cut you make for the outer edges. When joining two pieces, it works best to have them both share half an Installstrip. This will give both edges added support and look nicer on the wall.
To add another installstrip on a plastered wall where no stud exists, you can use a metal or nylon screw in "Plaster Wall Anchor".
What you will find from time to time is that whilst the level has been done, the walls aren't straight and you have some InstallStrips that don't grip the panel that well. What you can do is adjust the specific claws that are not gripping by lightly tapping them upwards with a hammer so they grip the panel tighter.
Note, once you add your items to the wall panels, their weight will push the panels down into the claws of the installstrip. They will feel firm and tight.
Step 5 (b) – Formation
Once your first row is complete, you might be required to cut your final panel to fit it to your wall. The remainder of that panel will be used to begin the next row. This should give your wall that brickwork formation.
You don't necessarily need to follow a brick formation, you can also stack your panels.
Step 5 (c) – Second Row of InstallStrips
When it comes to adding a second tier of InstallStrips the same process applies. The bottom and new top installstrip ends should meet.
Temporarily add your first outer InstallStrip by holding it against the wall. The new row of panels will actually sit on top of the lower row of panels. Note that there are top and bottom edges (tongue and groove) that fall into place on top of each other. By also adding a panel, you can gauge where the InstallStrips need to be placed so that it grips the new panel and also links with the lower panel. Once you are happy with the placement, secure it and work on the other end repeating the process. Hopefully, this video helps you.
Step 6 – Trims
StoreWALL offers a great way to finish off your StoreWALL installation by using Trims. Our L-shaped Wide trim can be used on the outer (left and right) exposed edges to clean them up. These edges are not suitable for the top or bottom.
We also have a joining trim which can be used to separate your panels when your formation has then stacked one on the other in straight lines. See below.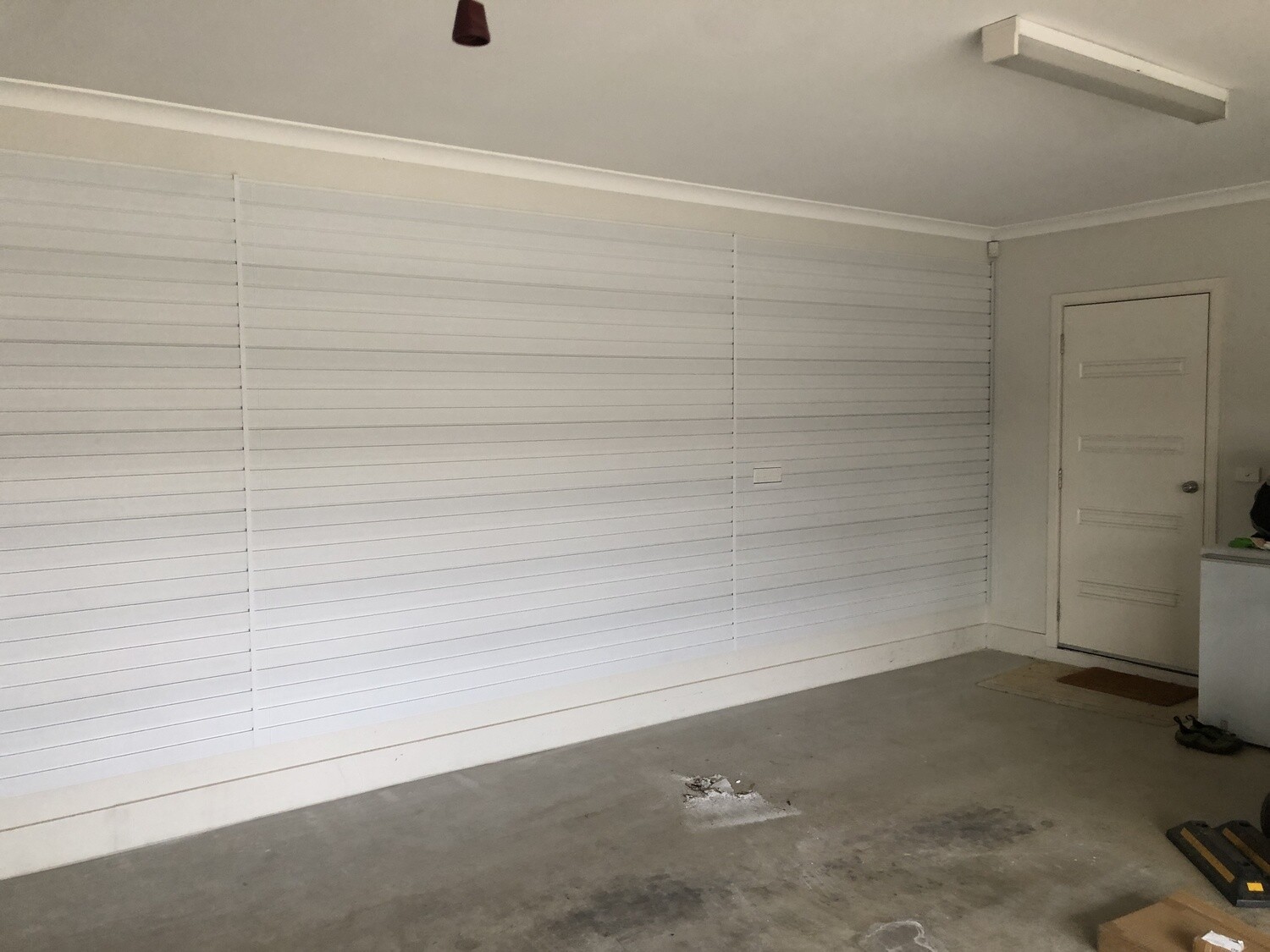 Step 7 – Accessories
Having determined the quantity of StoreWALL slatwall panels you will need, the next step is to think about your accessories. StoreWALL offers over 50 different types of accessories from brackets to shelves, to bins, to hooks, to bags and baskets. Each category has a great range of sizing to help with your wall.
Remember that with StoreWALL, all accessories can be easily moved around, giving you great flexibility. Our range of Accessories can be found on our online store.
Flexibility and scalability are the keys to your StoreWALL system. If your needs change in a year or so, you can easily add and remove accessories to ensure your StoreWALL system continues to meet your needs.
Step 8 – Installing StoreWALL
Prior to ordering your StoreWALL solution, we recommend you take a look at our installation videos and guides to help you determine if you want to do the installation yourself or if you would like assistance. We can give you some guidance for installers in most states around Australia.
Our Youtube Channel includes a large range of videos covering Installation, Product Explanations, and much more.
If you are in Melbourne, we can come out and complete the installation for you.
As a guide, a wall that is 3m in length and 2.4m in height will take 4-5 hours to install on a plasterboard wall (one person). For a brick wall, you can add a couple of extra hours to this. The cost per hour for a carpenter or handyman to do the work will vary by city. I would expect a minimum of $50/hr.
A common question raised by customers looking at installing StoreWALL is whether StoreWALL panels can be cut. Yes, when installing StoreWALL the panels can be cut both vertically and horizontally. You can also cut out parts of the panel to fit around light switches or anything else that is fixed to your wall. StoreWALL slatwall panels can be cut with a circular saw. Your blade should be a finishing blade (essentially it should have a high tooth count).
Should you need your panels cut to specific lengths prior to being shipped to you, we are happy to help out. There is no charge for this service just let us know your lengths at the time you order.
Step 9 – Order
Having determined everything you need, jump into our online store and select it all to understand what the setup cost will be including delivery.
We can also help you by preparing a quote for you based on your wall measurements. The quote will also include a drawing of your wall so you can visualise it.
Step 10 – Delivery Options
Depending on the total spend of your order, we offer FREE Delivery in all capital cities and metro areas. Alternatively, our shopping cart will calculate shipping charges for you. Our charges are based on distance, volume, and weight.
Brick Walls
We recently completed a 9m x 2.4m Brick Wall installation which we have documented with detailed instructions and photos. You can access it below. We hope you find it useful.
You might also be interested in this installation we did which combined brick, wooden studs, and metallic battens.
Installation and Product Guides
StoreWALL Australia provides you with an extensive list of installation guides, product specifications, and installation videos to assist you with installing StoreWALL's range of slatwall panels, hooks, shelves, brackets, baskets, and bags. If you need any additional assistance please call us or email us so that we can assist you.
Installers & Garage Organisers
Please visit our StoreWALL Installers page for more information on who can help you with your installation.
Product Resources