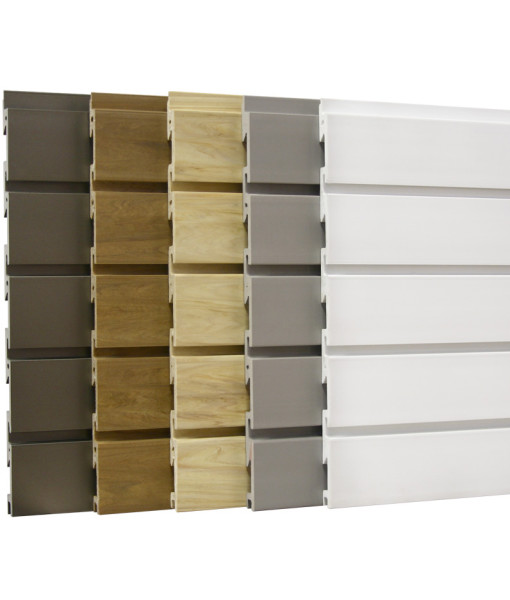 Slatwall Panels are a popular way to dress up your garage and store most of the things you have lying around taking up floor space and causing a hazard. Storewall Australia brings superior wall mounted storage solutions to Australia to through a great range of hard wearing and secure wall panels that you can use in your garage, home, workshop and retail store.
Storewall Slatwall Panels
Storewall's slatwall panels are much more than your ordinary slatwall. The range of colours includes the popular Weathered Grey, Rustic Cedar, Global Pine, Dover White, Brite White, and Graphite Steely. However it isn't just the colour selection that makes them so unique. Our wall panels are significantly stronger and more substantial than conventional wall panels. They are also waterproof, recyclable and easily cleaned.
Storewall's panels have a patented profile, designed to accept the exclusive InstallStrip for easy installation and a beautiful screw free appearance. HeavyDuty panels are molded, solid core, so the colour and finish goes throughout the panel. Panels carry a 10 year Warranty.
Installing Slatwall Panels
Most slatwall panels are installed using screws which fasten the panel directly to your plaster or concrete wall. In order to conceal the screws and offer a clean finish, colour screws are used. The challenge with going directly into the wall however is that the strength of the wall panel and what can hang off it eg hooks and shelves can be limited.
Storewall's Slatwall Panels can be installed simply and easily with our Installstrip solution. Installstrips are metallic strips which sit behind the wall panels and are installed with screws directly on your wall. The wall panels are them clipped directly to the install strips. There are no unsightly visible screws or fasteners and the strips attach to any surface; wood, plasterboard, concrete or concrete block. You can add or change panels at any time. Installation couldn't be easier or look better.
Range of Sizes
To make installation easy, Storewall panel's come in two sizes, the 1.2m panels and the 2.4m panels. The dimension of each panel options are:
Standard Duty
2.4m range – 2438.4mm x 304.8mm x 16.7mm (covers 0.74m squared)

1.2m range – 

1219mm x 304.8mm x 16.7mm (covers 0.37m squared)
Heavy Duty
2.4m range – 2438.4mm x 381mm x 17.7mm (covers 0.92m squared)

1.2m range – 1219mm x 381mm x 17.7mm (covers 0.46m squared)
Accessories
Beyond the Slatwall Panel however, Storewall gives you the ability to add heavy duty accessories such a Hooks (over 12 sizes), baskets, brackets and shelves. Each of these accessories is not only hooked onto the wall panels but it is also locked in using CamLok, the unique locking mechanism that only Storewall offers.
There are plenty of slatwall system available in the marketplace but Storewall is not your ordinary slatwall panel.