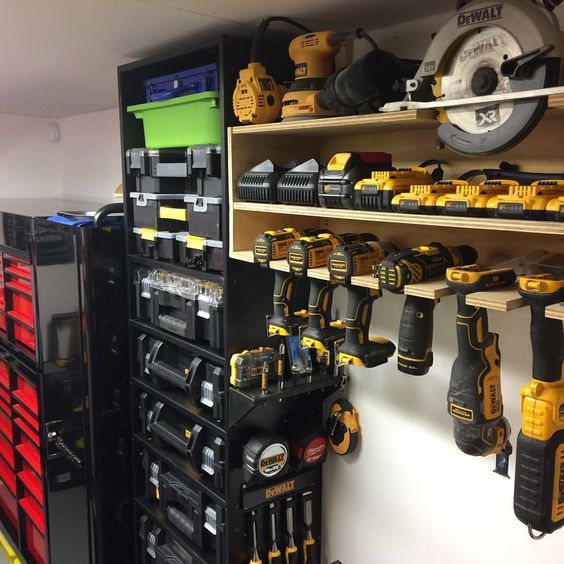 My father spent his life as a handy man. Whether it was doing work at home, for friends or the occasional customer he built up a large collection of tools to help him get the job done. What I also noticed he did over the years was create lots and lots of effective and sometimes curious tool shelf ideas. He would chop and change them all of the time as he tested them out or over-used and wore them out.
Storing My Tools
I have inherited some of my father's handyman traits as well as the challenge of how to effectively store my tools. The biggest challenge I find with organising tools in my garage is that when you start a project you need all of your tools handy and accessible. This means you want them out. Once out, you use them until the job is done but they remain out during this time making it easy to misplace them. Being out they are also prone to being stepped on or kicked as well as touched by others in the family.
Having done some research there is no shortage of tool shelf ideas that will help you to protect your tools. Some can be purchased from your local hardware store but also easily made to your own requirements. I have added plenty of pictures below of great ideas. You can combine shelving, tool racks, drawers, as well as magnetic tool bars.
Your garage might not be on top of your list of spaces that need immediate attention, but when you consider the value of your tools you might want to re-prioritise.
Tool Shelf Ideas
About 2 years ago I built myself a backboard with accompanying shelf from some scrap chipboard I had collected. This allowed me to hang some of my tools and then keep others on display. The problem with the display is that the shelf ended up quite shallow. Its probably 150mm in depth which holds two spray cans worth. It works but isn't great.
When I came across StoreWALL I was impressed by the range of brackets and shelfs they make available. The standard metal shelf is 762mm long and 393mm deep. They also offer a longer shelf at 1.2m in width (same depth). Using the CamLok system once added to your wall they are locked in and will stay in place. However they can also be moved around once you need to change your layout.
Having more shelves with a greater depth can assist you to keep more of your tools at arm's reach rather than having to always carry them around with you around the house as you work.
DIY Tool Shelf
StoreWALL also offer the ability to build your own shelves. By combining the range of StoreWALL brackets you can add your own shelf top made of timber or any other material you prefer. You can also adjust the depth to your own requirements.
Wired Tool Shelf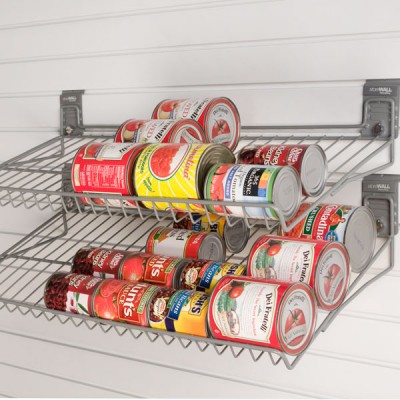 Another option made available by StoreWALL are the popular wire shelves. There are three available and they come with a 760mm width and a range of depths. These start at around 250mm and expand to 380mm. These shelves are either straight or angled.
Power Tool Shelf
StoreWALL recently launched the below shelf. It has been designed to be fitted to your StoreWALL slatwall panel as well as most other Slatwall systems available in Australia. Combine it with our 812 Metal Ledge Shelf to hold your batteries and other power tools accessories. Learn more.
Wooden Shelves
When it comes to power tools, some manufacturers like Milwaukee provide you with an easy to use case to store your power drills. These cases are self contained and are easy to store. There are other however like Ryobi who provide a material case or bag to store the equipment in. These containers are less practical. Others at the cheaper end just provide the box.
Below are some tools shelf ideas for power tools that allow you to safely hang the tool and store the batteries and the charges in full view. If you look at the design it's not complicated at all and can be easily built over a weekend.
Then there are designs that will hold much more than your power drills. You can add sanders and power saws plus much more.
Some of the images on this post are sourced from Pinterest.