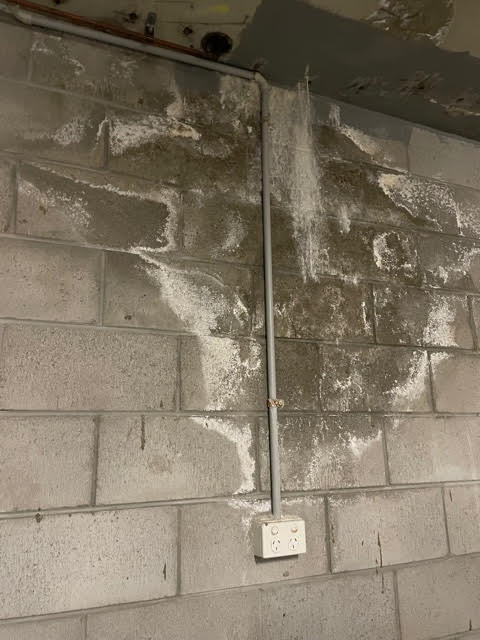 This article is not about how to fix a mouldy garage wall, rather it is about how to continue to use it so that you can store the many items sitting beside it on the ground taking up your precious garage floor space.
StoreWALL Wall Panels
StoreWALL Wall Panels are water resistant and mould proof. They do not obsorb water even if your wall does. Therefore if you have a problem with your mouldy garage wall, using StoreWALL panels over this wall does not mean our panels and your stored items will attract the mould.
StoreWALL's panels are made from hardened plastic.
Physical properties PVC storeWALL
Density – Average 16 / cu ft
Decorative surface thickness .687″ (11/16′)
Modulus of rupture 27 mpa
Modulus of Elasticity – Average 29 mpa
Internal bond 100 psi
Water absorption – 0%
Linear expansion 0%
Thickness swell 0%
Moisture content – as shipped 0%
Formaldehyde emission 0.00 ppm
Flame spread 45
Fire classification IIB
Using StoreWALL on your wall over the mouldy section allows you to protect your stored items as our panels will not attract moisture and nor should our accessories holding your items. All of our accessories are powder coated and typically come with rubber tips providing additional protection for your stored items.
With StoreWALL sitting between your mouldy wall and your stored items, you can still store them anywhere on your wall that you like.
Installing on a Mouldy Garage Wall
Installing your StoreWALL panels on your mouldy garage wall will typically first begin with the installation of our Installstrips. These metal brackets are made from heavy duty galvanised steel. They will not rust nor change shape due to moisture build up on your wall. I have had installstrips sit outside for years installed on an exterior wall with no change to them.
When installing our Installstrips, you will need to ensure they are screwed into a hard and secure section of your wall. If the mortar between your bricks has been affected by the moisture build up and is soft or brittle, then I would avoid screwing into the mortar as much as you can. Instread screw into the actual brick which will be hard and more secure.
When installing StoreWALL with Installstrips, it's the installstrips that will carry most of the weight of your items, so it's important that they are secured correctly to your wall. Watch the video below for instructions.
There are many reasons why your wall might be attracting moisture which is not drying up. Getting the problem fixed is important but if you have tried this and can't solve it, covering the wall with StoreWALL will at a mimimum make it usuable. This will ensure that your stored items are safe and secure off the ground where they may be a hazard to you and your vehicle.