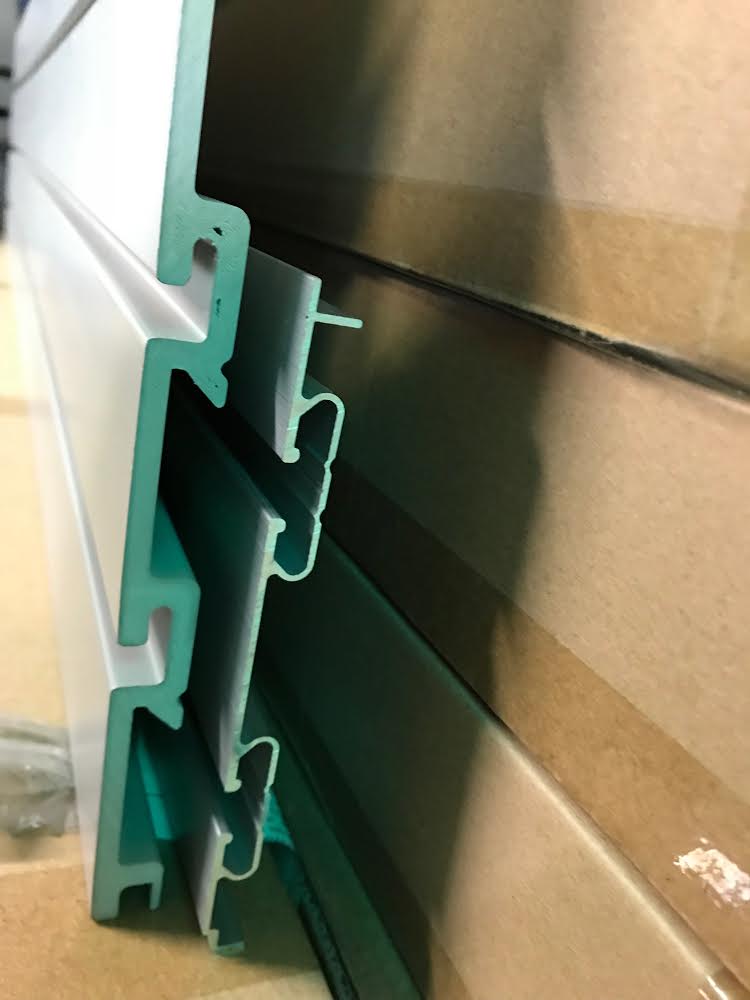 In this week's post, I spent some time investigating if StoreWALL accessories can be used on alternate slatwall panels. The verdict when checked with the StorEase panels (sold by Bunnings) was YES. Today's post focuses on StorEase Vs StoreWALL accessories to demonstrate the differences in specifications and price.
For some background, StorEase is a garage storage system sold exclusively by Bunnings. StoreWALL is sold exclusively by StoreWALL Australia.
Rather than compare every accessory offered by both StorEase and StoreWALL what I have decided to do is compare one key and popular accessory as well as the standard wall panel from both systems. The comparison focuses on specifications and total cost, with detailed images of both as well as some video.
StorEase Vs StoreWALL
I have selected a hook that both systems offer. In the case of StorEase it is the Double Hook (photo on the right). For StorewALL, it is the Heavy Duty Universal Hook, photo on the left.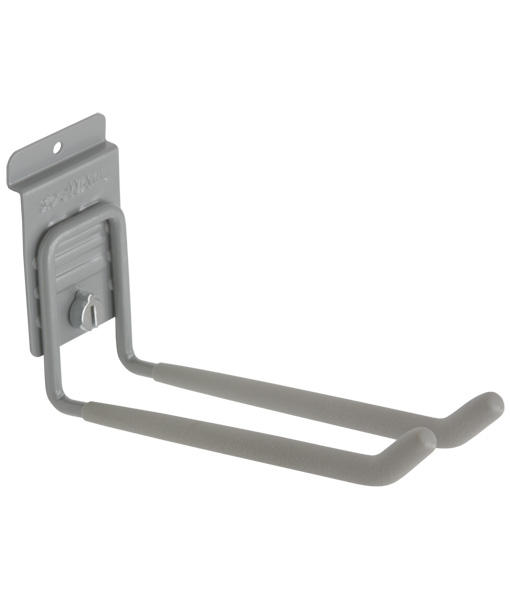 StorEase Key Features
Name: StorEase 20cm Double Hook
Material: Powder-Coated Steel with Rubber Coating
Dimensions: W:75mm H:130mm L:220mm
Weight .200 kg
Holding weight: NA
Price: $15.92
Locking mechanism: main body case comes with two teeth on the front lower side and one larger one in the rear. The rear tooth fits into the slat groove whilst the two front teeth hug the outside of the groove to create tension and prevent the hook from moving around. Watch the below video on how it works.
Wall panel: StorEase wall panels are made from aluminium with dimensions being: W:1200mm H:150mm L:30mm. One panel covers 0.18 square meters. Each panel allows for one row of accessories. Assume you can comfortably fit 4 hook-style accessories per panel. The cost of the panel is $38. Combined with the hook the total cost is $53.92.
StoreWALL Key Features
Name: StoreWALL Heavy Duty Universal Hook
Material: Powder-Coated Steel with Rubber Coating
Dimensions: W: 63 mm H: 114 mm L: 228 mm
Weight .450kg
Holding weight: 68KG
Price: $33.99
Locking mechanism: CamLok provides a secure locking mechanism that is controlled from the front of the hook and moves a hook inside the groove to lock it in place. CamLok is best demonstrated in the below video.
Wall panel: StoreWALL wall panels come in 1.2m and 2.4m lengths. They can be installed by screws directly onto the wall or with InstallStrips to provide a clean and secure connection to the wall. StoreWALL wall panels are made from dense PVC and are mold resistant. The colour range includes Weathered Grey, Brite White, and many others.
The Dimensions of a 1.2m panel are W: 1219mm x H: 304.8mm x L: 16.7mm (thickness). One panel covers .371 square meters. Each panel has 4 grooves and can comfortably handle two rows of accessories. The cost of a single panel is about $69.99. Combined with the hook the total cost is $100.98.
StorEase Vs StoreWALL Hooks side by side
There is very little difference between the two hooks in terms of their size and look/feel. They are both rather heavy-duty looking and sturdy enough. I have two shots below showing you the front and back of both.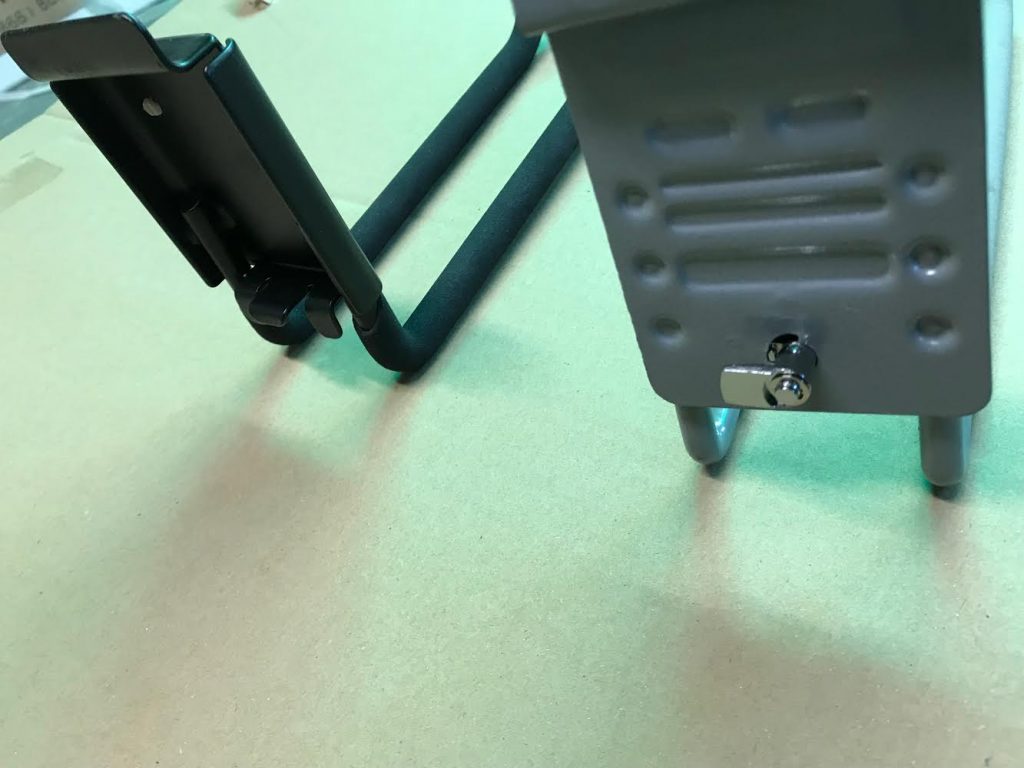 Also included (top of page) is a photo of the two panels and their profiles side by side. Again you can clearly see the differences between them.
The StoreWALL panel is much ticker in structure and because of its width (twice the size of StorEase) it offers a much better option if you are looking to cover a larger section of your wall area.
Cost Comparison
StorEase seems to be about 50% cheaper than StoreWALL, however, you need to also factor in that the StoreWALL panel covers twice the amount of wall space compared to the StorEase panel. Therefore when we add all of this together we end up with StorEase at $91.92 and StoreWALL at $100.98. The StoreWALL pricing assumes that you are installing directly onto the wall with screws and not using IntallStrips.
Key Differences StorEase Vs StoreWALL
Here is a summary of what I found:
Durability
In terms of durability, both the Aluminium finish of StorEase and the Dense PVC from StoreWALL ensures your wall panels will not warp or attract mold. Both are hard-wearing and water-resistant.
In terms of hooks, the StoreWALL HD Universal Hook weighs twice that of the StorEase equivalent. This shows the amount of steel used to make the hook and justifies that it will likely hold a lot more weight as well.
When installed with InstallStrips, the Standard Duty StoreWALL panel can hold 52kgs at 10cm from the panel surface & 113kg at panel surface.
Locking Mechanism
The locking mechanism from StorEase is very sturdy but it also makes it really difficult to remove the accessories and move them around. Having added and removed the hook a few times as part of the video, it had already marked the panel with both paint and scratches. It might have come down to the hook I selected because in last week's video which I completed at the Bunnings store, the hook came off a lot quicker and easier. Too easy in fact.
The locking mechanism of both systems is different. When installed correctly both will be just as secure. The real difference comes down to being able to move the accessories around. StoreWALL is really simple, with no damage done to the panel. StorEase on the other hand was really difficult and the pressure required to unhook the "hook" quickly scratched the panel surface.
You might also be interested in this video sent in by a client on some of the challenges he found with StorEase.
Coverage
If you wanted to cover a whole wall or most of it, using StoreWALL will be a lot easier and probably cheaper as panels come in both 1.2m and 2.4m lengths. The 2.4m carton comes with 4 pieces, whilst the 1.2m carton comes with 4 panels. The look will also be nicer with the panels as they are designed to cover larger areas whereas the StorEase system is focused on smaller areas with a single panel.
StoreWALL also offers a broader range of colours including Weathered Grey, Brite White, Black, and several others.
Accessories
Both systems offer a broad range of accessories, but StoreWALL has over 25 hooks alone. The range of baskets and brackets is also a lot larger.
Where to Buy
Distributed via Bunnings, StorEase is available in stores all over Australia. It is now also available directly online.
StoreWALL can only be ordered from our website. Pickup and delivery options are available. Give us a call on 0411280646 to find out more or email us at info@storewall.com.au
In conclusion, my StorEase Vs StoreWALL review shows that both systems are good but if you want greater flexibility and a more useable and durable panel, then StoreWALL delivers on this.
My focus is on ensuring every customer that visits our website can make an informed decision as to whether our equipment suits them and offers them value for money. We already know how great our garage solutions are, but we also want to ensure that you feel the same way when you decide to invest your money with us.