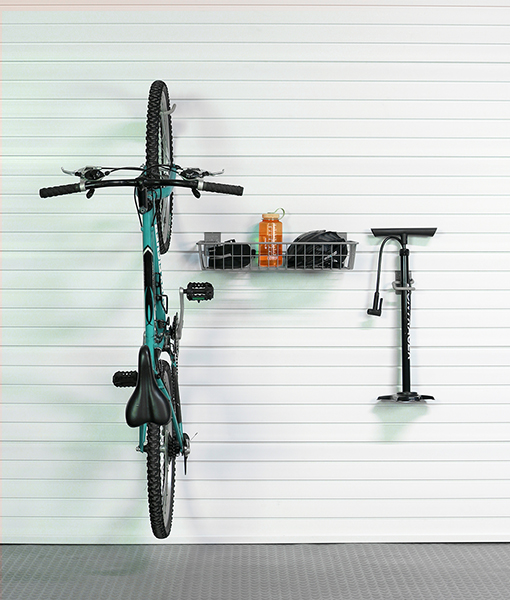 Bike use in Australia has exploded in the past few years. Some of this surge in use is linked to the limited exercise available whilst being in lockdown for Covid-19. With so much more bike use, and more bikes being owned in every household, the challenge of storing your bikes is ever more relevant. StoreWALL offers you several options when it come to the "best way to store bike in garage".
Bike Storage Solutions
The challenge with bike storage is that it needs to be easy for everyone. This includes your 5 or 10 year old child who will ride their bike for 10 minutes at a time leaving in the yard most of the day. It needs to be easy to access your bike (amongst the others owned by your family members) and it needs to be easy to return it as well. When your household owns 3 or more bikes, storage is problematic because bikes are not small and take up a lot of room. Even a mid sized bike for a 10 year old is close to 2m long, 1m in height with a handlebar width of atleast 40cm.
Bike Storage Hooks
If you are looking for a standalone hook for your bike(s) then you might be best to jump to this bike storage article I wrote a little while ago which explores the many bike storage solutions available on the market today. Alternatively, just search "Bike Hooks" and you might be pleasantly surprised at just how many options exist.
This article is focused on what StoreWALL can do for you and how its many bike hooks can provide your wall and garage for that matter with more space for your garage items as well as storing your precious bikes.
Best Way To Store Bike In Garage
The best way to store bike in garage is the one that allows you to easily and safely retrieve it and return it. All the while not taking up all of the room in your garage so you can't store your vehicle or other garage household items. Bikes don't need to take over your garage!
If I take my bike as the typical bike, its measurements are: 1700m length, 1070mm in height and 620mm in depth.
The storage options when using StoreWALL are to hang the bike:
horizontally on the wall, which will consume about 1.8sqm of wall space
vertically (hanging flat up against the wall) on the wall, which will also consume about 1.8sqm of wall space
perpendicular on the wall, which will consume about 1sqm of wall space but .66sqm of garage floor space
perpendicular on the wall, but then swing it so that it sits flat up against the wall when I need to.
Bike Storage Brackets
StoreWALL allows you to store your bike(s) horizontally on your garage wall by using our 381mm Metal Brackets or even our Angle Rack Hooks. StoreWALL's 381mm brackets can be placed to support the frame of the bike and or the seat. Each bracket extends 381mm from the wall and can have padding added to prevent any scratching of your bike frame. See photo below of what this looks like on your wall.
Depending on how high you place your brackets and bike, horizontal bike storage could be a very easy way to access and return your bike to the garage. Could this be the "best way to store bike in garage"?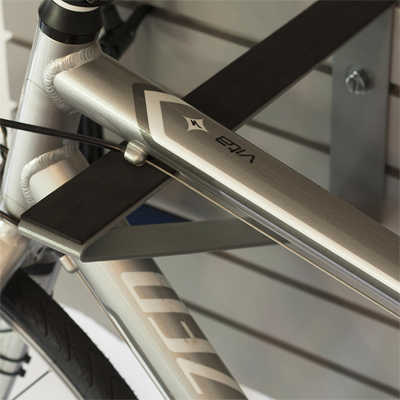 Bike Storage Hooks
StoreWALL's Heavy Duty Universal Hook or even Cradle Hook can be used to hang your bike vertically on your wall. These hooks can be used to grab the rim of your front tyre and then hold the weight of your bike. You can have the bike hang fully off the ground or have the bottom tyre resting on the ground.
Similar to the Horizontal storage option, vertically hanging your bike takes up quite a bit of wall space. It however doesn't encroach into the garage floor area allowing you to more easily also fit a vehicle.
In terms of bike access and return, this option is easier for an adult than it is for a child as it can require you lifting the bike upright but also slightly off the ground.
So depending on your available wall space, this could be the "best way to store bike in garage".
Bike Storage Hooks (Perpendicular Storage)
Perpendicular bike storage is by far our most popular way of storing bikes on your StoreWALL garage wall panels. The StoreWALL J (Bike) Hook allows you to hang your bike upright against the wall with the front tyre supported by the StoreWALL J Hook.
The J hook wraps itself around the rim of your tyre holding it firmly against the wall.
If you don't want the rear tyre pressing up against the wall, you can use a second hook ie Wide Hook to place it into.
In order to remove and replace your bike it will need to be lifted upright and then positioned correctly on the J Hook.
Perpendicular storage frees up space on your wall but uses up valuable floor space. However, careful planning of where you situate your bikes could help you minimise the impact on your floor space allowing plenty of room for easy entry and exit of your vehicle.
Bike Storage Hooks (Swivel)
Whilst Perpendicular storage is our most popular bike storage option, StoreWALL has gone one better by improving the on our popular J Hook. The StoreWALL Rotating Bike Hook is the J Hook on steroids. It allows you to swing your bike left or right so that it sits perpendicular but also flat up against the wall.
So even if you have limited options on where to actually place your bikes in your garage, having them sit upright and flat on your wall now offers you many more options and better access to your valuable garage space.
In terms of access on and off the Rotating Bike Hook, this option is the same as J Hook in that the bike will need to lifted upright and positioned correctly on the hook so that it can be secured.
Steadyrack Brackets
Steadyrack Bike Brackets are a very popular Australian designed bike bracket. StoreWALL has designed a backplate which allows you to now install your Steadyrack bike bracket to your StoreWALL wall panels. Therefore, if you have already invested in Steadyrack brackets and prefer them to the StoreWALL options you can continue to use them on your wall panels.
We hope the many bike storage options offered by StoreWALL will meet your personal needs. If they don't we are sure your local bike shop can also help you with more options.