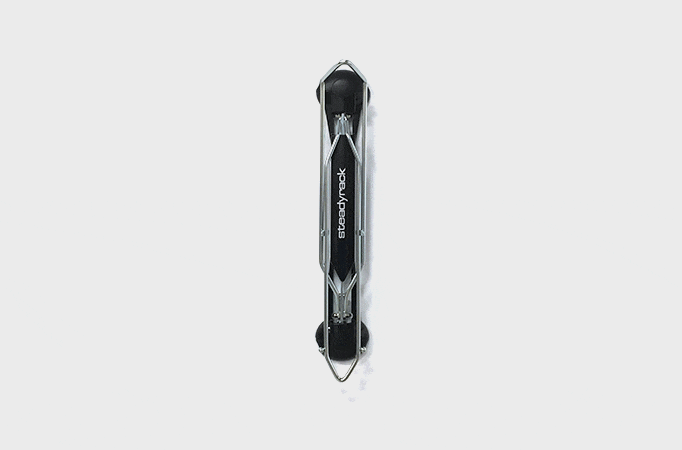 Ever heard of a Rotating Bike Hook?
Bike riding has become really popular during the many COVID19 lockdowns we have had to endure. So much so that many bike suppliers have had issues keeping up with demand. Bike Hooks have therefore also become popular as people start to wonder where they will safely store their bike.
StoreWALL's slatwall system offers over 20 different types of hooks for managing the many items stored in your garage or shed. One of the more popular hooks is the Bike Hook (see image below)
The StoreWALL Bike or J Hook grabs hold of the bike's front tyre and stores the bike hanging perpendicular to the wall. See image below. There are many similar bike hooks on the market. The key difference with the StoreWALL Bike Hook is the CamLok locking mechanism which is super secure. This locking mechanism also allows for the relocation of the bike anywhere on the slatwall system.
Hanging Bike Challenge
The challenge with hanging a bike perpendicular off the wall is that it takes up a lot of room in the garage or shed. A typical bike is up to 1m tall. When it stands perpendicular tyre to wall, it also takes up a lot of room on the garage floor. For many people this limits how many bikes they can store.
What if you could swing that bike around so that it stood flat up against the wall rather than poking out and taking up so much room? Enter the Rotating Bike Hook.
Rotating Bike Hook
StoreWALL offers not one but two Rotating Bike Hooks. It has enhanced its regular Bike Hook and developed a special bracket for the popular SteadyRack Bike Hook.
The new Rotating Bike Hook or Rotating J-Hook is similar to our original J Hook but with the added flexibility of rotation. This new feature allows you to swivel the bike to store it up against the slatwall rather than wheels-to-the wall perpendicular storage. This option opens up your storage space plus allows for multiple bikes to be stored.
Below image is of an installation in Melbourne. The first customer to order the Rotating Bike Hook.
Steady Rack Rotating Bike Hook
Steadyrack bike racks are easy for anyone to use, save heaps of space, engineered and built to the highest quality standards and get your bikes up and out of the way safely, with no lifting required.

Our unique loading and pivoting design enables you to store your bikes in locations that simply wouldn't be possible with any other product on the market.

Whether you're looking to tidy up the garage at home, save space in an apartment or fit out your office or workplace, our patented Steadyracks are the versatile bike parking solution that you've been searching for.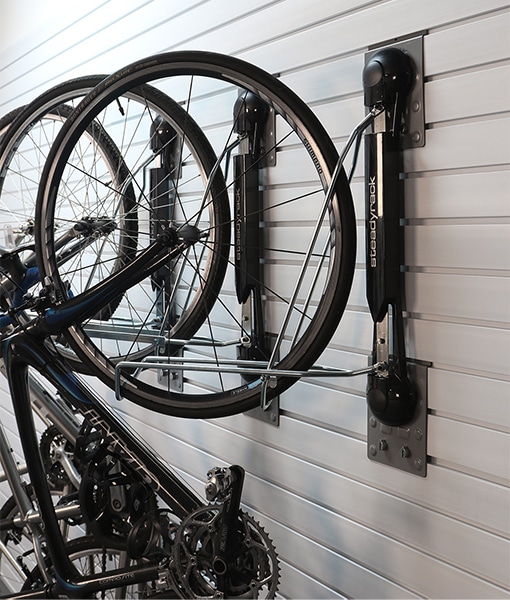 Ok, Steadyrack sounds pretty good too, right. Well, if you have StoreWALL installed at your home, you now can install Steadyrack directly onto your StoreWALL panels. Best of all, you can move it around on your wall like any other StoreWALL accessory.
Rather than having your Steadyrack fixed to your wall (ie screwed into your wall), with StoreWALL you have the flexibility of being able to move it around (left and right, up and down). The StoreWALL Steadyrack bracket is sold in pairs and has two 2 x CamLok's so that it is ultra secure.
Honestly, it doesn't really get any better than this at the moment when it comes to storing your bikes to your wall. Rotating bike hooks are secure and they save you lots of space. Hang one bike or many!
Hanging Bike Flat On Wall
Just when you thought your were done, we have one more hanging bike storage solution for you to consider. This uses the HD Universal Hook and allows you to hang your bike flat on your wall, so that it doesn't stick out at all.
Consider using two HD Universal Hooks to hang your bike particularly when you have a large wall space.