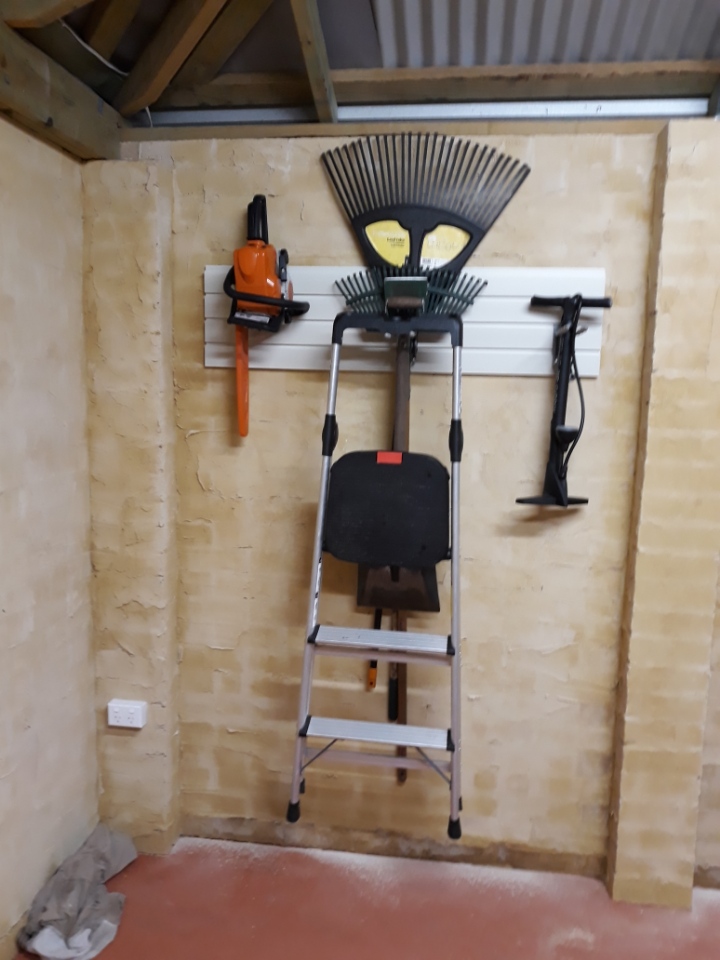 Cleaning up your garage with a garage wall storage solution doesn't necessarily mean you need to renovate your entire garage lining each wall from top to bottom with wall panels. Easy garage storage can be as simple as 2 Slatwall panels on your wall taking care of a handful of annoying items that are lying around.
Garage Gallery
If you look through our Garage Gallery you will notice the breadth of StoreWALL installations we have in Australia. Most of these have been sent in directly by our customers and are rather large with at least one main wall covered.
You will also see a handful of Easy Garage Storage installations that only contain 1 or even 2 panels on a garage wall. Some of them are focused on gardening gear, others on gym equipment.
Easy Garage Storage
Installing a couple of panels is super easy. At StoreWALL, we sell our 1219mm panels in small bundled packages which include the panels and some basic accessories. We also sell them as single individual panels so that you can design your own easy garage storage solution.
Take as an example the below picture which was sent in over the weekend. Cynthia in Balmain NSW purchased:
2 x Standard 1219mm Brite White panels
2 x Standard Duty Installstrips
1 pack of screws (plastered wall)
The installation of this pack would have taken her less than an hour. Installstrips were added on either end of each panel and one in the middle. 24 screws in total would have been used.
Easy Garage Storage – Accessories
The accessories selected by Cynthia included:
White Ledge Shelf
Two small bungee hooks – one is holding the ironing board, the second the gardening lopper.
Two Heavy Duty tool Hooks – holding about 6 gardening tools from forks to spades.
Vertical Tool Hook – holding the vacuum cleaner.
Easy Garage Storage – Single Panel
The second example is from Perth where the client used several single panels each installed separately on sections of his brick wall.
In the above example, the client in Perth used 2 Heavy Duty Cradle Hooks to hold his two Whipper Snippers. He also had a Heavy Duty Utility Hook to hold is blower and several foldable chairs.
Easy Garage Storage – Gym
Our final example is also from Sydney. This client used two 1219mm Brite White panels to store his gym equipment. This included 2 shelves to hold a range of mats. Alongside this he had several hooks to hold handheld weights and a Heavy Duty Utility hook to hold a medicine ball.