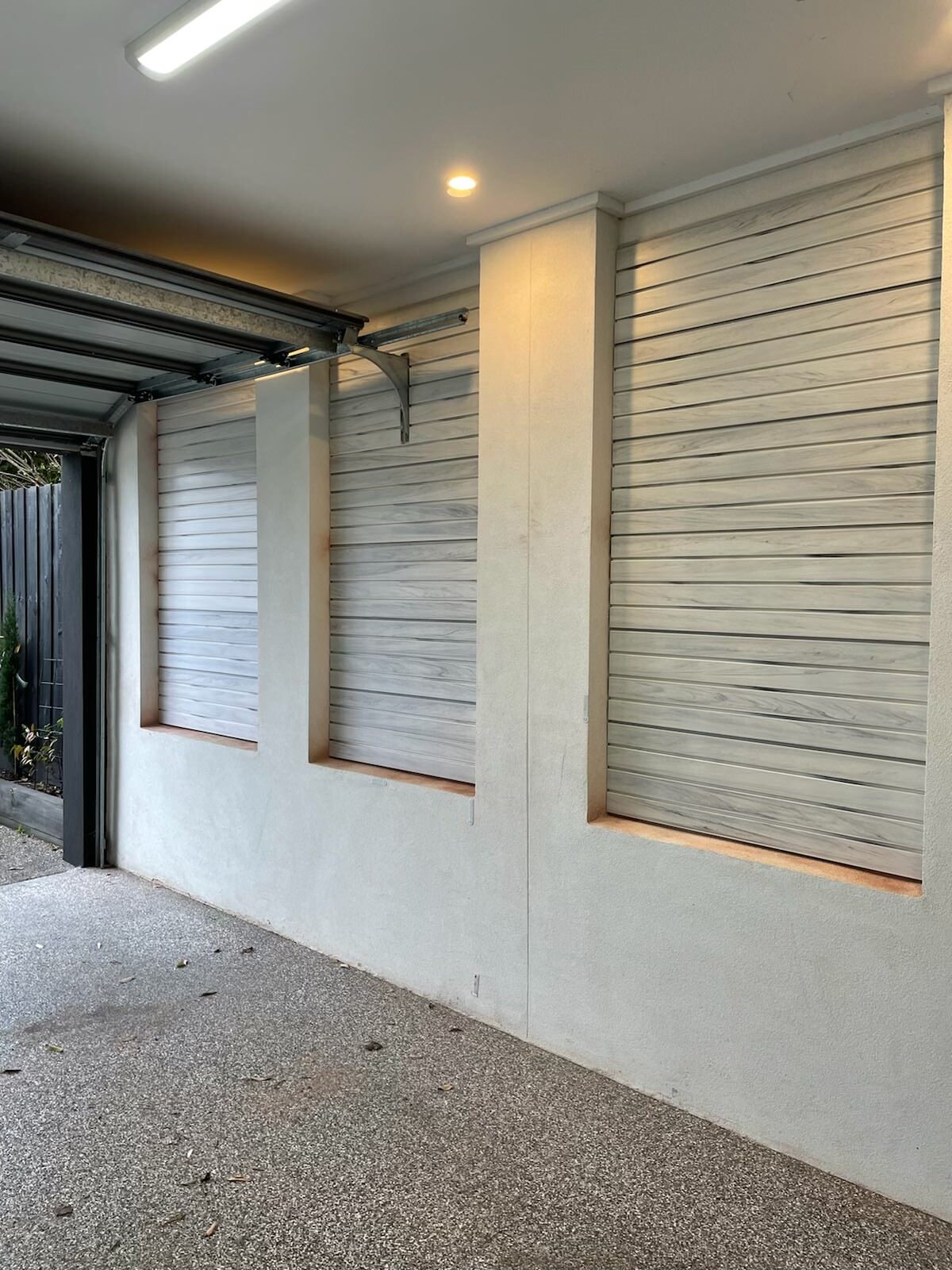 Earlier this month (June 2022), I received a call from a local Ashburton resident who was looking for some help with turning his impossible garage brick wall into useful garage storage area. Tim was keen on purchasing a road bike that he wanted to hang with brick wall hooks as well as clean up the gardening tools and ladder that were sitting on the garage floor.
There is something about drilling into walls that scares the hell out of people. Tim's garage is large enough for 2 vehicles and is split between brick and some plastered areas. The left wall which was brick was where he wanted to install brick wall hooks, shelving and baskets. This wall area was split into 4 sections separated by pillars (see photo below).
Each section was about 1100mm wide and the height was about 1800mm. The middle (second) section had the garage door bracket at the top end of it.
Impossbile Brick Wall
The challenge for most people installing brick wall hooks is choosing the correct fasteners to secure them with and having the right tools to actually create drill holes into the brickwork. Then you have the complexity of placing hooks in places that down the track need to be moved. For most people, these walls are generally left bare or covered with a set of standalone shelves.
Tim was caught in this trap but had watched one of the recent block series where a garage makeover was completed by one of the couples and was inspired to see if slatwalls could solve his problem.
I'll admit we were not the first company he contacted for a price. However, we were the last.
Wall Panel Colours
Tim was keen on the Rustic Cedar colour for these walls but we were, unfortunately, a little low in stock. He and his wife settled for the Whitewood which in the end they were quite happy with.
StoreWALL's range of PVC Garage Slatwall Panel colours is extensive. From your Whites to your Greys, Blacks, and Wood-like finishes, I don't think there is a supplier anywhere in the world which can match us. Unfortunately, however, we do run out of stock from time to time as some colours like the whites are super popular.
Each section took 6 panels stacked one of the other. We used 3 installstrips across each section (as you can see in the first photo above). In total, we used 12 x 2438mm panels and about 24 installstrips. The garage door bracket required us to cut out a section from two panels so that we could fit it in. I did it with a jigsaw. StoreWALL panels are pretty easy to work with when it comes to cutouts.
Brick Wall Hooks
Tim purchased several accessories which are not shown in the pictures. He chose a:
Ledge Shelf for his car care kit.
Rotating Bike Hook for the bike he was looking to add.
Heavy Duty Utility Hook for his ladder.
Heavy Duty Universal Hook for his foldable chairs.
Heavy Duty Tool Hook for his gardening tools.
Several smaller hooks.
Heavy Duty Deep Basket.
Vertical Tool Hook for his garden blower.
Tim can now use all of his impossible brick wall. He can add and remove his accessories as often as he needs to. No more drilling holes nor worrying about where to place them.