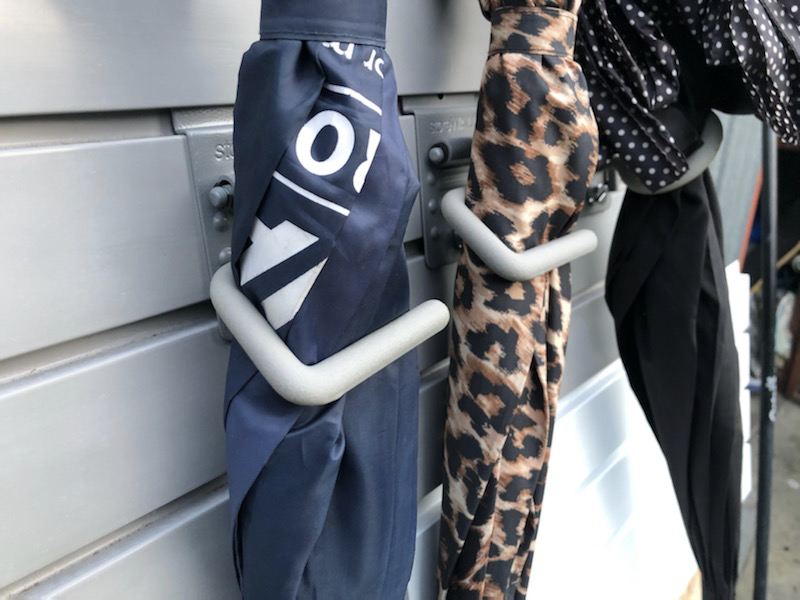 You learn a lot from your customers. This week I was met with several requests via our online chat service with the message "organizing tools in garage, can you help?". Then came a long list of tools and items. It quickly dawned on me that sending them to the Hook section of our online store was not great service.
When you visit your local hardware store and you are after a hook to hold a ladder upright, you are usually guided to an aisle with 20+ alternative hooks. For some this can the ideal solution, for others its like "so now what, which do I choose".
Unfortunately, online stores whilst giving customers control of their journey can also be daunting when customers are discovering what it is they want and need form you. Most don't ask questions like they would in a store, if they can't work it out, they move on.
Organizing tools in garage
In one instance this week, the customer sent me a long list of what is stored on their garage floor at the moment and said this is what they needed help with. Please recommend the appropriate way to store these items.
The list looked like this:
Something to hang 8 fishing rods together vertically
Hooks for Maxitrax hung horizontally
Something for fishing gear
Need to hang 1 skateboard
We have a wakeboard (think skinny boogie board)
There is a surfboard
Something to hang 4 x tennis racquets and clear plastic small tray for balls
Hooks for 2 electrical cords
Hooks for 2 hoses
There are 2 flat folded chairs
Hooks for 3 fabric foldable chairs in bags
Fitting for 2 shovels
Fitting for 1 pitchfork
There is a medium sized step ladder
We have a fan rake
Fitting for 2 brooms
There are 2 long garden shears/loppers
2 saws
Multi hook on a rail thing for small garden tools
Fitting for bike pump
We need something for 2 wheelie shopping carts (the granny style soft fabric pull along ones)
There are 4 umbrellas (straight not curved ends)
Fitting to hang earmuffs and safety glasses
We have a sledgehammer and 2 axe/tomahawks
There is a spirit level
Basket type shelves for boots
Hook for dustpan/broom
Later on the same day, I received another enquiry and this time, the list was similar although focused on power related garden equipment:
"Want shed wall Rack for my Gardening Tools Brushcutters, Blower, Hedgers, Chainsaw, Rakes, Shovels"
These are all really great questions and probably represent 80% of what our customers are thinking about when they visit our online store and spend a few minutes browsing around.
So I invested a couple of hours preparing a quote for the first client and an email response for the 2nd. In that time, I reviewed all of the pictures we had on our site demonstrating how our accessories work. I also tested several scenarios in our workshop to ensure I was comfortable with what I was going to recommend.
In doing all of this I realised that we needed to be more helpful and given our store is online, this meant providing more information where you are likely to find it quickly.
StoreWALL Hook Options
Below is how I answered the "organizing tools in garage" question. Mind you, this took a few goes and the client helped with plenty of feedback.
This was my response:
Fishing Rods – I thought the best solution would be the S Hook as it would hold the rod up off the ground. The client in the end preferred the Pole Hook with the rod sitting on the ground.
Maxtracks hung horizontally – I preferred the HD Universal Hooks for this but the client went with the a 63mm Single Hook
Storage of Fishing Gear – I had recommended a basket for this but the client determined that they could an existing plastic bin hung on the wall with 2 x 254mm brackets.
For the skateboard, wakeboard and surfboard – I had recommended 2 x 254mm Angle Brackets with each item stacked side by side. These brackets extend 430mm off the wall. I had also provided the option of the Angled Pole Hook which the client preferred.
Tennis racquets – I had provided the option of the Wide Hook but the client went with a 190mm Single Hook.
The tray for balls – best option was one of our Large Bins
Electrical cords – Utility Hook
Hoses – Utility Hook
Flat fold chairs – Heavy Duty Universal Hook
Fabric foldable chairs in bags = I assumed they had a cord to be hung with and went with the Heavy Duty Universal Hook
Shovels and Pitchfork – Tool Hook
Step ladder – Heavy Duty Cradle Hook
Fan rake & Brooms – Tool Hook
Long garden shears/loppers – Box Hook
Hook for 2 saws – Heavy Duty Universal will carry them.
Multi hook – Six Prong Hook
Bike pump – S Hook
Wheelie shopping carts – Cradle Hook
Umbrellas (straight not curved ends) – I tested and have added some photos below. The S Hook was the best option.
Earmuffs and safety glasses – 190mm Single Hook
Sledgehammer – Heavy Duty Universal Hook (depth is 228mm, may also be able to hold both the axe/tomahawk (below) on the same hook)
Fitting for 2 x axe/tomahawk – Heavy Duty Universal Hook
Spirit level – 63mm Single Hook
1 shelves – 812mm Shelf + 2 x 254mm Brackets
Dustpan/broom – 63mm Single Hook
Shelf for boots – Angle shelf
StoreWALL Hook Matrix
Having done all of this work, I have now added a matrix on our Hooks page so that you can see the recommended Hook for common items. Hopefully this is easy to view and read and customers find it useful when working through our store.
Below I have some photos of the umbrellas that were mentioned above. These are your regular umbrellas with a straight handle. At the start, the Angled Pole hook seemed like the appropriate choice but the S Hook proved to be the best choice and I think is a great option for most items that are long.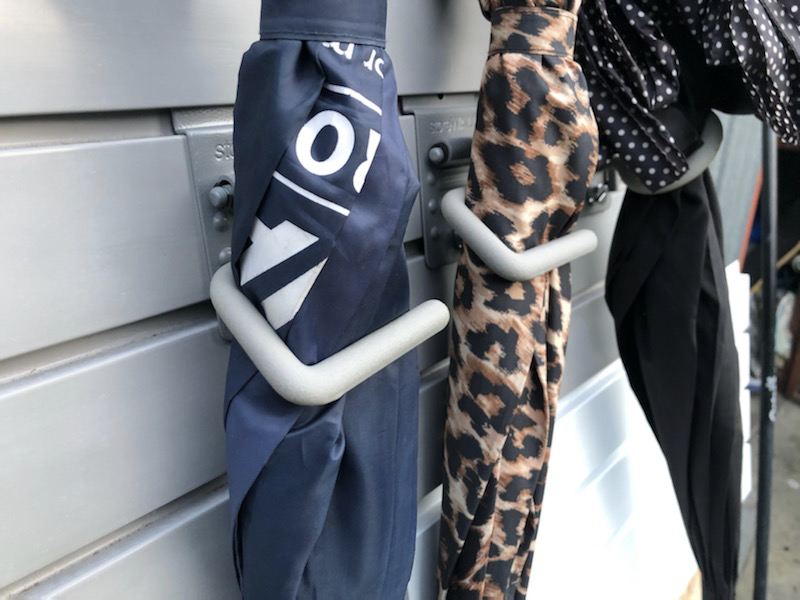 Organizing tools in garage – S Hook in Action
The S Hook has two arms that wrap around the item, one at the back and one at the front. These arms can be moved up and down but on an angle. Due to this angle, they grip the pole really nicely. You can even move the pole up and down the wall and the grip remains.
If you are wondering about the second "Organizing tools in garage" request that came through, I provided the following response.
Brushcutters – Heavy Duty Cradle Hook, Vertical Tool Hook or the Wide Hook
Blower – Utility Hook or Heavy Duty Cradle Hook (depending on the size)
Hedgers – Heavy Duty Cradle Hook, Vertical Tool Hook or the Wide Hook
Chainsaw – 300mm Power Tool Bracket x 2
Rakes/Shovels – Tool Hook
Note that the Vertical Tool Hook is on its way to Australia. Hoping to have it available in early September.