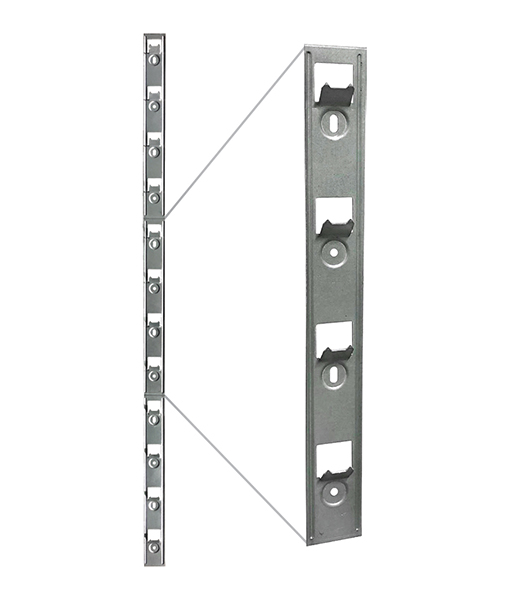 Over the past month, we have seen a significant increase in the number of households looking at upgrading their garage with a garage wall panel installation. Many question the strength ratings of our various panel types and the weight each panel can hold. I thought it would be helpful to compare the Slatwall Performance of StoreWALL with two other alternative solutions readily available focusing on the recommended installation options each offers.
Slatwall Performance
A key question that has come with the many enquiries, is the benefits of installing with InstallStrips over just screws straight through the panel.
InstallStrips are not unique to StoreWALL, but the majority of garage wall panel systems on the market today will have you install your panels with screws directly through the panel. They do this because it makes the wall solution cheaper to buy and easier to explain. However it is not necessarily quicker and certainly does not result in a stronger wall storage solution.
Below I have reviewed three garage storage solutions including StoreWALL and compared recommended installation options as well as the overall strength of the wall storage system. I hope it provides a good guide as to what is on offer in terms of slatwall performance.
Bunnings StorEase
StorEase offers a couple of Metal Track/Rail Options upon which you can hang an extensive range of hooks and other accessories.
The StorEase solution only offers one install method and that is using screws directly through the panel and onto your wall. The StorEase panel actually comes with pre-drilled screw holes to make it easier for you.
The 1.2m panel offers 6 pre-drilled holes to use on your wall. Installing on a plastered wall means you need to drill a hole through the stud and into the wall surface first. You then need to line up the predrilled hole in the StorEase rail with the hole in your wall.
Ensuring your panel is level, you then screw directly through both holes with your screws.
If your wall is made from brick or another masonry surface, the same process applies however you will need to fill the hole with a plug so that you can then screw into this plug.
The StorEase 1.2m panel provides you with 6 holes (3 sets of two) at 600mm intervals (ie 0, 600mm, 1200mm).
The rated weight for the StorEase panel is: 150kg (as stated by their website).
You can read our review of StorEase here.
Gladiator GearWall Panels
Gladiator Garageworks offers 2 styles of garage wall panels. One is a rail similar to the StorEase panel. The second is a PVC based wall panel measuring 1230mm x 320mm.
The Garageworks GearWall PVC panel comes in a White colour and is also installed with screws directly through the panel.
I have included a photo below from their installation guide. It is pretty comprehensive. To ensure the strength of the installation, screws need to be placed in each groove (of which there are 4 per panel) along the length of the panel and on each wall stud (or every 40cm – 45cm). Therefore, a typical panel will have approx 16 screws.
The most effective and cleanest way to install using screws through your panel is to pre-drill the holes in your panel. This ensures you don't damage your panels when finally screwing into them. Pre-drilling however means you need to measure up correctly.
The max weight they reference per square foot is 50 lbs. Based on the dimensions of the a 1.2m panel (1230mm x 320mm = 4.24 sq ft), the max weight per panel is 200 lbs or 90 kg.
StoreWALL Installation Options
Installing garage wall panels with screws is quite common. In fact, StoreWALL also gives you this option should you choose it. The process works much the same way as the Gladiator GearWall in that screws are placed in the slots across the length of the panel.
In StoreWALL's case, the Basic and Standard Duty panels have 3 slots (Heavy Duty has a 4th slot).
Step 1: Make a level line at the top or bottom of desired location. (Use a laser, level or string for accuracy).
Step 2: Secure the ­first panel by driving the screws through the slots of the panel's front face, directly into the centre of the wall studs or blocking.
StoreWALL also offers the option of colour matching screws. No pre-drilling or countersinking is necessary. The screw head will flush up with the slot surface.
We recommend approximately 20 screws per 1.2m panel.
Weight Specifications
StoreWALL specifications state that the maximum weight that you can hang on a StoreWALL wall panel when installed directly with screws is 34 kg for a 2.4m length (at 10cm from surface wall). Performance is higher at the surface.
This is about half of that stated by GarageWorks. It's also a lot less than StorEase. I would suggest the testing undertaken by either organisation might be different.
99% of StoreWALL customers however, install using InstallStrips. It is the best method and delivers the best slatwall performance for your wall both in terms of strength but also the final finish.
InstallStrips Deliver Best Slatwall Performance
There are two key reasons to install with InstallStrips – Strength and Finish.
Strength
Using InstallStrips will significantly increase the weight your 1.2m or 2.4m panel can hold.
The maximum weight that the 2.4m Standard Duty Panel will hold is 113 kg at 10cm from panel surface.
The maximum weight that the 2.4m Heavy Duty Panel will hold is 136 kg at 10cm from panel surface.
The reason for the added weight capacity is the InstallStrip itself. It is made from Rolled steel. It also has an 18 gauge zinc plating for rust resistance. I have had 2 InstallStrips exposed to the elements for 4 years and they still have not rusted.
The InstallStrip has 4 hooks which latch themselves onto the back of your panel. See photo. Made of steel, these hooks provide the support for carrying the specified weight. The number of screws per InstallStrip is 12. Each of the 3 sections which make up an InstallStrip has a screw hole which allows you to adjust the height and position of your InstallStrip to assist with lining up your panels.
Heavy Duty InstallStrip has 3 additional hooks (1 per section) 15 in total. They are also slightly wider.
Finish
InstallStrips enable you to secure your garage wall panels without screwing holes into your panels. There is no risk of making a mistake with your drilling. Your wall panels will have a nice clean finish allowing you to also take them away with you at a time in the future.
Furthermore, it also makes for a much quicker installation. You are not having to screw blindly into your wall with the panel in front of you. The InstallStrips are lean and easy to work with. Once your InstallStrips are screwed onto your brick wall or studs, there is no more screwing. Cut your panels and start hanging them.