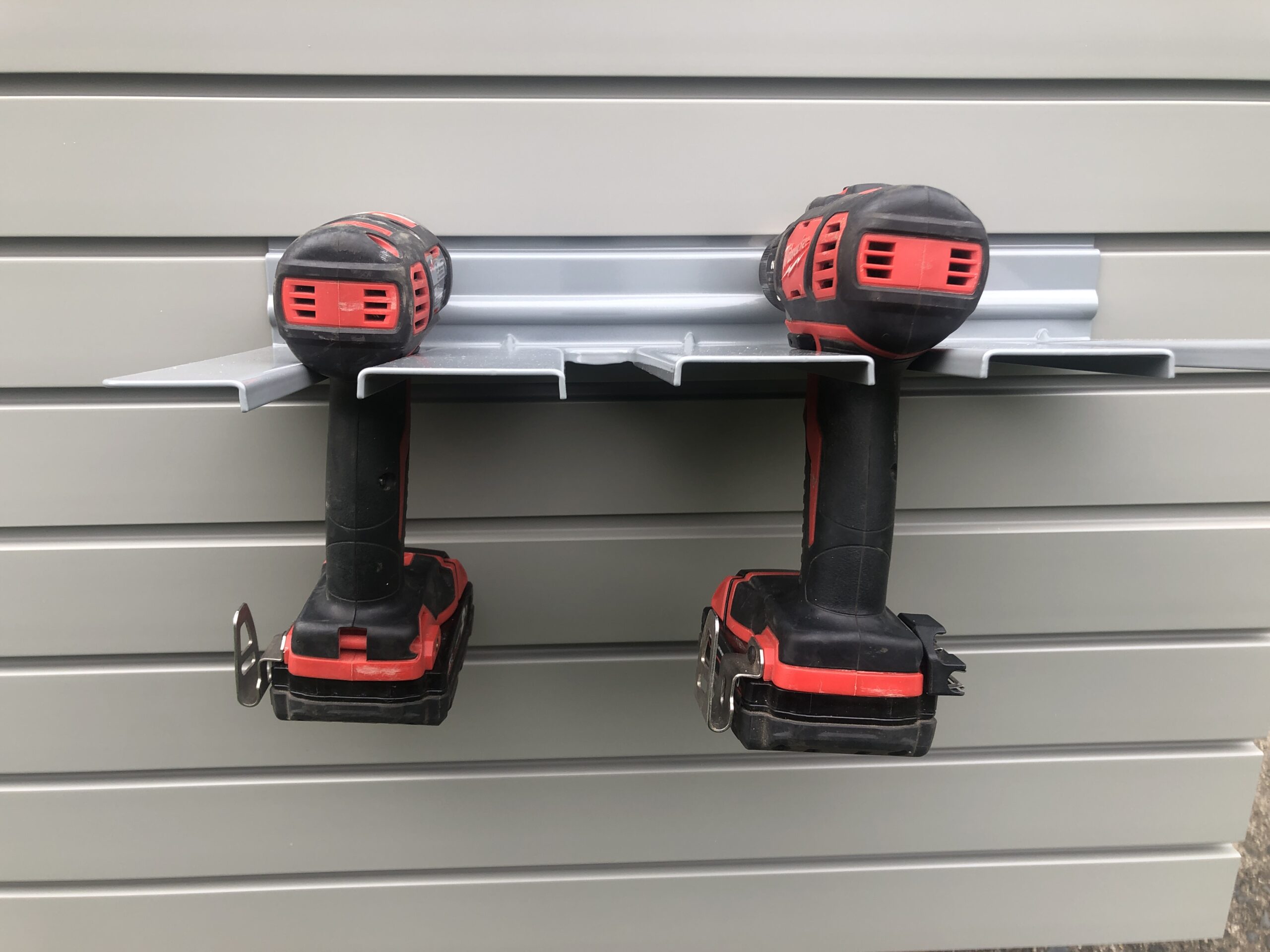 Garage storage solutions have increasingly become popular over the past few years. StoreWALL in the past 6 months have released its latest range of slatwall accessories focused on power tool storage.
Storing your power tools at home in the shed is not simply about having them sit on a shelf in their original packaging. The key is to have them:
be on display (ie visible) and easily accessible;
be secure in their storage so they will not fall and be damaged; and
be out of the way from kids so they can't hurt themselves.
It's easy to buy shelving and have your power tools sit side by side in their packaging waiting for you to pull them out and work with them. Unfortunately what you will find with such a solution (as I did) is that as you accumulate tools, you end up stacking them next to each other but also on top of each other as you run out of space or have to return them to the shelf after use.
It isn't ideal, and the original packaging doesn't last forever. In some cases it can take up more room than the actual power tool itself.
StoreWALL's latest power tool range adds to our already extensive range of accessories. However, this new range of hooks and shelves are designed specifically for power tool storage (they can also be used for other purposes).
Power Tool Storage
Let's take a look at the new range of accessories that have been launched and is now also available in Australia.
Vertical Tool Hook
Vertical Tool Hook has a wide and round opening which is just the right size for your leaf blower or edger. Due to the main motor of these tools being large, they can be hard to hang. Now with the Vertical Tool Hook, they can be easily hung on your StoreWALL Garage Wall Panel.
This is now available in Australia and has quickly become one of our most popular hooks.
Hand Held Power Tool Hook
Hand Held Power Tool Hook is ideal for your power drill or other hand held power tools. It is designed to grab and hold the horizontal motor part of your power tool. Now also available in Australia.
Interestingly the StoreWALL Wide Hook is just as useful when it comes to certain sized power tools and is also available in Australia.
300mm Power Tool Bracket
The 300mm Power Tool Bracket has plenty of depth in order to hold your bigger power tools. It is also strong enough to support a weight capacity of 68kgs.
You will require more than one of these to hold your larger power tools.
300mm Shelf with Cord Holder
The 300mm Shelf with Cord Holder is ideal for your larger power tools with sharp blades such as the circular saw. This unique shelf allows you to display your saw, protect its blade and protect you and the family form being hurt by it.
The wire shelf is 300mm wide and 190mm deep and allows you to display your saw safely with the blade sitting beneath the shelf. There is even a convenient hook attached to keep the cord tidy.
150mm Shelf with Cord Holder
The 150mm shelf is the smaller sibling of the 300mm Shelf and is ideal for your smaller power tools such as jigsaws and sanders. Dimensions are 150mm x 150mm.
Magnetic Tool Bar
Your power tools aren't your only tools that need to be stored correctly, protected and visible. The StoreWALL 609mm Magnetic Bar is a great addon for any workshop or garage and can store multiple items for you. It secures to your wall panels with our CamLok locking mechanism making it easy to move around as required.
The Magnetic Bar is currently available through our shopping cart.
Tool Organiser Shelf
Our Tool Organiser has been around for some time and has proven to be very popular. Used for your screw drivers and other smaller tools, it enables you to quickly organise them, have them securely stored and easy to access when needed. Find it on our shopping cart today.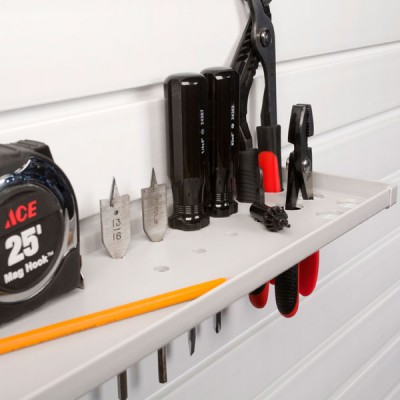 Power Tool Storage Rack
Our latest Power Tool Storage Rack allows you to store up to 4 power tools on the one rack. It easily fits into your StoreWALL panels (including most slatwall panels on the market). Available today in our store under Shelves.