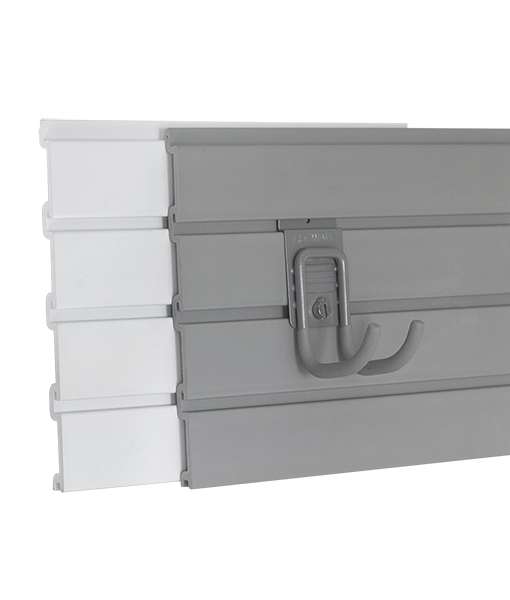 StoreWALL has recently launched its latest Wall Panel range – StoreWALL Basic Duty. StoreWALL Basic Duty will launch as our entry level slatwall garage storage solution designed to be more affordable and accessible for home and garage owners.
Slatwall Garage Storage
StoreWALL Basic Duty Wall Panel will be reaching Australia in mid to late June 2019 and will join our already popular StoreWALL Standard Duty range. The Basic Duty Slatwall Garage Storage Panel comes in two colours, Grey and White and both will be available in Australia.
The new range continues to be provide a hard plastic wall panel finish ideal of your garage or home. It is easy to clean, hard wearing and weather proof. Installation is made even easier than before. InstallStrips are NOT AN OPTION with the Basic Duty Panel, it can only be installed via screws from the face of the panel directly into the wall.
Many Australians are looking for new ways to tidy up their garage and have admired the simplicity of StoreWALL. Unfortunately for some, the Standard Duty Slatwall Garage Storage Panel has been outside of their budget. The Basic Duty Panel gives Australians a new option which is affordable, easy to use and install.
Tidy up your Garage
StoreWALL's Basic Duty Wall Panel is compatible with all StoreWALL accessories including all Hooks, Brackets, Shelves, Baskets and Bags. CamLok is just as effective with the Basic Panel.
We are launching the Basic Duty Panel in a 1.2m size with both Grey and White colours. They will be sold in packs of 4 (1 carton) and as individual panels. A 2.4m option is available in the US and we may consider this down the track as we get feedback from home owners.
Pricing for the new range is almost half of the Standard Duty Panel at $170 for 4 panels. Each panel is 1219mm (length) x 304.8mm (height) x 16.7mm (thickness). Four panels per carton covers 1.48 sq meters.
In terms of Installation, we recommend you use approx 20 screws per panel. Get more details from our online store.