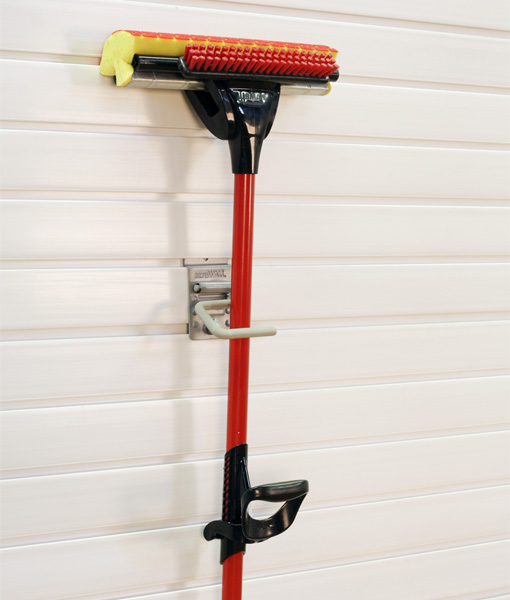 My household has atleast 5 brooms, most of which are used outside the house. Now we do have an indoor broom which can be found in the main cupboard hanging on the wall using a broom holder. I can't say the same for the outdoor brooms. Some are in the garage, some are outside and some are in my gardening shed. What I do know is whenever I need one I wander around hoping to find one. Broom and mop storage organisation can really be challenging to setup and stick to.
Indoor Broom Holder
Broom and mop storage organisation inside our house is as complex as the Broom Holder in our cupboard. It is made from rubber and holds 4 poles, be they brooms, dusters or smaller items like dust pans. I believe I paid under $20 for it and it works OK. The poles aren't falling out of the holder, so I can't complain.
I have a picture below from my cupboard. In theory the broom holder can hold 8 items at once (I haven't tried this) using both the circular holds and in-between. If they are all poles this would probably work but once you add larger/bulkier items, 8 might be a challenge given the spacing. I would also challenge how much weight it can hold prior to giving way off the wall. It's only held with two screws.
Pole Hook
Broom and mop storage organisation outside the house is really non existent. It would actually be useful to have something similar outside for the brooms I use more frequently and can't find. StoreWALL has a great range of hooks several of which have been designed specifically for holding poles.
The StoreWALL Pole Hook has been designed for horizontal or vertical storage. Cleaning devices such as mops and brooms can hang up off the floor. The Pole Hook caters for one pole at a time.
Heavy Duty Tool Hook
StoreWALL's Heavy Duty Tool Hook is probably our best Wall Broom Hanger because it's designed to carry several items at the same time. It's useful design saves you space and keeps you organised.
Brooms, shovels and rakes are ideal for our Heavy Duty Tool Hook. They don't all have to be big items either because the Tool Hook can pretty much carry anything you have. Our specs state it can actually hold about 30KGs.
Smaller Hooks
Our options for broom and mop storage organisation don't end with the Tool Hook. We also carry a great range of smaller hooks which are versatile enough to carry a variety of gear from the garden, whether it's gardening, household or even sport related.
Check out our HD S Hook for your brooms or other gardening gear as well as our Cradle Hook. All of these StoreWALL accessories are versatile and can be moved around and used in so many different ways.
Pricing for the StoreWALL range starts from $12 for the Pole Hook and around $28 for the HD Tool Hook. You obviously need the wall panels as well. A single wall panel (1.2m) is just $55.