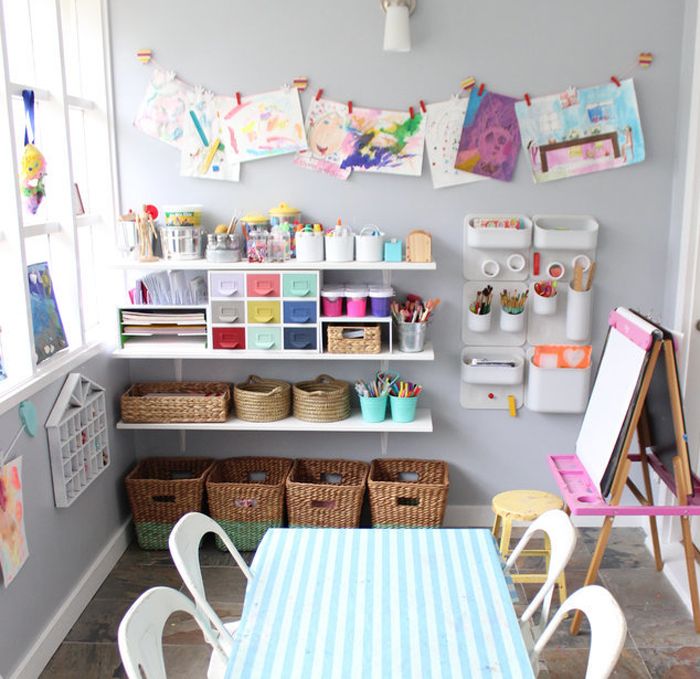 We talk a lot about garage walls on our StoreWALL blog but slatwalls can be a great addition to any class room and its Craft Wall.
Art teachers are always keen to show off their pupil's achievements and hanging art and craft is a great way to do this.
A recent order from a client in Melbourne included a range of wall panels (1.2m and 2.4m sizes) and a large number of bins. No hooks, shelves, bags or brackets. The order got me thinking about the use of small and large bins in a home, garage or workshop.
Craft WALL
With school just about to end for the year in Australia and school teachers will begin preparing for 2019 and improvements that can be introduced.
Following a recent visit to my 8 year old's class room, I noticed how craft bits and pieces where kept. The class room had a large chest of drawers which housed much of the craft materials plus a large selection of tubs. The school has a dedicated art room but the kids also do craft activities in their class room. The chest looked effective but messy with some drawers closed, others half or fully open.
I couldn't help thinking if a craft wall wouldn't be more effective. The advantage of a craft wall is that materials are on display and easy to access. Tubs stacked on top of each other would be eliminated. The StoreWALL range of bins is extensive and easily replaces the messy tubs.
It's not just bins sizes that StoreWALL offers, it's also a range of shapes and colours. We have what are called Slot Bins, Cube Bins and Large Bins of various sizing. In terms of colour we carry Clear, Crystal Clear, White, Black and even Grey.
A Craft Wall isn't just for your class room, its a great option for your garage or even inside your home if craft is a hobby or business. By combining bin sizes, shapes and colours, your craft wall can be effective and well organised. This applies equally for workshops and garages.
Below I have added a short video on the StoreWALL bin range so you can see its extent and how practical it can be for a Craft Wall.