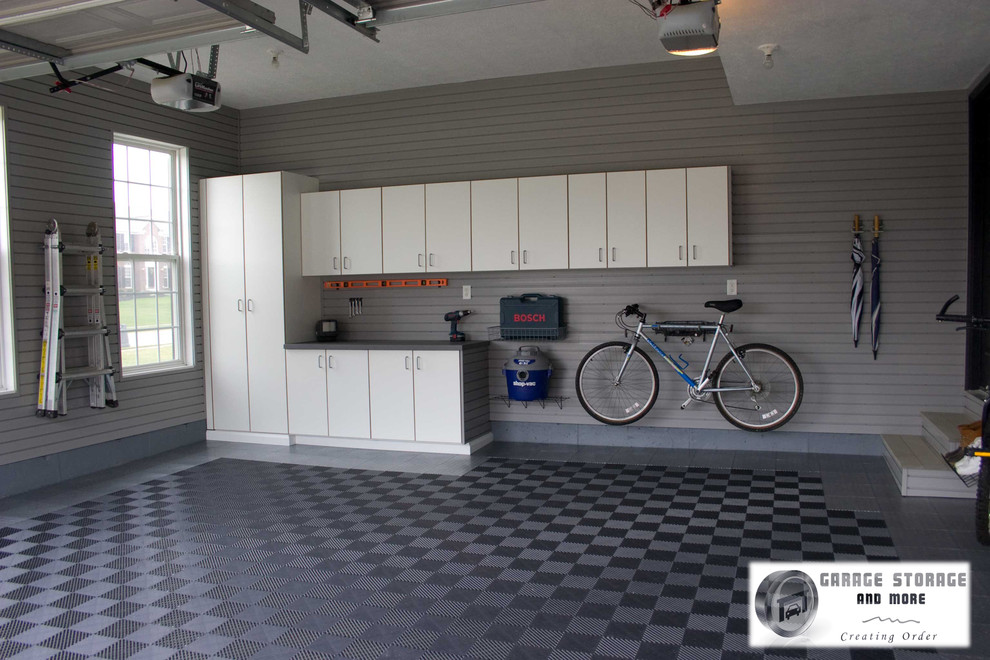 When you are investigating options for reorganising your garage storage area its important to see working examples others have completed. This week I have searched the web and found several examples of StoreWALL garage installation ideas.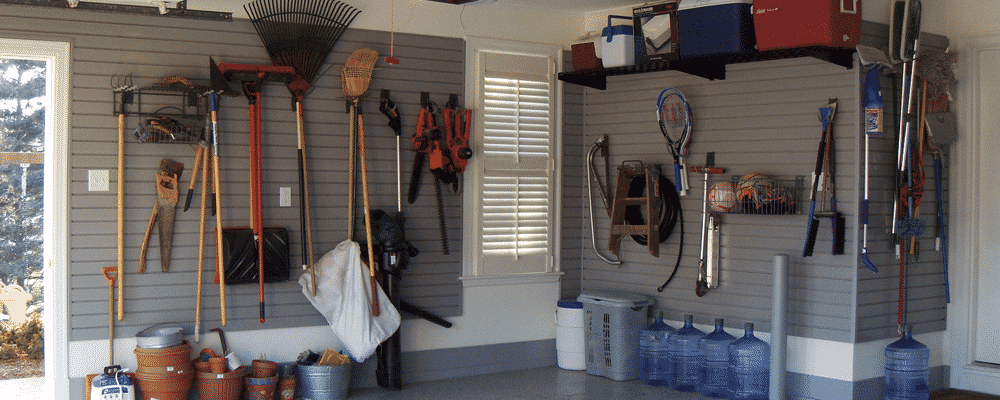 Two Wall StoreWALL Garage Installation
This is a busy garage on the left has much of the wall area installed with StoreWALL. They have implemented a large range of hooks as well as shelves to manage their many tools, brooms and other gardening equipment. Notice the use of StoreWALL's specialist pole hanging hooks. They are both secure and can hang multiple poles from the one hook. This approach saves space on your limited wall.
StoreWALL Stairwell Installation
This is a much smaller fit out of StoreWALL. It's also not in the garage but inside the home. Making better use of your smaller storage areas is ideal use of StoreWALL accessories. In this small area they have lined the wall with StoreWALL panels. The use of accessories has enabled this family to hang and store all sorts of cleaning tools. Each item has its rightful space and so can be returned once used. This eliminates that cluttered cupboard which most of us end up with.
StoreWALL Sporting Garage Installations
This StoreWALL garage installation has been built on only one side of the garage. To the far left we have brackets for storing the bikes horizontally. As you can see this method of storing and hanging bikes is effective but takes up one third of the space. This garage has also combined a range of hooks for helmets and other sporting gear. They have kept all of their sporting balls within tote bags which enables them to see what is held in the bag and easily grab it. In addition you also have box hooks for gardening scissors as well as hooks for smaller ladders and electrical cables.
StoreWALL Fitness Room Installation
Whilst this isn't your typical garage, many people (including myself) have converted part of their garage area or an internal room into a workout area. This example is rather large but it shows how you can hold weights whether in dumbell form or as free weights using StoreWALL accessories. Baskets and shelves can also be used to hold much of the smaller equipment like skipping ropes, grips and weight gloves. Hooks are then used to hold your boxing gloves, belts and weight balls.
Part Wall StoreWALL Garage Installation
This example shows how you can use StoreWALL for only part of your garage wall and still allow for what is hanging to be removed from the floor. Floor space can be used for heavier items that need to be accessed frequenlty. This garage has installed StoreWALL on the rear wall but has only used StoreWALL on half of it. StoreWALL is installed about 600mm from the ceiling and about 1000mm from the floor. In total you have about 3 panels of StoreWALL running horizontally across the wall. Interestingly this garage wall also has smaller cupboards at one end. StoreWALL has been cut to size around this cupboard to create a clean and professional wall and garage setup.
Complex StoreWALL Garage Installation
If you are looking for a great custom build for your garage then this example will provide you with some inspiration. The owners of this garage have combined 6 sets of mid sized cupboards, two sets of drawers, bench space, built in shelving and a full wall of hanging accessories. This is a very busy wall.
StoreWALL is used end to end on the wall and in-between each of the pieces of furniture, including in between cupboards. The main tool section is above the bench space and in-between the two cupboards. One end of the wall has been lined with hooks to hang a range of garage items from sporting to gardening equipment. They have also added additional StoreWALL shelving to hold baskets and some bags.
Wall to Wall StoreWALL Garage Installation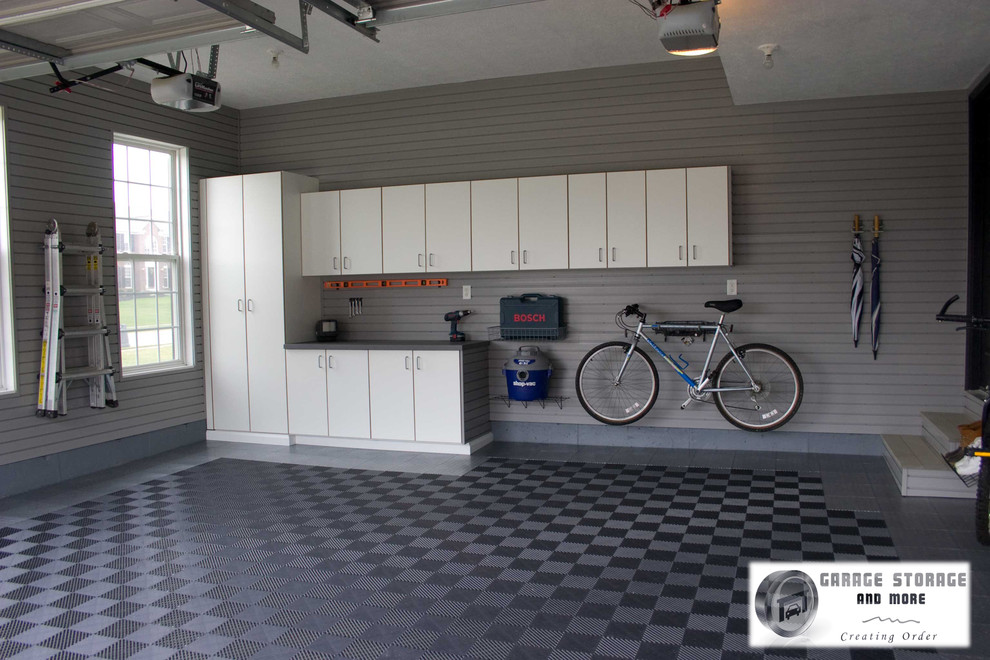 This is a great example of having StoreWALL from floor to ceiling across the entire garage. Two walls are shown in this example. The garage floor is nicely tiled. StoreWALL's slatwalls then butt up against the lower tile to create a really clean finish for the wall.
This garage combines tall cupboards, bench space with cupboards as well as hanging cupboards. The range of accessories is minimal at this stage but they combine brackets for the biles and baskets for the larger items.
Notice they also have power points on the wall which they have cut around. Similarly they have trimmed StoreWALL around the windows.
StoreWALL Bike Installation
This basic bike installation was included because we have been inundated with calls regarding bike hooks for the garage. You can see the StoreWALL bike hook in this example holds the bike vertically from the tyre. The rear tyre is either touching the floor or also suspended. If it is not touching the floor then it is likely to be touching the wall.
This garage has combined a range of hooks and baskets to cater for helmets and other bike related gear.