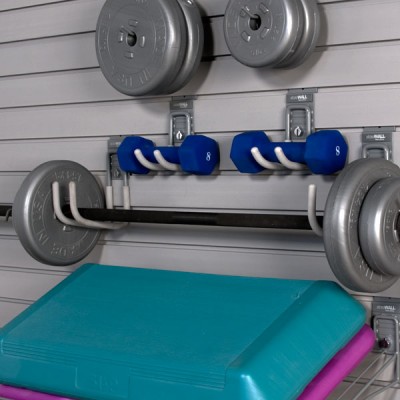 Over the years I have inherited several large ladders that I use for jobs around the house. These jobs include cutting trees branches, repairs on the roof and general painting and other maintenance. These ladders are stored in my garage, in fact on the garage floor against the wall. They take up room and can be a nuisance. So I invested a little time looking at heavy duty garage hooks that would allow be to remove them from the floor and have then handing on the wall, out of the way.
There are lots of garage hooks on the market and they aren't all the same. Looking for a heavy duty garage hook, I was keen on it being large enough to hold a large ladder and durable enough that I could remove and return the ladder easily without the worry that upon re-entry I would damage the hook. Finally, the garage hook needed to be able to hold enough weight for an even heavier ladder if possible.
StoreWALL Garage Hooks
Garage hooks are not just for ladders and following my research at my local Bunnings store, I found a large gap in the variety of hooks and how they can be added to a wall. StoreWALL's range of hooks is big and its range of heavy duty hooks is impressive. They not only provide hooks for ladders but also for poles, rakes, bikes and even wheel barrows and larger items.
When StoreWALL labels a garage hook as Heavy Duty it means its fitted with the exclusive all-metal CamLok™. This amazing device helps keep accessories locked in place… until you decide to move them. An easy turn of the CamLok and your hook stays in position and it stays in position when you lift your gear or tool off that hook. In addition to CamLok they also feature Soft Touch Covers, durable powder coating and the use of heavy gauge industrial grade steel.