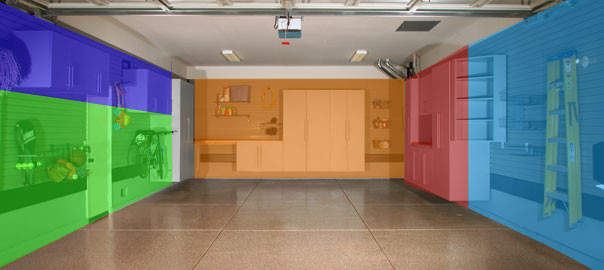 Whether your garage is big enough to hold one or two cars, organising your garage is not easy and over time with more and more "stuff" filling it, the task seems almost impossible to start. Giving your garage an almighty clean and declutter is one thing, setting it up to stay organised means you need to create a garage organisation plan. The best way to get started is by organising your garage into zones.
A simple redesign of your garage can make all the difference.  Try assigning "zones" to each section of the garage.
First of all, what are storage zones?
Storage zones are areas in your garage where certain (similar) items should be stored. Sounds pretty simple, but you'd be surprised at how many garages just evolve over time with items all jumbled in together instead of being gathered together in certain designated areas.
Below I have listed a range of Zones or categories which comprise most of the items found in a typical garage. They will give you a head start to create your own Zones for the items that make up your garage.
Zone 1 – Household items
These are mainly items you will use at some stage within your home. You'll want to store bulk items like laundry detergent, toilet paper, pet food, extra pantry supplies, brooms, mops and buckets, the vacuum and any other items you are likely to use inside your home in this area. Keeping these items close to the interior door leading to your garage allows you to grab them quickly and easily.
Zone 2 – Backyard tools and garden supplies
These are all outdoor items and will be needed when you are working in the backyard. This particular area should be kept toward the front of the garage since you'll want these items to be handy while the front garage door is open and you're working on the lawn.
Zone 3 – Workshop space
Keep your hammers, pliers, nuts, bolts and clamps in the area of your workbench. Keeping these items together will make any "fix it" project much easier to manage if all of your tools are all easy to find and access.
Zone 4 – Sports Equipment
Cricket bats, soccer balls, bike equipment, even a surfboard! Keep these items together for quick grab-and-go availability. Look at how high you want to store them so that even the kids can grab them on their own.
Zone 5 – Holiday Decorations
Plastic storage bins and bags are a great way to organise this type of stuff. These items are not accessed often, so can be stored on shelves up and out of the way. Be sure to clearly label all bins to make locating particular items an easy process.
Depending on the types of items you have and your particular interests and hobbies, you may have several more zones.
The single most important thing to remember is to group "like" items together.
Life works so much better when it's organised!