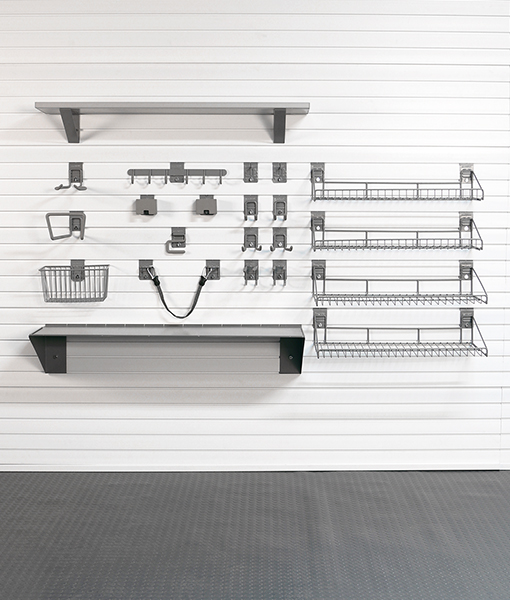 Defined as "consisting of separate parts that, when combined, form a complete whole" by Dictionary Cambridge.org. Modular Garage Storage offers you the ability to kit out your garage with a combination of storage options including shelving, hooks, baskets, bins, bags, brackets, cabinets, drawers and benches. These are then hung on your garage wall or assembled around your garage.
What is Modular Garage Storage
Our need for storage varies by household but also from different part os the home. You may be looking for some storage options for a small shed or for something within your laundry. Later on it might be for a small gym space in a spare room or you may have a large double garage.
StoreWALL is modular not only in its range of accessories but because it can be used on walls as small as 600mm or as long as 10m or more.
What makes it modular and a great fit for small and large spaces is that the wall panels can be custom cut to your wall needs and our large range of accessories added and removed from your wall as your needs change.
Small Storage Shed
If you live in the inner suburbs of Melbourne or Sydney street parking is all you may have for your vehicle. In terms of shed storage space you may be limited to a small shed in the back or side of the home.
Many StoreWALL customers limit their purchase to 1 or 2, 1.2m panels specifically for a small wall area in their shed. It helps them store their main gardening tools. Most will purchase a couple of hooks (ie Heavy Duty Tool Hook) and maybe a shelf and a basket. We actually sell these as gardening bundles in our online store.
Gym Room
2020 was a big year for setting up home gyms. With so many gyms being shut (due to lockdowns) many turned to working out at home.
Many StoreWALL customers have combined a range of shelves and hooks to create their own gym room. From holding medicine balls and weights and ropes, StoreWALL's range of accessories has something from almost every gym need. Even a Bosu Ball.
Best of all, if you decide you want to add new equipment into your gym room, you can easily move or even remove our accessories.
StoreWALL has been used to manage large walls of workout equipment as well as small home workout rooms. It's modular approach and the fact that it is sold as single 1.2m panels, enables you to buy and use what you need.
Bikes
Storing bikes is hard. No matter where you store them, they always take up a lot of space. The advantage of modular garage storage is that a wall that was once shelving dedicated to kids toys can be instantly transformed into a wall of bike hanging hooks.
StoreWALL's range of bike hooks allows you to add your hooks anywhere on your garage wall and hang your bikes perpendicular to that wall. Our Rotating Bike Hook goes one better by allowing you to then swing that bike close to the wall reducing the amount of room the bikes consumes.
If down the track you want to reclaim that storage space for shelving, baskets or even tools, it's a simple un-clip of the bike hooks and the clip-on of the new accessories.
Shelves
Whether you make it yourself or buy it, having shelving in your garage area is important. Using StoreWALL's 254mm and 381mm brackets, you can easily create your own shelving and customise its width to your wall. StoreWALL sells a pre-cut floating shelf which works with our brackets. You can also use your own floating shelf cut to the size you need.
Using a wall panel garage storage system allows you to move your shelves anywhere on your wall (adding or removing at the same time). It doesn't get any more modular than that.
StoreWALL also sells a large range of pre-made shelves in both metal and plastic form which can be added to your wall. Most of these items also come with CamLok locks securing them and your items.
Laundry
Most laundries are multi-functional. You may automatically think washer, dryer, the dirty clothes basket. They also store the clean clothes as they transit to drawers or cupboards. What about washing/cleaning chemicals, toilet paper, beach clothing and towels? In my home, it also stores the internet router, home phone and drive for our external cameras.
As these storage needs change over time and some takeover others, it is helpful to be able to adjust how your items are stored.
We recently helped a customer in Melbourne with our Shelf and Basket Kit which was used for their laundry. Surprise, surprise it comes with a combination of shelves and baskets, ideal for much of what goes on in the laundry. Another customer recently called and was wanting ideas on how to store Beach Towels. I ended up recommending a range of baskets of various sizes and as well as the Large Tote Bag.
The great thing about wall storage is that all accessories can be added and removed without having to drill new holes in your walls. Once the panels are installed, your wall is setup for everything.
Garage Bench and Cupboards
The advantage of "modular garage storage" is also evident when it comes to furniture such a work benches and cupboards. Having benches with wheels allows you to freely move them around.
Today you can purchase drawer units and small and large cabinets which can be combined to create a complete garage solution. Some cabinetry is also designed to be mounted on your wall. They can then be added to over time as your needs require.
There are so many options available to households these days which can make their storage headaches go away.