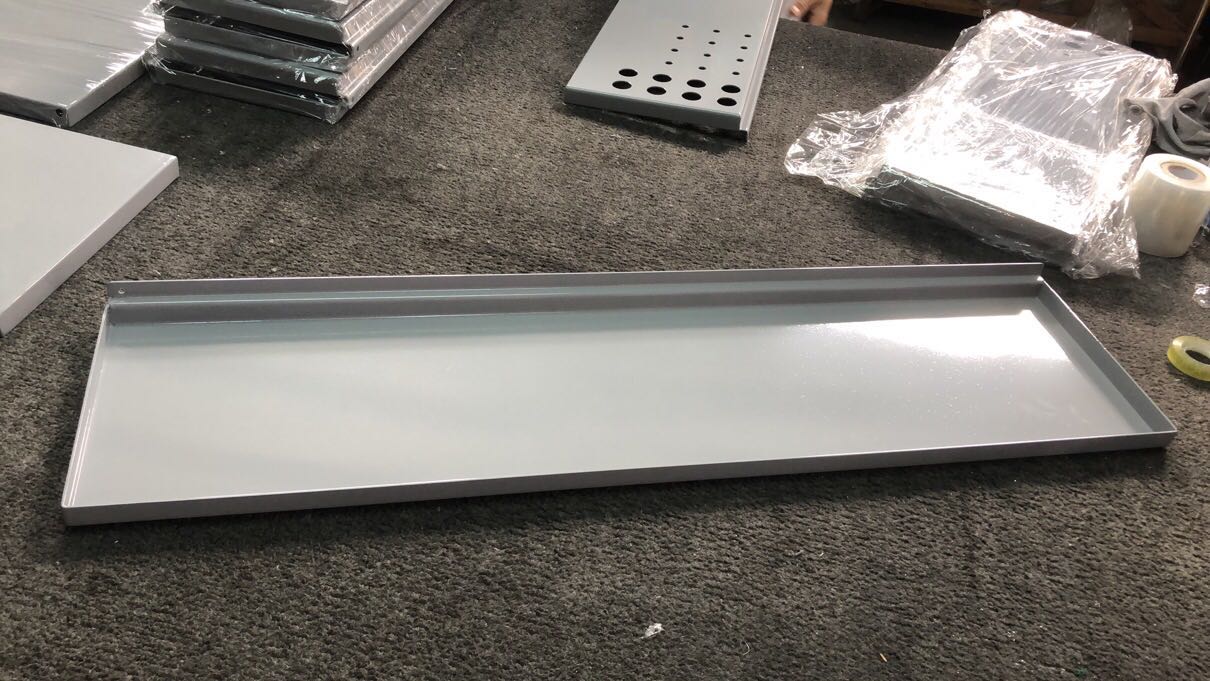 Over the coming month we will be launching a new range of StoreWALL Slatwall Shelving Solutions which have been designed specifically for our local Australian market.
Our New Slatwall Shelving Solutions will be made from metal and will be compatible with all StoreWALL Slatwall Panels. This includes our StoreWALL Basic, Standard and Heavy Duty panel range.
Garage Tool Organiser
Our existing plastic Garage Tool Organiser has been super popular since we introduced it over 18mths ago. We thought we could however make some simple improvements which would make it extra useful for our customers. The latest version of the Garage Tool Organiser will:
be made from metal (2mm thickness).
have the ability to be added and removed easily from your wall panel.
come with pre-cut holes for your tools.
be powder coated.
be quite a bit larger than the existing model at 200mm (depth) x 600mm (length) x 20mm (height).
Additionally, this shelf will be compatible with many other Slatwall panels on the market at the moment including StorEase sold by Bunnings.
812mm Metal Shelf
We are also introducing a new metal shelf which has a similar design to the Garage Tool Organiser minus the holes. This shelf has been designed so that it can be easily added and removed from your slatwall panel. There will no longer be the need to install it from the exposed side of the panel.
The 812mm Metal Shelf will have a thickness of 2mm making it quite strong and able to carry a reasonable amount of weight. Note however that this shelf does not come with the StoreWALL CamLok locking mechanism. Therefore you will need to be careful with the amount of weight held on it.
The dimensions of this new shelf are: 200mm (depth) x 812mm (length) x 20mm (height).
This shelf will also be compatible with most Slatwall panels on the market.
Slatwall Shelving Solutions – Floating Shelf
The last of the three new shelves is a 812mm Floating Shelf which has been designed to work with our range of StoreWALL Brackets (254mm and 381mm).
This new shelf has been designed in line with our existing 1219mm Shelf. It is a fully enclosed shelf which can be added to your existing StoreWALL brackets or any brackets you have purchased from your local hardware store.
The Metal Shelf is also made from metal (1mm thickness). Its dimensions are 254mm (depth) x 812mm (length) x 20mm (height).
These shelves are in the process of making their way to Australia and we hope to have them available over the coming 4 weeks (mid October). We will however let you know when they become available and their pricing via our newsletter once they have arrived.
You can sign up to our newsletter here for all new product news.