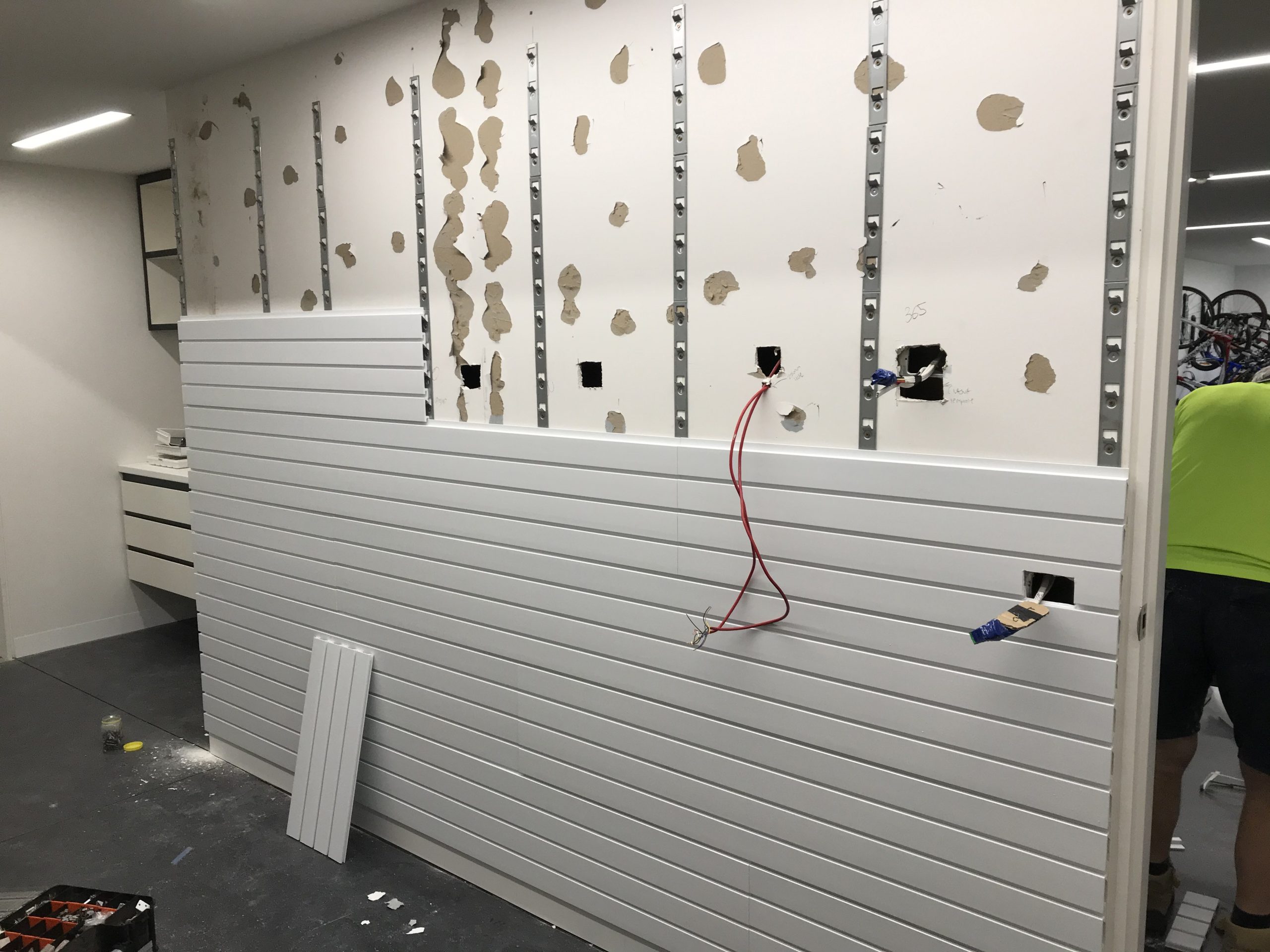 Earlier this month I received a call from a client (Peter) in Melbourne looking for garage wall hanging hooks that could hold some serious weight. He had invested in a wall panel system recommended by his architect which turned out to be rather inferior. It looked great, but in terms of storage options it was really limited.
The range of garage wall hanging hooks offered by the system was limited to what is usually offered in a retail setup, basically long thin hooks and some baskets. The client tried ordering hooks from other garage wall systems including StorEase sold by Bunnings. Nothing really worked or didn't lock in solidly in order to hold reasonable weight. The alternative hook options also had a very limited range of accessories.
Discovering StoreWALL
Around a month ago, Peter called StoreWALL and we talked through what our garage wall panel solution offers. I explained how our wall panels are installed with InstallStrips for added strength. We also talked through our range of accessories including hooks.
We actually dropped off a StoreWALL hook to try with his existing panels just in case it could be secured. Unfortunately it didn't work. The end result was that Peter decided to remove some of the wall panels from the previous supplier (not all) and replace them with StoreWALL garage panels. He also wanted panels installed on 3 additional walls.
The panel wall sizes were:
1st wall – 3170W x 2300H
2nd wall – 2880W x 2300H
3rd wall – 2520W x 2000H
4th wall – 1900W x 2000H
Installing on Different Types of Walls
The interesting thing about this installation was the types of walls we had to work with. The home had been recently renovated (or should I say redeveloped). The walls where all in the basement/garage of the home and included a combination of Wooden studded walls and plastered brick walls with metallic battens.
We spent the first hour of the day working out was actually behind each wall so that we could install on it. Once this was completed, we worked out the spacing of the battens (which differed by wall) and then prepared each wall for the InstallStrips.
Some of the wall were brick combined with wooden studs or metallic battens. Drilling into the Metallic Battens did not create any problems. It was as secure as drilling into the wooden studs.
One of the walls had plaster and the metallic batten which was supported in sections by a wooden stud. Some sections however had no supporting stud so we had to use longer screws for the InstallStrips in order to grip the plaster, batten and the stud which sat several cm further back (basically supporting the other side of the wall).
I have included some pictures of the work we completed at this home. The panels in the picture above were removed and replaced with StoreWALL. You can see the difference below.
One thing to note is that when making the cuts, we found it much easier to joint to cut pieces on an InstallStrip. This way both ends share half an InstallStrip rather than one or the other. It adds stability to both panels and made the wall look much nicer. You can see the example above.
Garage Wall Hanging Hooks
Most importantly however the client was able to purchase shelves and garage wall hanging hooks which worked on his wall and allowed him to store his belongings safely. This included our Heavy Duty Cradle Hooks, Tool Hook and some smaller single hooks.
They also added a 1.2m metal shelf pictured below. This is the bigger brother to the 80cm metal shelf.
The video below shows the process of preparing the wall, installing the InstallStrips and then adding multiple rows of wall panels in order to complete the installation.