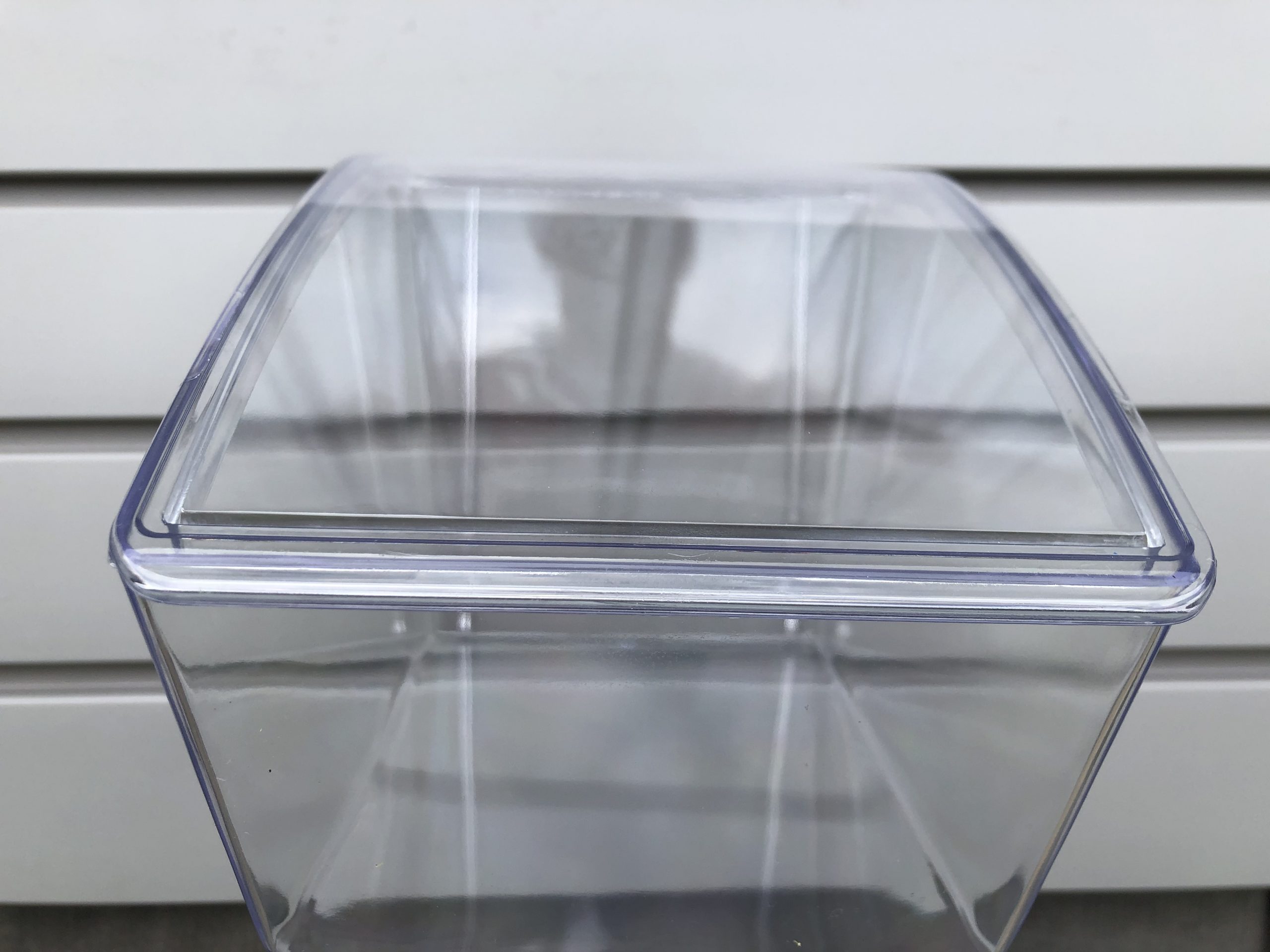 Bins are a very popular accessory at StoreWALL. To give our customers even greater choice , this week we introduced a new Clear Storage Box with Lid. This is our first bin which comes with its own lid. The StoreWALL Clear Storage Box with Lid is a unique bin which is only available in Chrystal Clear and is shaped like the Cube Bin but comes with a very useful lid.
The Clear Box was designed for retail stores but it is also very useful at home particularly if you are using your StoreWALL as a work area for storing craft or even sewing materials.
Clear Storage Box with Lid
The dimensions of the new Clear Box are: 230mm (L) x 150mm (W) x 150mm (H). The bin is made from a toughened polycarbonate finish, is very durable and can hold between 10 – 15 KG in weight.
The edges are rounded making it rather elegant in terms of appearance. This is why it is particularly suited for retail stores.
Chrystal Clear Bin for Retail
We originally came across this bin when a client who was opening a retail store in Alice Springs contacted us about bin options. Initially he had ordered 2 types of open bins, but following some additional enquiries we were able to access the Clear Box with Lid for him which was ideal for his retail store. He ordered 40 of these bins so they could hold party accessories and balloons.
The Chrystal Clear Bin comes with a lid so it securely holds all types of merchandise. From lollies to craft items to haberdashery. The Clear Box with Lid is the ideal accessory to your slatwall.
Slatwall Bins
The Bin has been designed for all types of slatwall not specifically for StoreWALL. Therefore, if you already have your wall covered at home or in a store, the Clear Bin can still work perfectly for you.
Whilst our latest order was specifically for this client, we are keen on your feedback and will stock the Bin as a regular item if we find customers need and want it.
StoreWALL offers a diverse range of bins for your slatwall panels. They come in various sizes and colours. In terms of price, our smallest and most popular bin is around $3. StoreWALL Bins are super easy to install and can be moved around as required.
Heavy Duty Storage Recycle Totes
This last month we also introduced a new range of Storage Totes. These are Heavy Duty Storage Recycle Totes and are great for storing large items in the garage. This item is perfect for recycling uses and can be hung with StoreWALL Heavy Duty 380mm Brackets (sold separately) or rested on any shelf.
The Heavy Duty Storage and Recycle Tote comes with a ventilated base is ideal for storing files and any valuables including food items.
Comes with an internal hanging rail designed for storage of hanging files
Ventilated base protects contents against sweating
Large 68 Litre Storage Capacity Security Crate
Weight capacity 70KG
Food Grade PP (Polypropylene) that has a very high melting point of approx 160 degrees which is very high compared to many other plastics,
Hot water used when washing will not cause container to warp
Strong and Durable Metal Rods hold hinging lids
Lid Lockable with Large Padlock or Security / Cable Ties Etc.
Also comes in a smaller 34L model.
We are experimenting with these new Storage Bins to see demand from customers. The wait on them is about 10 days but this is reduce as we get more orders and store a greater local quantity.
You can find all of our Storage Bin options in the StoreWALL online store.