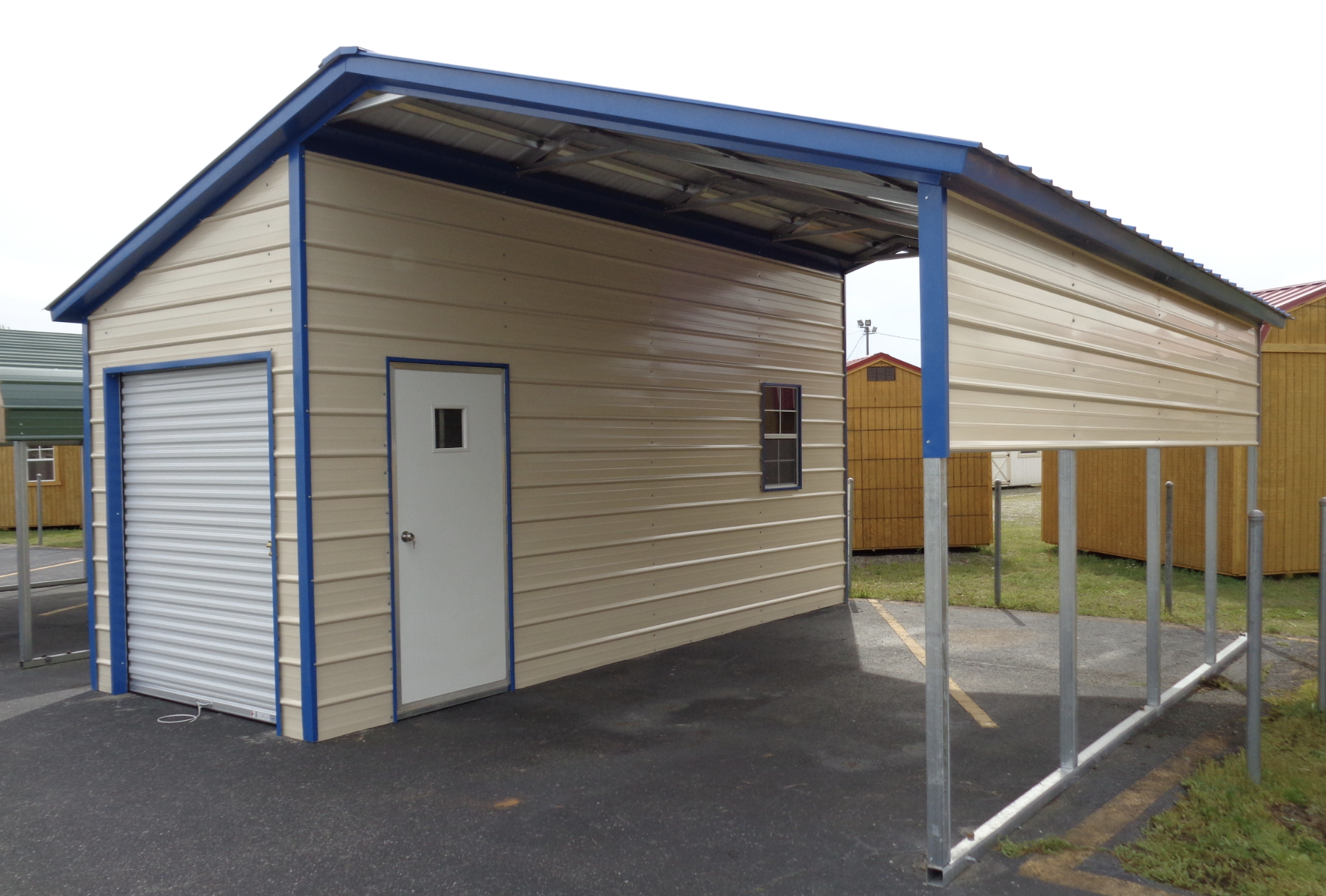 Today we are talking about Carport Storage Solutions. Having recently spent a few weekends driving around Melbourne's eastern suburbs I quickly realised that many (say 20%) of homes had very limited access to an enclosed lockup garage. In most cases they had room at the front of the home for a carport and one or two parking spaces.
Storage solutions for these homes is a little more complex. Carport storage solutions are not the most popular of topics on the internet but there are several options worth considering which make good sense.
Carport Storage Sheds
A Lockable Storage Shed is by far the most practical carport storage solution. It is both affordable and easy to build and install yourself. Furthermore it can be placed inside the carport should you need it at the front of the home or in the back yard (if you have one).
The location of the lockable shed really depends on how secure you think your front or backyard is. In either case, these sheds are lockable and therefore secure regardless of location.
Having it located inside the carport might reduce your space for parking the car, but it might give you more room in the backyard for the family and entertaining.
Locally I have seen them used in the front yard of many townhouses where the garage space is just enough for one car. With a limited backyard, the front of the home was the only logical location.
Sheds like the one above come in all sizes, from a few metres in length and height to 1m in depth. They can can be larger if you have the room or shorter in width if you don't. They can also come with more than one door for easier access and a flat or sloped roof line.
Pricing can vary from about $300 – $800 depending on the size and quality (inc finish) you are after.
They can be sourced from your local hardware store like Bunnings or Mitre10 or from the many shed building companies also offering affordable shed options.
Carport Storage
If you had the opportunity to design and build your carport from scratch you might want to build storage room into your carport structure.
Not only does it make the structure more aesthetic, it will also gives you greater confidence in the security of your carport storage solution.
The actual storage area can be set on either side (left, right or back) of the carport depending on your home design. In actual storage space it would not be much different to a separate shed but it looks more in line with the carport design. From a security perspective, there would not be much difference between a built in shed a free standing shed.
Storage Cabinet for your Carport
Storage Space in apartment buildings and many townhouses built these days is limited. A solution like the Storage Box is another option worth considering. The design and size is ideal for small carports with limited room for additional storage.
The Storage Box is an over bonnet storage cabinet, and uses the wasted space that sits above the bonnet of your car. Because it is a raised cabinet, you don't lose any parking space. It is also a secure cabinet so it can be used for all sorts of storage needs from power tools to bikes.
The cabinet is free standing, and can be adjusted for height which should suit most vehicle sizes.
Whether you are looking to use it in a flat or un-levelled area, the cabinet comes with adjustable threaded feet. This is ideal for both indoor locations but also for carports which might have a gravel surface.
These storage cabinets have been designed to fit within the allocated car space, so they will not interfere with vehicles parking near you. This applies to dual carports as well.
Holds upwards of 600kg.
Galvanised steel and powder coat finish.
3 Point Lockable door system for security of your storage items.
There are several suppliers of the Storage Cabinet in Australia. Try Steelspan and Space Commander. Pricing starts at around $1400 ex installation.
StoreWALL in your Carport
One of the many advantages of StoreWALL is it is weatherproof. Our InstallStrips are made from rolled steel plated with 18 gauge Zinc for rust resistance. Our panels are hardened PVC. Rain water will not rust or damage your StoreWALL.
Whilst I wouldn't be hanging your power tools in the carport, items such as garden hoses and cheaper gardening tools such as brooms or rakes could certainly be hung outside. Having them hang neatly in your carport would ensure they are easy to find and not lying around against the home or on the ground easily stepped on and damaged.
StoreWALL can be a great addition to any shed you add to your carport. Whether it is a metal shed that you add later or a structure that is built into your carport from the beginning. Having a place to hang your tools and shelves to place your cans of WD40 is what having storage is all about.
If you are using a metal shed, StoreWALL panels will need to be secured to the frame structure that comes with the shed or one that you add later. StoreWALL can be installed with or without Installstrips. In a small shed you only need 2 or 3 x 1.2m panels to make the wall effective.
A common question we receive regarding carports and sheds is how to install wall panels on a the metal frame. Typically your shed will come with a frame but the distance between vertical and horizontal frame sections might be a couple of metres. This isn't ideal for hanging wall panels, so you will need to add additional frame to provide the support needed. This can be done through the use of TopHat battens such as the one pictured below. These Top Hat Battens can be used to add additional vertical frame elements to your shed wall so that the Installstrips can be attached.

Once installed, these battens should mirror a wooden studded frame similar to what you would find in wall of your home. On this you then screw the StoreWALL Installstrips and then hang your StoreWALL panels.
StoreWALL 1.2m panels are sold in both cartons of 4 or 6 pieces or individually. There are plenty of options for you to choose from. StoreWALL can be a great addon for any Carport Storage Solutions.