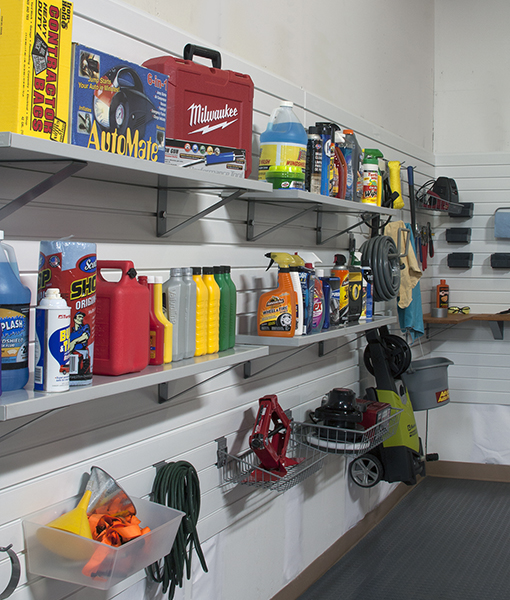 If you are building your new home or have just finished renovating and a clean, organised garage is on your list of things to do then look to StoreWALL for your garage shelving solutions.
StoreWALL has been providing premium garage storage solutions in the US for over a decade and is now also available in Australia. The StoreWALL range of garage shelving is supported by a long list of accessories covering hooks, baskets, bins and brackets. These are then secured to the StoreWALL panels with the exclusive CamLok secure locking system.
Having recently updated my garage and reviewed a range of shelving and garage storage solutions, I found that a garage needs both shelves and wall panels. I found I needed shelves to store the large items like suitcases, rugs, tables and chairs but also hooks, brackets and baskets to keep the things I need to access regularly. The biggest challenge I found with the shelving I purchased was that whilst it stored everything really well, getting things out of it to use was not so easy.
Garage Shelving Solutions
StoreWALL can compliment and heavy duty garage shelving solution you choose to use with its Standard and Heavy Duty Wall Panels. These are fitted to any bare wall you have with our exclusive InstallStrips which adds support to anything you then want to hang of your wall. Once your Wall Panels are on, you can then choose from 30 plus accessories which can hang or hold all of the things you want out of the way but not out of reach.
Think about you beach equipment like boogie boards which are regularly needed over the summer months. If soccer, basketball or football is played by the kids during the winter you will want these items off the garage floor but easy accessed by the kids.
The best way to get started with reorganising your garage is to strip it as bare as possible and to then group your items. Start with two groups covering things that you might need once or maybe twice a year and the other items that you will need more regularly. You can then further split this regular group into gardening, sports, summer and others.
Garage Shelving can then be used for the long term storage items and a combination of StoreWALL accessories can be used for the regular access items. Jump into our website and browse through each of the product categories to see what our range offers and how it can help you.