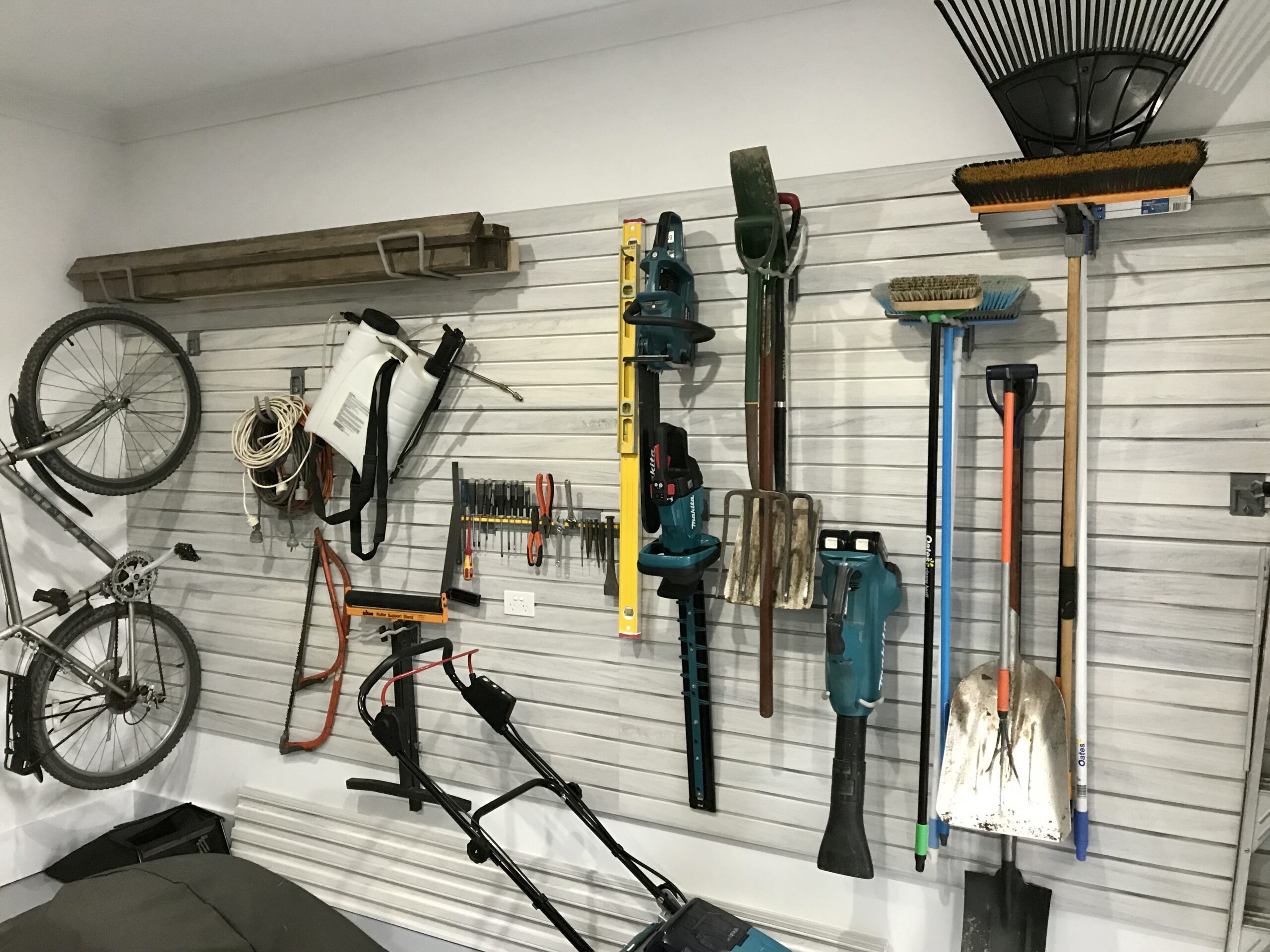 The latest coloured wall panel to become super popular in the US is Whitewood. Whitewood Wall Panels by StoreWALL were introduced close to two years ago and have become super popular for garages all over the US.
StoreWALL Australia introduced the Whitewood colour about 12 months ago. When we first saw it we thought it would really appeal to people looking to build a new home office in their garage or a workshop.
The Whitewood colour is a very light in colour, similar to the BriteWhite. It also has a light grey wooden grain look running through it which makes it look as through it has a textured finish. The Whitewood Wall Panels are in fact smooth and come with all of the advantages enjoyed by wall StoreWALL PVC Slatwalls.
Whitewood Panel Features
Our Whitewood Standard Duty Panels are:
Made from hardened PVC.
100% Waterproof.
Can we washed down.
16.7mm in thickness.
Manufactured with the Whitewood colouring right through the thickness of the panel. If you dent the panel, you will see this colour.
Easily cut with a circular saw and drilled through.
Whitewood was introduced at the same time as the Barnwood Grey Wall Panel colour. Barnwood Grey is similar to the Whitewood but the wooden grain effect is a darker grey and which makes the wall a little darker and greyer.
Whitewood on the other hand is closer to the BriteWhite colour with a lighter grey wood grain running through it. It breaks the Whiteness of the wall but doesn't darken it because the wooden effect is a light grey not a heavy grey like the Barnwood Grey panel.
How popular has it been?
It started off a little slow to be honest, but in no time we had sold out of the small supply we introduced to test the market. Our latest shipment included more stock and again this is now nearly finished.
In the US they offer it in both the Standard Duty and the Heavy Duty. At this stage we have opted only for the Standard Duty. However special orders can be placed in you are keen on the Heavy Duty version of the Whitewood Wall Panel.
Whitewood in Action
Below is a picture from a home on the Peninsula in Melbourne. This is in fact the second customer in the area which has purchased this garage wall panel colour. The homeowner installed it himself and gladly shared some photos. The garage walls are painted in White. He didn't want more White and thought the lighter grey offered by the Whitewood was a nice contrast. I think the overall effect is great. It has not darkened the room at all.