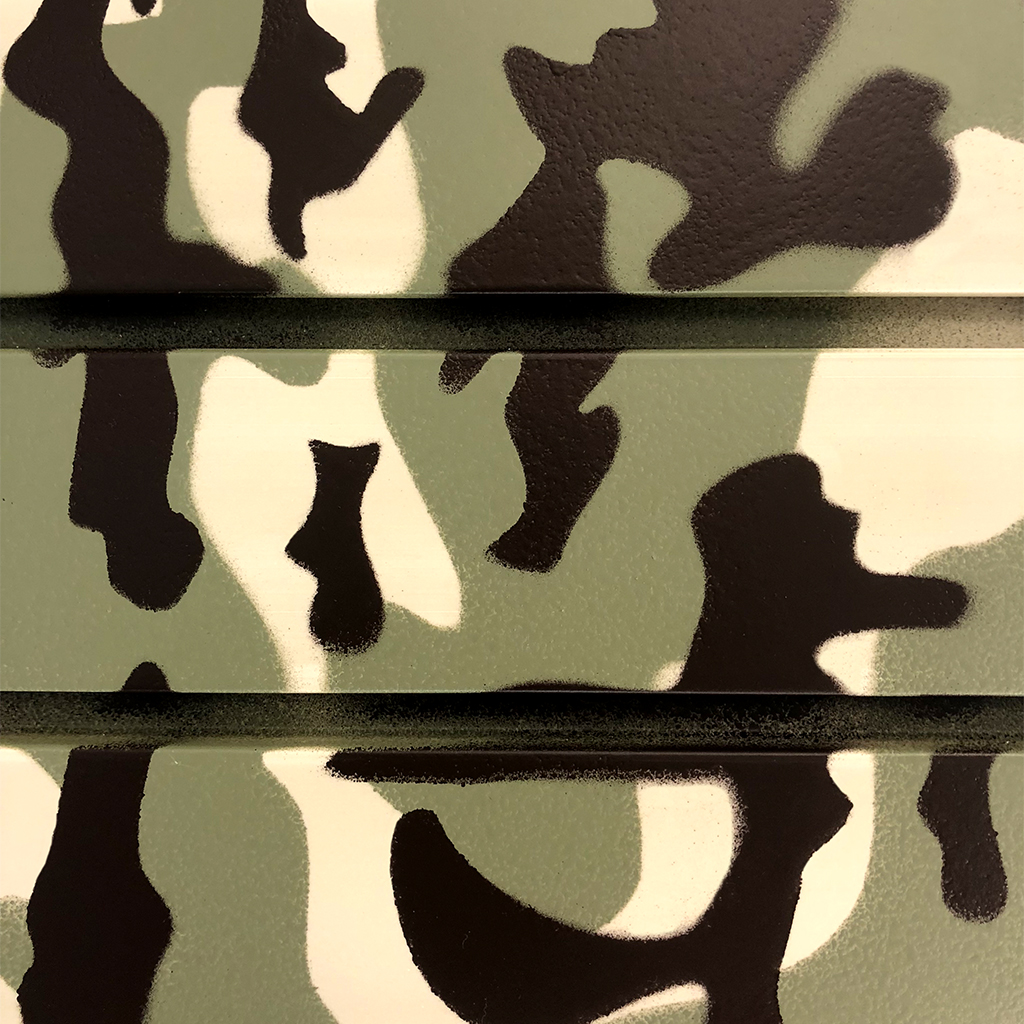 Slatwalls are a popular wall surface used by retail stores to display their merchandise. Over the past 10 or so years, the concept of wall panels in your home garage has really taken off. Most wall panels, in particular slatwalls built for retail stores are white or grey in colour. Plastic slatwalls like those offered through StoreWALL are grey in colour. Accessing coloured slatwall outside of these standard white or grey colours can be challenging.
This (image on left) is what your typical timber slatwall panel looks like. This supplier offers white, dark grey and a wooden (Tasmanian Ash) finish. These slatwalls are built specifically for retail stores and the colour range reflects this. Whilst they can also be used at home and in the garage, there are some limitations. The composite wooden material they are made from is not going to perform well in garages that are likely to be exposed to really hot, cold or damp climates. It's also a soft wood making it likely to show even the slightest knock.
Thermoplastic slatwalls like those from StoreWALL will not warp or attract moisture no matter the climate. They are also a dense plastic so are harder to dent but also the colour runs throughout the thickness of the panel making it less likely that knocks will show.
Coloured Slatwall
This week I was contacted by a previous StoreWALL client who had used the Dover White StoreWALL panel. It was used throughout his workshop and it looked fantastic. White has become rather popular and if you look on the internet for StoreWALL images you will see that white (both Brite and Dover White) regularly feature along with the Weathered Grey and the Baltic Pine.
StoreWALL is the only supplier of garage wall panels with such a variety of colours in several different panel grades.
Over the past few years, StoreWALL has expanded its wall panel range to include 9 coloured slatwall panel designer options:
Weathered Grey
Brite White
Dover White (now replaced by Khaki)
Khaki
Graphite Steel
Rustic Cedar
Global Pine
Barnwood Grey
White Wood
Black (released end 2021)
I have included an image above demonstrating the range. From the left to right the colours are Brite White, Dover White, Khaki, Weathered Grey, Global Pine, Rustic Cedar and Graphite Steel. In addition to the 7 designer coloured slatwall options, StoreWALL also have in 2021 also released a Black Wall Panel.
Below are further images of the coloured slatwall range with each colour labelled to assist you.
Coloured Slatwall Panels
These series of images show the panels unpacked. You can see the colour coming through compared to the cardboard box in each case. It assists with drawing a perspective on the colour options.
Accessing Your Coloured Slatwall
In Australia, we stock almost every colour offered in the US. Special orders can also be placed for select colours and certain quantities.
Please give us a call or email to enquire. A quote can be provided for you.