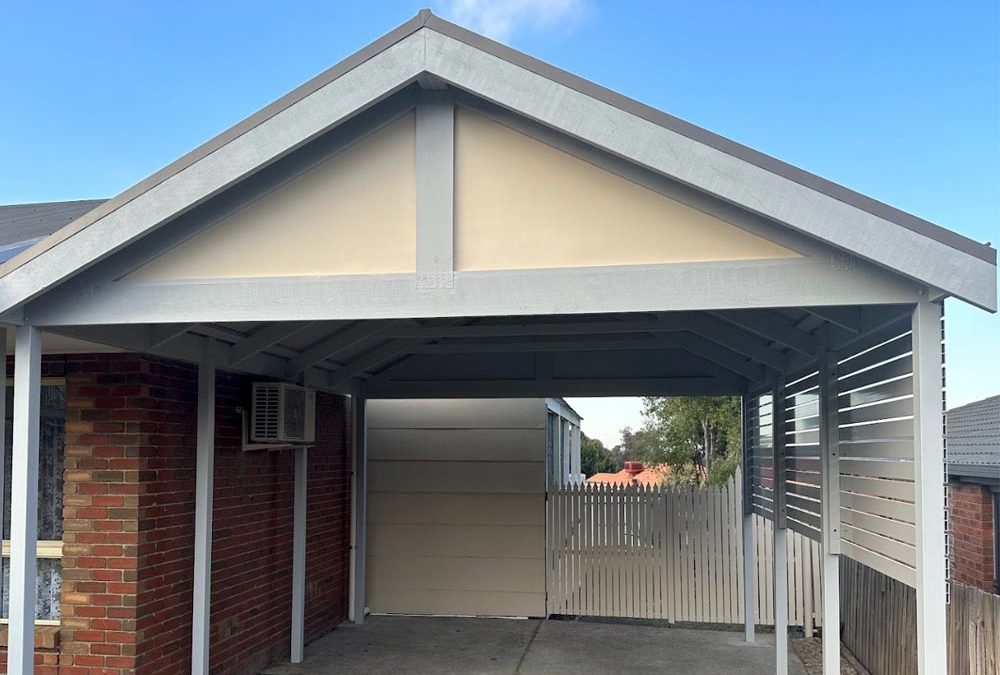 If your home has a Carport rather than a fully enclosed garage to park your car, you might be wondering what options you have for securely storing your bikes, tools, ladders, and other items. StoreWALL Carport Storage offers a flexible and modular storage solution suitable for any carport.
Carport Storage Solutions
What makes StoreWALL unique is that it is built and designed to withstand the elements, including Australia's unique weather. StoreWALL Wall Panels are water and dustproof. This means they will not become brittle if exposed to the elements. They will not change colour, or shape.
Supporting our Wall Panels are our Installstrips. Our InstallStrips are made from rolled steel plated with 18 gauge Zinc for rust resistance.
Installing StoreWALL In Your Carport
Whilst I wouldn't be hanging your power tools in the carport, items such as garden hoses and cheaper gardening tools such as brooms or rakes could certainly be hung outside. Having them hang neatly in your carport would ensure they are easy to find and not lying around against the home or on the ground easily stepped on and damaged.
To install StoreWALL Garage Wall Panels in your Carport, you need a framed wall area. Ideally, your Carport wall has a studed frame, with the upright studs spaced at a maximum of 600mm. These uprights are required so that your Wall Panels can be secured to them to support your stored items.
If your framed wall does not have enough uprights you will need to add them. You can use framing timber sold by your local hardware store, or you can use TopHat battens such as the one pictured below. These Top Hat Battens can be used to add additional vertical frame elements to your carport wall so that the Installstrips can be attached.

Once installed, these battens should mirror a wooden studded frame similar to what you would find on the wall of your home. On this, you then screw the StoreWALL Installstrips and then hang your StoreWALL panels.
StoreWALL 1.2m and 2.4m panels are sold in cartons of 4 panels. There are plenty of colour options for you to choose from as well. StoreWALL can be a great addon for any Carport Storage Solution.
Garage and Carport Hooks
Below are ten ideas that you can use to store your most common garage items.
Bikes
Bikes are large, heavy, and awkward to store. StoreWALL sells a range of Bikes Hooks that are suitable for your Carport. From our common Bike Hook to our HD Universal Hook. Both solutions are well priced and will keep your bikes off the floor and on your wall.
Ladders
Use our HD Universal or HD Utility Hooks to store your ladders upright against the wall and out of the way. Ladders are also large and awkward to store, so having them stored on your wall when your carport space is limit is a great idea.
Garden Rakes and Brooms
We all have more than one of these. StoreWALL HD Tool Hook can store 2 or even 3 garden tools for you.
Sporting Balls
The StoreWALL Grab and Go Tote Bags come in 4 sizes from Small to Extra Large. Combined with the 300mm Universal Hooks, our Tote Bags can store Soccer Balls, Basketballs, and all of your smaller sporting balls. These Tote Bags can be positioned exactly where your kids can access and return the balls when they have finished.
Wheelbarrow
Our Bungee Straps can be used to store your wheelbarrow upright and against your wall so they don't take up much room in your carport.
Shoerack
Use our Angle Shelf to store your outdoor shoewear. From gumboots to sporting shoes, the Angle Shelf is ideal for this.
Don't think that just because your home has a carport and not a closed garage that your garage storage options are limited. StoreWALL cam ensure you get the most out of your carport storage solution.