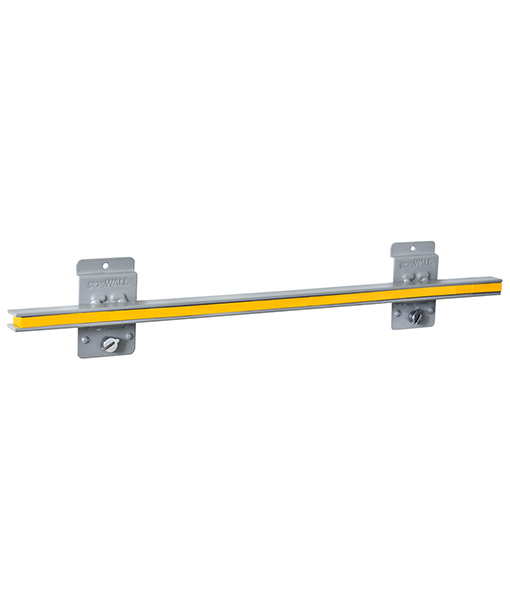 One of the many latest editions to the StoreWALL range is the Magnetic Garage Shelf. Well its actually a Magnetic Bar but with its CamLok locking system. Once securely attached to your StoreWALL panels it in fact becomes a very handy shelf for you many tools.
How is it made?
The 609mm Magnetic Garage Shelf is secured with 2 CamLok equipped backplates which once attached to your StoreWALL Garage Panels ensure it will never move or fall. The outer metal bars are made from durable nickel and inside the plates there are several magnets about 20mm in depth. The outside of the bar is powder coated a stone grey colour to match all other StoreWALL accessories.
Using Nickel bars to secure the magnets, the Magnetic Garage Shelf will resist chipping, dings and dents.
Being all metal and magnets, its actually a rather heavy accessory for its size weighing about 2KG.
Unique StoreWALL Magnetic Garage Shelf
Having invested some time searching the market for something similar, I am confident that there are not many other Magnetic Garage Shelfs or bars available today. I think you will struggle to find something similar from your local Bunnings, Mitre 10 or similar hardware store. It is quite a unique accessory. With the StoreWALL CamLok backplates, it is also one of the most secure on the market as well.
The last you would want is for the shelf to securely hold your tools using its strong magnets, but for the shelf itself to fall from the wall panel. StoreWALL's CamLok prevents this and as you can see from the below video, there is no way it will come loose from the wall panels.
Storage Options
StoreWALL's Magnetic Garage Shelf can hold anything with metal in it. In the demonstration below, I have secured screw drivers, spanners, a hammer, measuring tape and a knife. They all sat securely on the magnetic bar and showed no signs of falling off.
The Shelf not only works on StoreWALL panels but will work on many other garage wall panel systems as well. You will even get CamLok working on your alternative wall.
Garage, WorkShop, Tool Shed
Garage, Workshop and Tool Shed are what immediately come to mind when I think about who will benefit from the Magnetic Bar. However it doesn't need to be heavy tools that you attach to it. Think about smaller items that usually float around your benchtop. Items like Allen Keys, drill bits and tools, smaller spanners that are easy to misplace.
StoreWALL sells a great range of Garage Wall Panels
The Magnetic Garage Shelf will work on all StoreWALL panels, including our Heavy Duty, Standard Duty and Basic Duty.
We have prepared a short video below showing it being secure to the wall and several tools being added to it. I also show you all around the Shelf so you get a clear picture of our it is made and how durable it is.