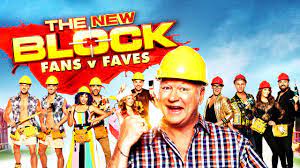 2021 saw Channel 9's "The Block' feature a Garage Storage system from a local Melbourne supplier. It may not have been StoreWALL (more on this later) but Garage Storage on "The Block" gave many viewers some new ideas on how they could reorganise their garage area.
You can find details of the actual suppliers used by Ronnie and Georgia here. I don't recall the budget they allocated to their Garage Solution but looking at the size of the wall and the range of accessories included, they would have pushed close to the $6 – $8k mark.
The end result for the garage looks great. It combines wall panels with shelving across the top and then a range of tall and short cupboards at the far end. It also features a small bench area upon which someone can work. StoreWALL on The Block
Around 3 years ago, we were contacted by a couple of Contestants from The Block. Well, that is how they introduced themselves at the time. They were looking for Brite White Wall Panels for their garage and unfortunately at the time we were very low in stock and couldn't help them. So we missed our opportunity in the limelight.
However, the use of wall panels on the 2021 season show was a great inclusion and as I mentioned earlier a great result for the eventual owners of the home that was renovated.
Garage Storage on "The Block"
Wall panels not only look great in the garage, but they also deliver lots of flexibility for the homeowner. For a double garage that endeavours to fit two vehicles, using the wall for storage is the right approach. Your stored items stay flat against the wall and can be stored high or even low. This provides you with more room to safely open your garage doors.
I don't watch "The Block" religiously, but upon visiting a client today to measure their wall and provide a quote, they reminded me about the show and that they had also contacted the supplier.
The customer who is also in Melbourne had recently moved into a new home and had no storage at all in their garage. They had lots of "kid gear" to store plus lots of gardening equipment. The garage had 2 great walls for wall storage and a possible third. Whilst it was 2.5m in height and 6.4m in length, I recommended applying panels to the middle section with 350mm left at the top and bottom of the wall. Along the length, they were looking at about 4.8m of panels. So the total square meters of the main wall would be 8.64sqm.
I will keep you posted if we end up completing the wall for the client with some pictures.