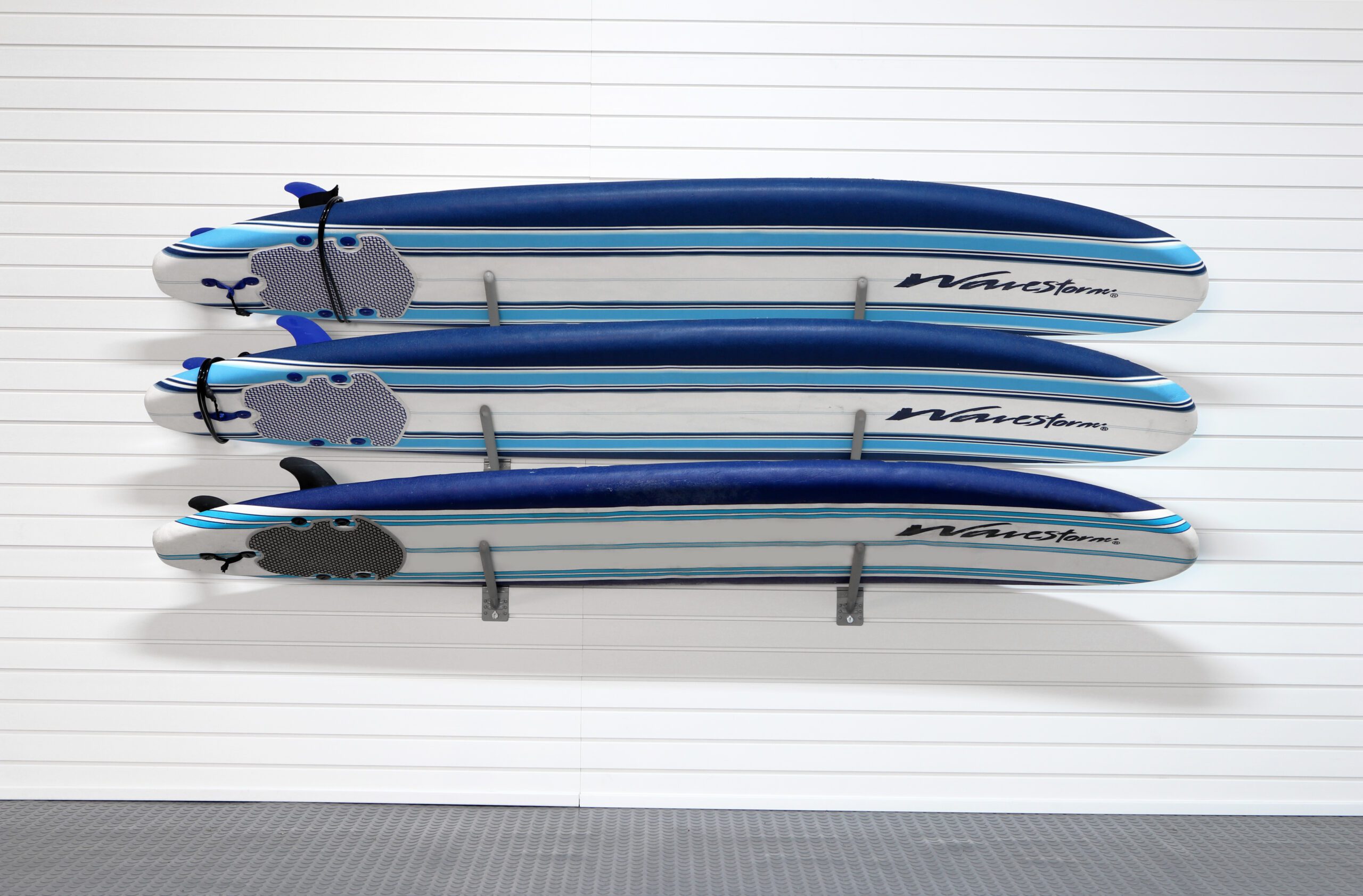 Earlier this year, we introduced several new products to the Australian StoreWALL range, one of these being the Angle Brackets. Speaking to a client this week, we had an enquiry about a Surfboard Wall Rack or Surfboard Wall Mount. What this person was essentially looking to do was hang their surfboard on the wall so that it was out of the way and not likely to be damaged in the garage.
Surfboard Sizes
Surfboards can vary in size based on your skill level, size/weight and generally what you prefer. Asking a few questions from this client, I came to understand that you can start with a board around the 5 foot mark (150cm) and extend all the way through to 9.5 foot (280cm+). In between you get a whole heap of variations. You can also add to this your typical kid style boogie boards which most Australian homes have several of.
Surfboard Wall Rack Options
Having a look online, there are plenty of surfboard wall rack options to choose from including single surfboard mounts through to mounts that can hold up to 4 boards. One actually allows you to start with 2 mounts and then add an additional two. Pricing varies significantly from $50 all the way through to $200. Much of this is based on the material that the mount is made from.
StoreWALL Surfboard Wall Racks
StoreWALL offers two Surfboard mounting options. The first is our Angle Rack Hook and the second is our popular Angle Bracket.
The Angle Rack Hook, is a simple pole set at an upright angle which fits to your StoreWALL wall panels and allows you to easily hang your Surfboards, Boogie Boards and even Skateboards. Each of these hooks can hold about 10kgs, so a set will support 20kgs.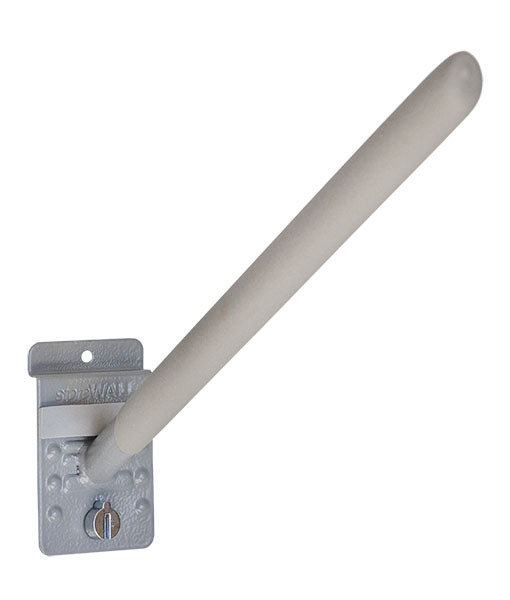 The hook is secured to your StoreWALL panels with our unique CamLok locking mechanism.
The second rack mount option offered by StoreWALL is the Angle Bracket. This is also an ideal option for any wide item like a surfboard or even kayak that needs to be removed from the floor and hung on the wall.
The Angle Bracket range comes in two sizes: The 245cm Bracket and the 381cm Bracket.
Dimensions for the 254cm bracket are: 430mm (off the wall) x 50mm (width) x 300mm (height)
Dimensions for the 381cm bracket are: 660mm (off the wall) x 50mm (width) x 450mm (height)
StoreWALL Angle Bracket
The great advantage of the StoreWALL Angle Bracket is that it can be used for so many different items around the home from lengths of wood, to skate boards, to surfboards and even Kayaks. StoreWALL can even handle weights of around 60KGs when installed with InstallStrips.
Not only do you get a very suitable solution with StoreWALL, you also get one that is versatile as your needs around sport, surfing and the home change.
StoreWALL Angle Brackets are made from solid steel are powder coated and also come with soft padding to protect your surfboards.
With StoreWALL and the CamLok locking mechanism, your Angle Brackets can be moved around your garage as required. Unlike your traditional Surfboard Wall Mount which is permanently installed on your wall and can't be adjusted once it's on there.