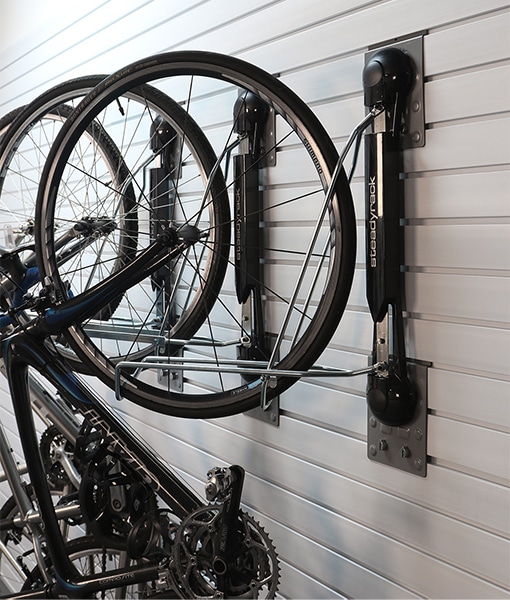 E-bikes are becoming ever more popular. They might look like your regular bike, but your e-bike is probably 10kgs or even 20kgs heavier. Hanging your e-bike safely is a key concern for many e-bike owners.
I recently helped a customer from the Toowoomba area in Qld, who had a long list of items she needed to store in her garage. During one of our many calls, Amey (not her real name) told me that on her list was an e-bike.
E-bike Weight
Not having owned an e-bike, I was a little naive as to the weight that an e-bike carries. StoreWALL offers a very broad range of bike hooks that are very popular for your regular bikes. Our standard bike hook will support a weight of over 30kgs, which is much more than a regular bike will weigh. The StoreWALL Rotating Bike Hook can support 100kgs. In terms of weight support, you can't beat 100kgs.
A key consideration when using bike hooks is the process of adding and removing your bike from the actual hook. By this I mean, raising your bike on its back wheel and lifting it off the ground to attach it to your hook. This process might not mean much to a young man, however, some older folk and even females might not be so confident.
Hanging Your e-bike
Amey, however, expressed concern about the weight of her e-bike which is closer to 30kgs+, and her ability to lift her bike on and off the StoreWALL Rotating Bike Hook. The video below shows the process for you.
I showed her the Steadyrack accessory we also offer and how it works with the actual SteadyRack Bike Bracket. The option of just lifting your bike and rolling it into the SteadyRack Bike Bracket suited Amey better for hanging her e-bike. Video below shows the process.
SteadyRack Bike Brackets are sold by many bike stores including 99 Bikes (no affiliation with StoreWALL). StoreWALL sells a pair of brackets that allow you to secure the SteadyRack Hook to your StoreWALL Wall Panels. The brackets use CamLok which gives you the added advantage of being able to move your SteadyRack Bike Hook around your wall as you need to. This is a much better option compared to fixing it directly to your wall.
SteadyRack Vs StoreWALL's Rotating Bike Hook
When asked this question, I usually tell my customers that there is a big price difference between the two solutions if they want to use them with their StoreWALL wall panels. If you already own Steadyrack, then the choice is much simpler. Roughly, when you combine Steadyrack and the StoreWALL bracket to use it on the wall panels, you are looking at $250 per bike. The StoreWALL Rotating Bike Hook is around $100 and will deliver the same solution for you.
In general, the hooks do very much the same thing in that they allow you to hang your bike perpendicular to the wall and then also allow you to swing your bike left or right in order to save space. The main difference is in the action needed to latch the bike to the actual hook. Once on the wall, both hooks are engineered to safely hold the bike in place.