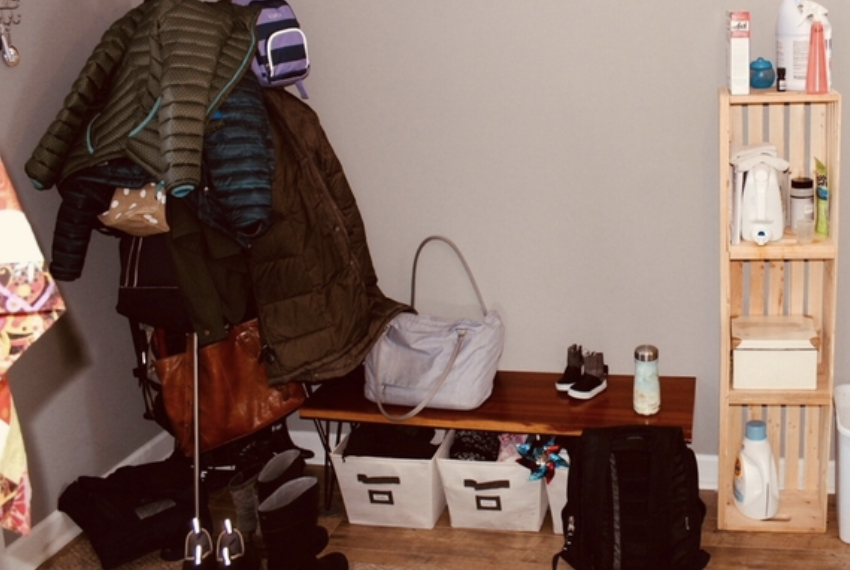 One of the popular additions to the layouts of new homes being built in Australia are mud rooms. These are small closet styles rooms or areas you encounter when you enter your home via the garage or side entrance. They allow you to quickly take off you dirty shoes, jacket or school or work bag. A mud room sounds like a great idea, but without some storage accessories, it very quickly become a messy closet. A mud room shelf is a great way to clean up your mud room, getting all your heavy and bulky items off the floor and up high out of the way.
Mud Room Shelf
Kitting out your mud room is key to getting the most out of this space in your home. Otherwise the school bags and shoes will simply be thrown in all together without some order to get them out. Typically the size of these rooms or areas are small and designed to only hold one person at a time.
Many mud room designs you will find online use custom built cabinetry for shelving, hooks for jackets and some baskets or ledges for your shoes. If you don't have the budget for this, another way to kit out your mud room is with a couple of 1.2m StoreWALL panels. Two panels will cover 1.2m in width and 600mm in height. This will be enough to hold a Mud Room Shelf across the top and several hooks below.
You can also make it taller with a few more panels and add a couple of angle shelves down below for shoes and boots.
Shelving Options
StoreWALL offer a great range of shelving options for your mud room. We have heavy duty metal shelves in two sizes, wire shelves which can be straight or angled plus deep, narrow, short and long plastic shelves.
The plastic shelves can be installed directly onto the Slatwall or they can be used along with StoreWALL brackets.
Pricing for the shelves varies based on the size and material they are made from but they start from about $42.
Build Your Own Mud Room Shelf
StoreWALL enables you to build your own shelves by bringing your own custom shelf and using the brackets from StoreWALL. All StoreWALL brackets come with CamLok to secure the bracket to the wall. They also come with non-slip stickers which will hold your shelf in place.
Each bracket has two pre-drilled holes and two plugs which allow you to secure your shelf in place. The plugs are 20mm in length allowing you to have a shelf of about 15mm.
Using your own shelf means you can paint it a colour which suits your wall. You can also use stained wood or any other surface that suits your home or Mud Room.
The non slip stickers and the plugs come complimentary with each 254mm and 381mm StoreWALL bracket.
Mud Room Designs
Below is a mud room designs I found online. For some reason most of them are also painted white which I don't think is very practical given most of the items stored in this area are supposed to be outdoors and likely dirty.
Using Slatwall Panels
There are several advantages for using Slatwalls in the mud room. Firstly the panels allow you to add a great range of accessories from shelves to baskets and even bins for keys. You can also move these accessories around as you need to.
Slatwalls also come in a great range of colours. StoreWALL has both a Brite White and a Dover White colour (as well as our Weathered Grey).
If you prefer a wooden slatwall, then they can be painted any colour you want.
A plastic slatwall like that from StoreWALL has its coloured running right through the panel, so even if it gets scratched or dented you will need seeing a different colour. Being plastic StoreWALL panels are much easier to clean that painted panels and are water proof.