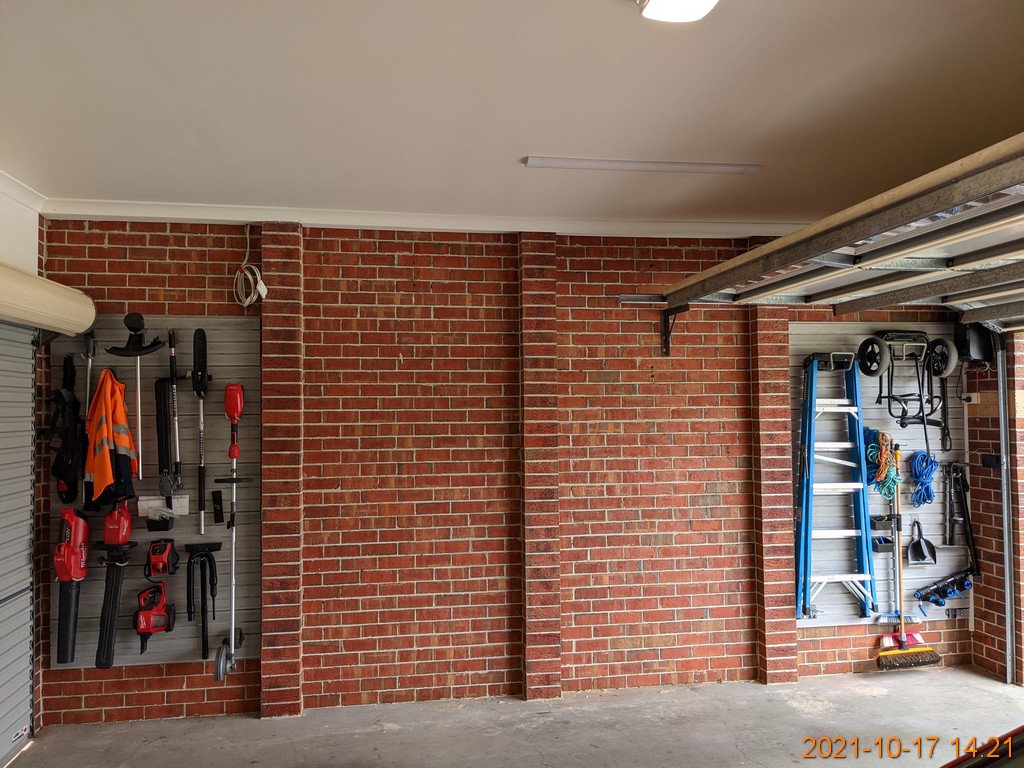 Most garages in Australian suburban homes will have their main wall built with brick. If you are lucky enough to have a double brick wall it will be a flat continuous wall. If not, you will have piers along the length of the wall. Finding a suitable brick wall shelving solution to make the most of this walled area can be challenging. Many may also turn out to be rather inflexible as a long term storage option.
Garage Shelving Solutions
Visit your local Bunnings or Mitre10 Hardware store and you will find lots of different types of brackets which you can install on your brick wall in order to fit it with shelving.
Brackets can be spaced within each of the piered sections of your brick wall allowing for taller and smaller items to be stored on the shelves.
This particular bracket is from FlexiStorage and is sold at Bunnings for under A$15. Specifications say that two of these can hold 60kgs. Bunnings also sells floating shelving made from MDF which can be used with these brackets.
Sounds like the perfect solution. So what's wrong with it? Nothing really. However, once these brackets are drilled to your wall, your storage options are limited to shelving. Try hanging Rakes and Blowers on a shelf.
What happens if 3 years down the track you need more wall space for storing bikes? These brackets will need to be removed. Your storage needs are fluid, ie they change and sometimes rather quickly.
Brackets solve the shelving problem. Fixing them to your wall also makes them kind of permanent and not very flexible when you have limited garage wall space.
Another option is a separate standalone shelving unit that is not fixed to the wall. This will work as long as you can find the width suitable to the space between your piers. A separate unit is also easy to move around the garage.
Shelving is necessary in every garage but it isn't the only storage solution you will need.
Brick Wall Shelving Solutions
The picture of the brick wall above is from a customer in Melbourne who recently installed StoreWALL in his garage. His main garage wall was made from brick, with Piers separating 4 sections of the wall. The distance between each Pier is between 1200mm and 1500mm.
This customer had the following list of items to store on his wall:
Lawn edger with drive head unit
Blower
Handheld Hedger
Brush Cutter Attachment
Hedger Extension
Pole saw
Extension Pole
Charger & Batteries
Electric Pump
Ladder
Rope/Extension Lead
Broom
Sports Balls
To help him better understand which accessories would suit his items, I invited him to visit us in Mount Waverley and to bring a few of these items with him. We tested them out using StoreWALL's accessories and this helped him select what he needed.
StoreWALL Brick Wall Shelving Solutions
The customer decided to use StoreWALL Panels for two of these brick wall sections. We cut up 3 cartons of Barnwood Grey 2438mm panels. Four 2438mm panels were cut in half to 1219mm giving him 8 panels at 1219mm. A further 7 panels were cut to 1420mm. He used most of the panels on the two outer sections of the wall. The remainder was used in a separate shed.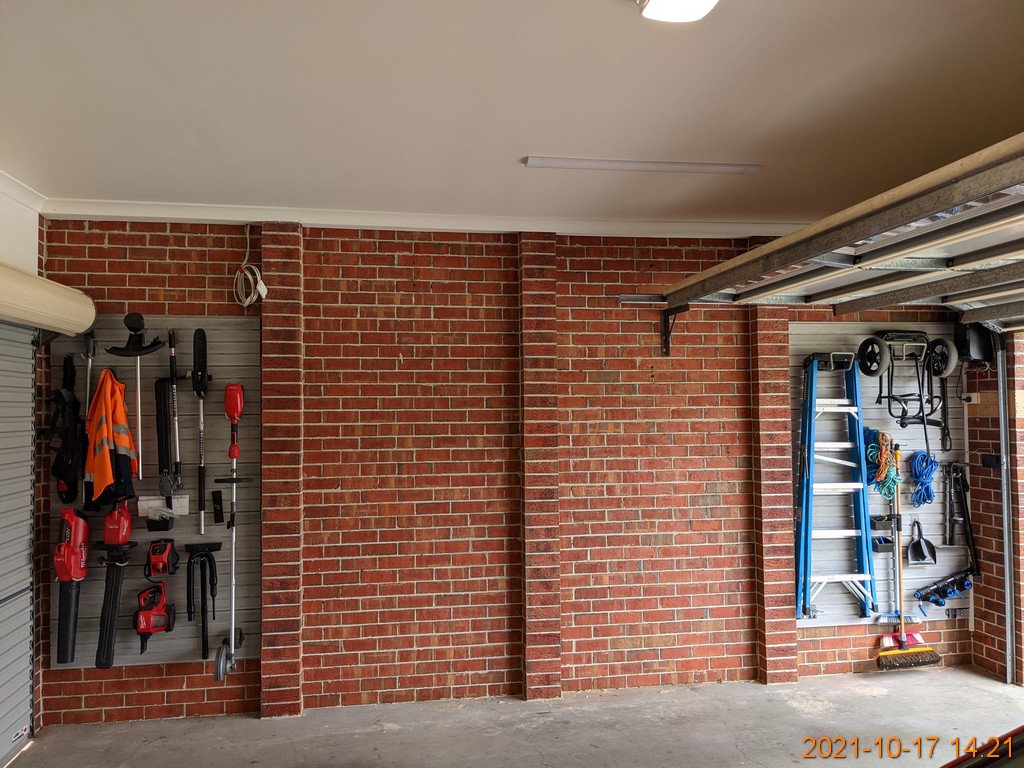 The picture shows just how much he was able to fit on these two wall sections. The left section holds some 14 items. The section on the right holds some 13 items. Much of what he had to store was not suited to shelving. However, I am told he is looking to add two cupboards in the middle sections for items that can be stored on shelves.
You can learn more about installing StoreWALL on a brick wall by watching our video.
Wall to Wall Shelving
StoreWALL's Wall Panels can also be used for shelving. See the picture below of an installation also completed in Melbourne. The requirement was shelving across the length of both walls. One was brick, the other plaster.
In the example above, we installed a Standard Duty Wall Panel across the length of the wall and then hung 254mm brackets and MDF floating shelves. StoreWALL's brackets come with our exclusive CamLok locking mechanism which allows them to be fixed to our wall panels but also moved as and when needed. Moving them does not involve any messy damage to your wall.
The customer in the picture above was looking to use the shelving for household food and cleaning items. The wall panel area below the shelf could then also be used to hang all sorts of gardening and items that would normally be found leaning in the corner, or even lying on the floor.
Whilst the picture above had only part of the wall paneled, you could also achieve a brick wall shelving solution with a setup like the one below.
In the case above, StoreWALL brackets are coupled with StoreWALL floating shelves and lined vertically on the wall. Our brackets come in two depths, 254mm, and 381mm. Each bracket is fitted with StoreWALL's exclusive CamLok locking mechanism.
StoreWALL sells a range of PVC and metal floating shelves to suit your needs which can be fixed to the brackets. You can also create your own floating shelves.
Deep Metal Shelves
StoreWALL's 600mm deep metals shelves can also be used with most modern slatwall wall panels. The wired metal shelves are 600mm deep and 900mm in length. They offer a great option for storing those large tubs and plastic bins that everyone has in their garage. Best of all, they are super cheap and under $80 each. Combined with StoreWALL's wall panels, these shelves are one of StoreWALL's many brick wall shelving solutions.