Garage storage is a super popular topic these days and no wonder, our garages are full and most people are looking at how they can maximise the space they have. One of the really popular accessories within the StoreWALL range is the Heavy Duty Garage Shelving.
The range is not your typical standalone garage shelving found at Bunnings or other Shelving stores. StoreWALL's shelving can be created from our range of addon brackets or through our great range of heavy metal shelves. These shelves are a clip and lock accessory connected to your StoreWALL slatwall garage panels.
Our Heavy Duty Garage Shelving has proven rather popular since we launched StoreWALL in Australia. In addition to heavy duty metal shelving, we now also stock an expanded range of wire shelving as well as our new new light weight metal shelving.
Heavy Duty Garage Shelving
The StoreWALL's range of heavy duty garage shelving options can be custom built using our slatwall garage storage system. Once your panels are installed, creating shelving is a simple process. We offer a great range of brackets and metal shelves which just clip and lock into your wall using our exclusive CamLok.
Brackets
By using our heavy duty brackets which come in a 254mm or 380mm depth, you can build your own shelves anywhere you need to on your wall. Our brackets are made from solid steel and come with CamLok to secure your storage.
Once the brackets are clipped onto your wall panels, just add a StoreWALL plastic or metal shelf or build your own from wood, chipboard or any other surface you prefer.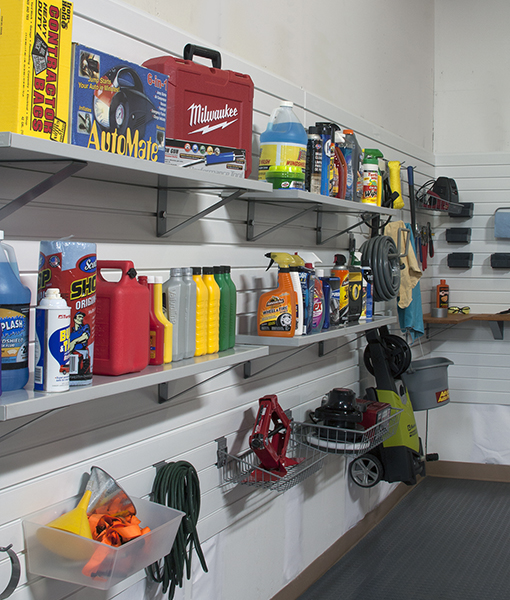 There is no limit to how long you can make your shelves. Extend the length of your shelves by adding an additional bracket or two. With your StoreWALL panels, you can even run it along the whole length of your wall.
Metal Shelves
StoreWALL offers several heavy duty shelving options which are pre-built and can be easily added to your slatwall.
Our Heavy Metal Shelves come in two widths, the 762mm and a 1219mm. The dimensions are as follows:
762mm Metal Shelf
762mm long x 393mm deep x 254mm high

weight it can hold is 90kgs
material is solid steel, powder coated
the actual shelving space that can be used (top area) is 380mm x 760mm
1219mm Metal Shelf
1219mm long x 393mm deep x 254mm high
weight it can hold is 90kgs
material is solid steel, powder coated
the actual shelving space that can be used (top area) is 393mm x 1219mm
Shelf Flexibility
Some of the key advantages of the StoreWALL range is its portability. Each StoreWALL shelf and any accessory for that matter can be added to your wall and moved around as and when required. If you need to move the shelf half a meter to the left or right, you can unlock it and slide it along. Should you need to move it from one end of the wall to the other you can remove it altogether and completely change its location or size. Using our slatwall panels, our heavy duty garage shelving can also be moved up and down your wall.
The difference with standalone shelving is that its usually one large piece of furniture 1m+ in width and 1m+ in height. Heavy duty garage storage racks are very useful in a garage and can be used in conjunction with the StoreWALL range. The challenge with it however is that moving it around can be difficult. Firstly you need to find the space to move it to. Secondly everything that is stored on it also needs to be removed and then added back on. This isn't a small exercise.
Lightweight Slatwall Shelving
Smaller shelving such as our Heavy Duty Garage Shelving will easily compliment anything else you are setting up within your garage. With the option of a 762mm or 1219mm shelf you are well covered for all your garage needs.
It doesn't end there. StoreWALL also offers a much bigger range of smaller lighter weight shelves which are just as easily added and removed from your slatwall panels.
We also have a full range of wire shelves which come in a range of lengths and depths to suit your needs. These shelves also come with our exclusive CamLok locking mechanism which secures all your accessories to your garage wall panels.