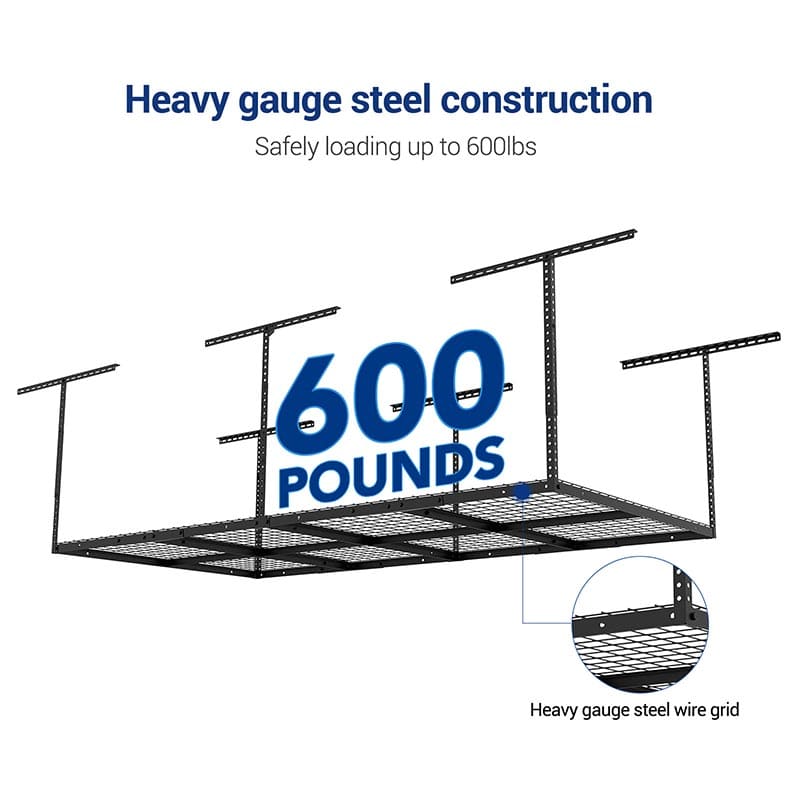 What to Consider When Buying Garage Ceiling Storage Systems.
The first step to streamlining your garage is to review what you have in your garage, determining what you can move on. Once you have worked out what you would like to store on your ceiling it is time to look at where it can be stored and what storage system you need or can afford. Another key consideration is how much weight your ceiling can support.
Below is a short summary of the various types of garage ceiling storage available.
Ceiling Storage Options
Shelves and Racks: Flat, horizontal surfaces to keep items off the floor. They come in various sizes and are made of wood or metal. The racks mainly consist of bars and wires.
Lifts and Hoists: Use pulley systems to raise objects off the ground in an elevated position.
Utility Hooks: A simple way to hang anything from sporting equipment to garden tools from the garage ceiling or wall.
Slings and Cargo Nets: A sling uses a series of straps to support long, slim objects like kayaks and skis. Nets act like a stretchy hammock to hold lightweight items such as sports balls.
Waterproof Storage Containers: Best for storing treasured items or important documents since they block moisture, dirt, bugs, and other pests from getting inside.
Is overhead garage storage safe?
Overhead garage storage is safe if installed correctly. There are organisations that can install overhead storage for you. Alternatively, if you have some DIY experience you can do it yourself. The challenge is working out where to install your new storage solution and where to fix it to your ceiling so that it will hold your items safely.
How much weight can I hang from my garage trusses?
A lot depends on the joists or trusses used to build your garage ceiling. If your garage sits within the main structure of your home and you have a room(s) above it, then the trusses would have been engineered to support significant weight. The trusses are likely to be spaced 450mm apart and span the entire ceiling area.
If your garage is separated from your house, you may need to inspect the ceiling area and seek some advice from a carpenter or engineer on how much weight it can support.
Fleximount Ceiling Racks
A popular overhead storage rack is Fleximount. Whilst we don't market this product, you can find suppliers of it locally in Australia.
Ceiling-mounted racks are ideal for storing heavy boxes and plastic tubs. Adding garage over-door storage is a great way to take advantage of underused space.
This garage ceiling storage solution is strong, made of durable, cold-rolled steel construction, and holds up to 300 kgs, and the integrated grid pattern ensures your belongings are secure and stable.
Pros
Size is easily adjustable.
Installs securely into wood studs, joists.
High-quality screws.
Hooks (sold separately) can hang bikes and sporting equipment below.
Cons
Must make sure joists/studs spacing works to the specification provided.
Some might find it difficult to install.